Groom your pets at your doorstep
By Kiran Kaur Sidhu September 10, 2018
Mobile pet grooming studio with features bathtub, hairdryers and air-conditioner
Live camera allows pet owners to watch grooming session in real-time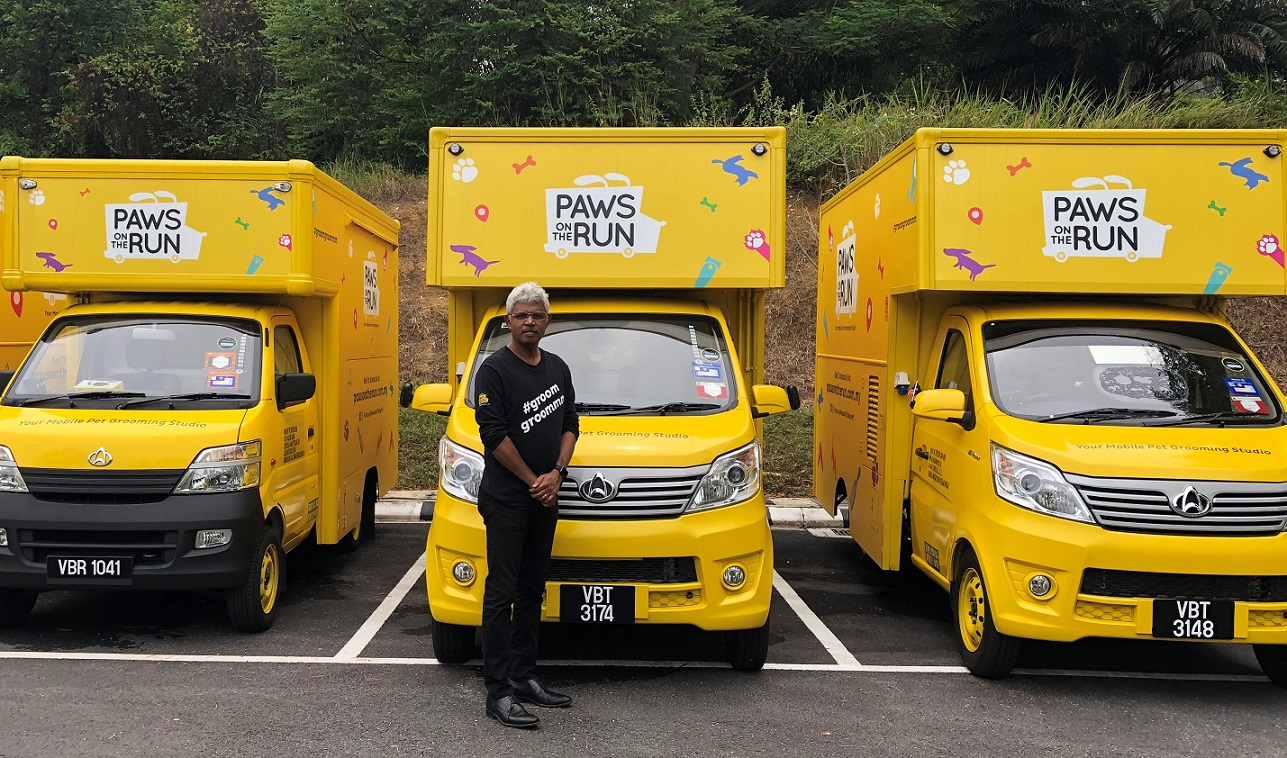 THE pet-care industry is one that is still relatively new to tech advancement but it is an area David Thomas (pic, above), the managing director of Paws on the Run, has long set his sights on.
Launched in May 2018, Paws on the Run is a mobile pet grooming studio built onto trucks to provide services to customers at their doorstep. "It's something I have always wanted to do. This is something that has been around awhile in other parts of the world run as a personal service by groomers," said Thomas.
From Thomas' past experience with his own cocker spaniel, he understands the challenge pet owners face when it comes to grooming. "It is time-consuming and you have to schedule time around the grooming sessions. Then, driving your pet to and fro, your vehicle will need a wash and vacuum after."
Bridging the gap in pet-care with technology
Driven by this apparent market gap in pet services, Thomas was determined to start the business in Malaysia but like any founder, had to face and overcome a set of challenges. When he first started researching in 2013, Thomas found that the only suitable vehicle that could accommodate a mobile studio was an ambulance.
"I needed a chassis but the only thing that could provide the headroom and necessary power at the time was an ambulance. Since it wasn't cost effective to launch then, I put the idea aside." From his background as director of technology at Astro Malaysia Holdings Bhd, Thomas had witnessed outside broadcasting (OB) trucks in action and had knowledge of its workings.
Fast forward to today, Thomas found the perfect opportunity to put his plans into action and self-funded his startup. "Food trucks are legal on Malaysian roads and have become a norm here. This was my chance – I now had access to vehicles that met the physical requirements. I just needed to modify it."
Based on his knowledge and tech experience, Thomas worked on transforming the vehicles into bright yellow grooming studios on wheels. "The requirements are quite basic – mainly we need bathtub, specialist table, hairdryers and blowers. We also designed it to carry sufficient water and a built-in generator."
In addition to the basic requirements, the mobile studio also carries an air-conditioner. However, the most interesting piece of tech lies in the use of a live camera during the grooming sessions.
Thomas explains that pet grooming sessions can be stress-inducing for pet owners and pets alike. "Apart from timing issues, there are also psychological challenges from pets being apart from their owners."
To address this problem, Paws on the Run has implemented a third-party camera system and mobile app. "Pet owners can be rest assured and watch the sessions in real time from the comfort of their homes," Thomas says.
Moreover, with the service being offered at the doorstep, pet owners may also be in the presence of the groomers during the session.
As for the booking and scheduling of sessions, Paws on the Run has an online platform in place. There are basic and full grooming packages for both dogs and cats with price differing according to weight of the pet.
Thomas shares, "Pre-booking of sessions can be done as early as one month ahead or as late as two hours before. Once booked, customers will receive a confirmation and reminders of the upcoming session."
Trained and licensed pet groomers
Beyond the peace of mind afforded by the tech features, Thomas also has a licensed pet grooming trainer as an advisor. Yuri Lim, the founder of the first pet grooming academy in Malaysia, Yuri Grooming and Training, has 30 years of experience in the field and is in charge of the on-boarding and supervision of Paws on the Run groomers.
"All our groomers fully-trained and certified," Thomas stresses.
If pet owners have any concerns, he assures, "Any user requirement will be addressed by the groomer at point of service." Some issues that the team has encountered and overcome are pets being afraid of hairdryers and trimmers.
As for growth plans, Paws on the Run has targets in place. Thomas shares, "We aim to service about 160 customers monthly and eventually expand to Ipoh, Penang, Johor and Singapore."
Related Stories:
It's all about focus and the human touch at JomPaw
PetBacker heads into more new markets
Khazanah's KNEO Demo Day sees three winners
For more technology news and the latest updates, follow us on Facebook, Twitter or LinkedIn
Keyword(s) :
Author Name :