GoCar makes car-sharing an alternative to owning a car
By Chong Jinn Xiung December 5, 2017
Aims to take away the need to own a car and improve first and last mile connectivity
Plans to expand beyond Klang Valley and Langkawi to Penang and Johor next
WHEN TJ Tan returned from Australia, he found the process of renting a car to be a real hassle.
Wanting to bring the concept of the car-sharing service offered by GoGet that he used in Australia to Malaysia, Tan began his journey with GoCar in 2015 with the aim of changing the local transportation landscape.
In February 2016, the startup was acquired by Mayflower Car Rental, a subsidiary of Warisan Tan Chong Holdings and it began operations proper in the middle of 2016.
Public transportation in the Klang Valley has vastly improved from the days when owning a car was a necessity. Now with the inclusion of the LRT and MRT lines as well as the immersion of ride-sharing services like Uber and Grab it is no longer absolutely necessary to own a car.
Admittedly, the concept of car sharing isn't familiar to most Malaysians but it is fairly popular in the United States, Europe and Australia. According to a research report by Global Market Insights, the car-sharing market size is set to exceed US$16.5 billion by 2024.
GoCar chief executive officer Alan Cheah (pic, above) explained that the car-sharing platform serves an alternative to users who want to get around town but without the hassle of owning a car.
How it works is that users can choose between renting a GoCar for 24 hours starting at RM99 or for a few hours with prices starting at RM14.90. There is even a longer rental scheme of RM1,980.
All a user needs to do is to make a booking with the GoCar app, unlock and quickly access a car all from a smartphone.
Thus far, GoCar says it has close to 13,500 registered users and has vehicles spread across 60 locations in the Klang Valley and Langkawi. According to Cheah, awareness of GoCar has spiked to the point that their vehicles are over utilised and they need to increase their fleet count.
The fleet, standing at 140 vehicles strong, primarily consists of Nissan Almera sedans and Grand Livina MPVs, which cost more.
GoCar vehicles are typically located in locations around Kuala Lumpur, Mont Kiara, Bangsar, Cyberjaya, Petaling Jaya, KLIA and Langkawi. He cited that GoCar's services are fairly popular in areas like in Subang where it serves its student population and at the Langkawi airport where its vehicles are frequently rented by visitors to the island.
Cheah adds that GoCar plans to expand its services to two more states next year: Penang and Johor.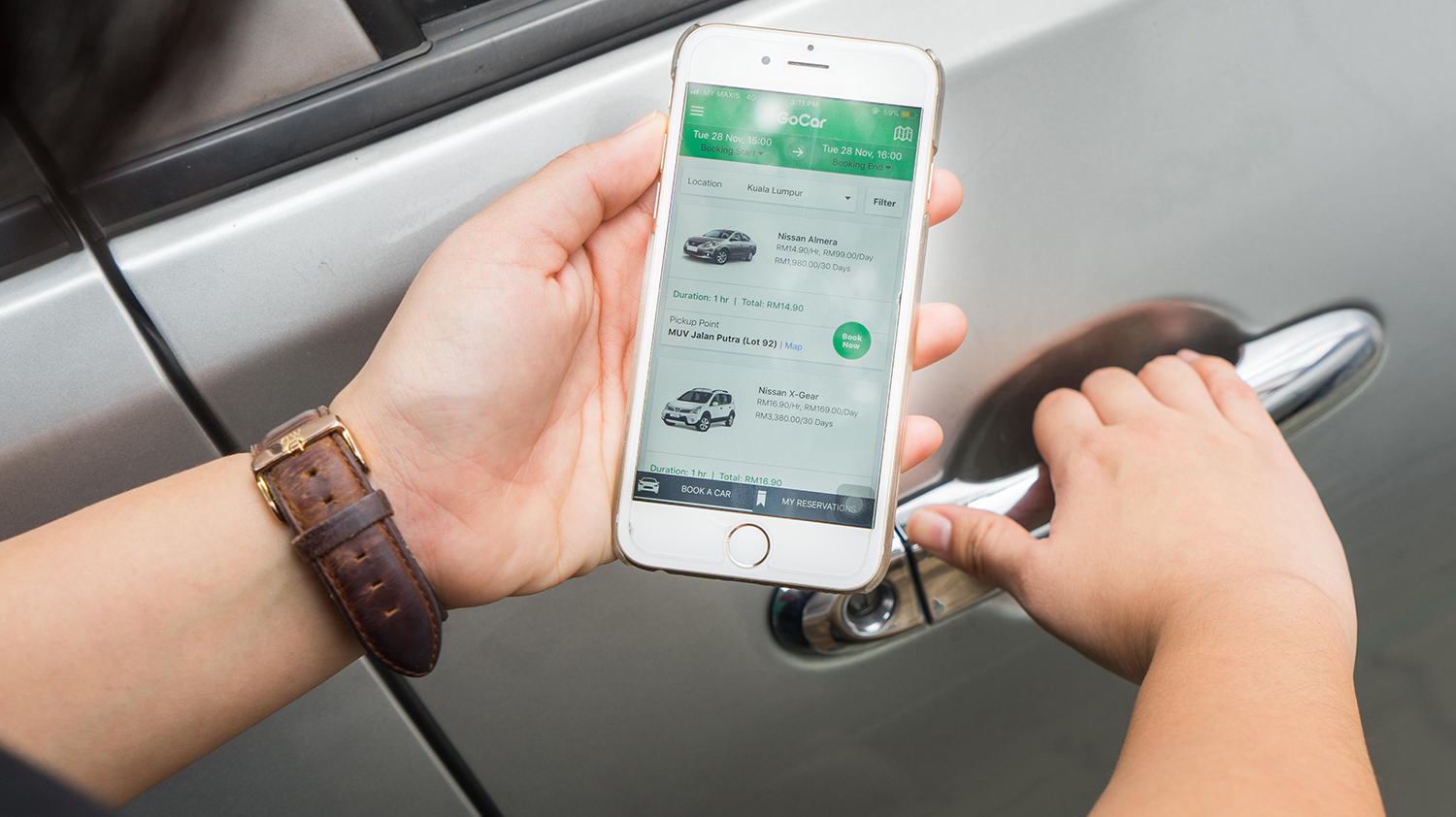 GoCar's model is distinctly different from that of Uber and Grab as it serves a different set of users that may need a car to go to multiple locations instead of one single trip. It is said to also fulfil the need for those who don't own a car but would want to do a long-distance journey like a road trip.
Users can even take their rented GoCar across the border into Singapore though they will need to let GoCar know in advance of their plan to do so. The service, however, does not allow users to take their rented car into Thailand.
Cheah is of the opinion that GoCar complements the larger public transit ecosystem by providing first and last mile connectivity.
"Right now, it is a great time to move into this vertical as the awareness is already there as more people understand the greater need to more efficiently use resources and minimise wastage. We want GoCar to be as notable as your local 7-Eleven that serves the community in a particular area," he said.
At the moment, it still operates on a rental model but the ultimate goal is to enable peer-to-peer sharing of vehicles where users can just as easily rent each other's cars though that is likely to occur sometime in the distant future.
Related Stories:
KPJ Healthcare adopts IBM Watson for Oncology
Kyckr, Moxtra and Sqreem land partnerships with Prudential's PRU Fintegrate programme
Accelerator, reimagined by Sunway Group's iLabs
For more technology news and the latest updates, follow us on Facebook, Twitter or LinkedIn.
Keyword(s) :
Author Name :