EDDY wins grand prize in Digi Challenge for Change
By Digital News Asia December 19, 2016
Mobile app gamifies the learning of sign-language
Top three teams will have a chance to secure an additional seed grant of up to US$11,170
DIGI Telecommunications Sdn Bhd announced that EDDY, a mobile app gamifying learning of sign-language for those with speech and hearing impairment, was the grand prize winner of the seventh Digi Challenge for Change (DigiCFC7) programme.
The team, walked away with US$15,600 (RM70,000) in cash to further develop their solution.
The other two teams, Good People Today and Food Ninja Innovation, each won RM30,000 in cash. All three teams will also have the opportunity to earn an additional seed grant of up to RM50,000 each from Agensi Innovasi Malaysia, on top of the cash prize over the next six months.
According to Digi chief digital officer Praveen Rajan, "The idea of gamifying the learning of sign language with localised content helps make learning fun while addressing a need in the community. Their ability to enable meaningful engagements with a scalable solution underscores our vision to leverage on digital connectivity for good."
The three finalist teams were: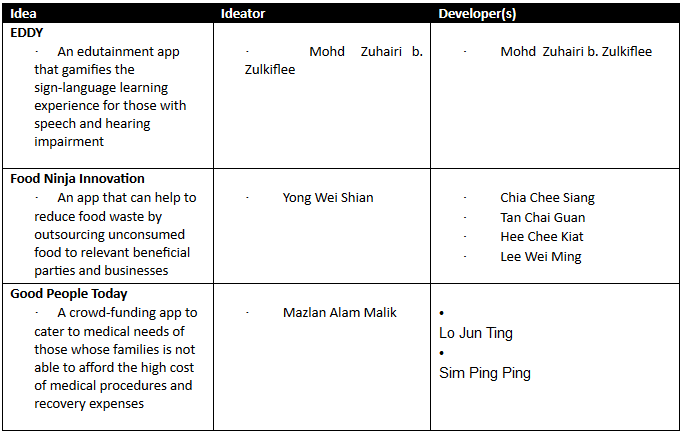 Under the theme "Digital Connectivity for Good", these changemakers have gone through a journey from the ideation phase, to the development of the mobile applications followed by the Proof of Concept (PoC) stage, testing out the viability and scalability of their respective solutions.
All three developer teams were required to present their challenges and key learnings obtained from mobilising their digital solutions within their targeted beneficiaries to a panel of judges.
The finalists were assessed for the positive impacts of their proposed solution towards their intended beneficiaries. Additionally, the teams also needed to demonstrate their ability to execute and sustain their mobile solution in the long run.
"The key distinctive aspect in this season's DigiCFC Challenge is the introduction of the Proof of Concept phase. Validating a solution is a vital step as it gives an opportunity for the teams to test out their proposed ideas and solutions with their beneficiaries for feedback and improvements. This PoC stage allowed teams to review and pivot for better effectiveness and higher probability in creating positive societal impact," added Praveen.
Launched in June 2016, DigiCFC7 received more than 250 ideas from the public, out of which three winning ideas became the basis of 38 mobile solutions registered in the app development phase.
DigiCFC is one of the flagship programmes for Digi Empower Societies, a commitment to enable the internet for all communities to inspire a better Malaysia. DigiCFC7 is supported by Agensi Inovasi Malaysia (AIM), FB Start, Google Malaysia, MaGIC, MDEC, Microsoft Malaysia and Unicef.
Keyword(s) :
Author Name :