Commerce.Asia: Creating a one-stop shop for all merchant e-commerce needs
By Kiran Kaur Sidhu March 19, 2020
Covers warehousing, delivery, product listing on the marketplaces, order management
Immediate plan to seamlessly integrate its suite of services with Indonesia's e-commerce market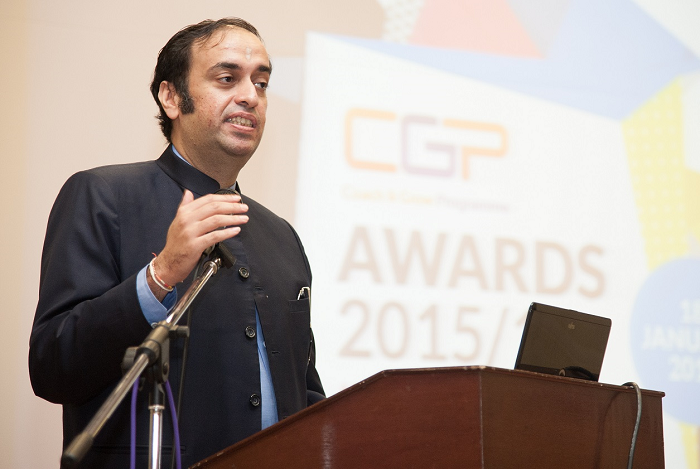 [Ed: An earlier version carried the wrong byline.]
Very quietly, in late January, the founder and executive chairman of Commerce.Asia, Ganesh Kumar Bangah (pic) acquired an 84% stake in ASX-listed Netccentric, an influencer and content marketing company that was launched in Kuala Lumpur Asia. Although this move slipped under the radar in Malaysia where both Ganesh and Netccentric founders are based, Australian investors were excited by the acquisition and the sleepy, under the radar counter leap to become the best performing company on the exchange in January with a 300% spike in returns.
Although the acquisition was not made under Commerce.Asia but in his personal capacity due to the realtively large amount of funding required, Ganesh tells DNA that he believes Netccentric will strengthen the latter's marketing aspect. "That's what differentiates us [Commerce.Asia] from other players that try to provide a one stop e-commerce service to merchants. We have everything under one integrated solution." (see visual below)
A seasoned and highly respected entrepreneur in Southeast Asia following his first venture with MOL Global which he listed on the NASDAQ in 2014 and delisted in 2016 after many tribulations, Ganesh certainly embodies entrepreneurial grit. MOL was eventually wholly acquired by gamer gear company Razer in 2018 with its remainder 65.1% shares bought at US$61 million (RM265.5 million based on current forex rate).
Comprising of subsidiaries MOL Points, MOL Reloads and MOLPay at the time, "MOLPay was actually one of the newest pillars of MOL at that time. When we did the IPO roadshow in 2014, even though MOLPay made up less than 10% of the business, it was the asset that a lot of the investors were interested in because e-commerce was set to grow," Ganesh recalls.
This was the impetus for Ganesh to focus on e-commerce in 2017 with Commerce.Asia. Taking inspiration from San Francisco based Shopify business model, he set off to establish an e-commerce platform that was end to end. "I like the fact that it is business to business (B2B). The problem with B2C e-commerce marketplaces is that a lot needs to be spent on marketing. It's a dog eat dog game. Whereas in a merchant-facing business, we don't have to spend as much on marketing but yet, we get a percentage of the merchant's revenue. That is a model I have always liked," he explains.
The Commerce.Asia group currently offers a comprehensive suite of services, but a payment gateway may just be the one thing that completes the line-up. With regards to this, Ganesh acknowledges the synergy it will add to his ecosystem. "I haven't had the right opportunity yet. I could either acquire, invest or build my own. If I build, I will need the right team but I haven't found the right opportunity yet."
Creating a one-stop shop for merchants
Shedding light on what encompasses an end-to-end e-commerce enabler, Ganesh explains that it is basically, "a set of enabling product and technologies that allow merchants to sell online more effectively." This covers warehousing, delivery, product listing on various marketplaces, order management, customer service and marketing of products. And of course, add influencer marketing courtesy of his Netccentric acquisition.
[Ed: An earlier version incorrectly referred to Commerce.Asia as an e-commerce marketplace.]
To date, Commerce.Asia has invested US$ 4.6 million (RM20 million) across ten Malaysian startups since 2017. Sharing with Digital News Asia his thought process behind these investments, he says that Sitegiant was chosen as it is an omnichannel platform for urban e-commerce akin to being the "Shopify of Malaysia, if not Southeast Asia."
At the time of the investment in March 2018, Sitegiant had a customer base of over 1,000 merchants and gross merchandise value (GMV) of RM100 million. It has since grown to over 3,000 merchants and RM800 million in GMV. However, Ganesh took cognizance of the fact that Sitegiant's business was subscription-based and thus had to figure out a way to increase its take rate of the GMV.
[RM1 = US$0.23]
The answer, he believed, lay in e-commerce fulfilment which brought about the investment into Letmestore and Shippop. Since about 5% of a product's cost is spent on fulfilment excluding delivery, the US$375 million worth of goods sold annually within the Commerce.Asia's ecosystem enabled a market of US$18.8 million from fulfilment.
The Commerce.Asia umbrella also includes a print on demand merchandising platform called Famsy. "Brands only need to upload their logo to the platform and immediately a webstore with T-shirts, straw sets and other merchandise with your logo crops up," shared Ganesh, adding that the idea to acquire Famsy came about from observing a similar US company in the GrowthX Accelerator that grew tenfold.
Ganesh also roped in GrowthX Accelerator as a go-to-market solution to help find product-market fit to grow businesses online. "There are three components to that. The first is the strategy through the business growth programme, the second is user experience where we teach merchants how to do that, and finally, the digital marketing part."
With so many components within the ecosystem, the focus shifted to giving merchants one-stop access by starting Enterprise, the end-to-end e-commerce solution for businesses. At this point, it was key for Commerce.Asia to approach small medium enterprises (SMEs) with its solution.
And rather than grow this organically, Ganesh pulled the trigger on another acquisition with the purchase of Panpages Lab in March 2019. Immediately, Commerce.Asia attained a database of 7 million SMEs that has since grown to 8 million today. "This becomes the top of the funnel for actually funnelling SMEs to my group of companies," he says.
Other investments that Commerce.Asia has done is in automated dropping platform, Kumoten, in 2017 and business operations suite, Salesminded, in 2018. Dropshipping enables people without products to sell products online. "If you are one of our product merchants, we have a network of dropshippers to sell for you. And for agents, it enables them to make money by selling products without holding any products." Similarly, with Salesminded, sales teams are provided with leads and market access capabilities.
Growth plans and increasing intergration
Commerce.Asia's latest investment in BizApp is one Ganesh is particularly excited about, calling it 'Malaysia's hidden gem'. BizApp has over 200,000 agents with a staggering US$ 137.7 million (RM600 million) in GMV transacted in 2019. "We believe that through this strategic investment, Commerce.Asia and BizApp can leverage on each other's platforms to encourage the rural communities to partake in social commerce," said Ganesh at the launch event, optimistic that the social commerce platform will help bridge the urban-rural entrepreneurial divide.
With these series of ten companies under Commerce.Asia's wing and Ganesh's newly acquired Netccentric, the group is now focusing on integration and has growth plans in store for the year. The team this year is focused on "maximising the synergies by putting all on one platform that is easier for clients."
For now the breakdown of revenue from local to outside markets stand an 80:20 ratio. Ganesh believes a 50:50 revenue breakdown would be ideal. The immediate growth plan is to penetrate the Indonesian market. "The Indonesian e-commerce market is expected to grow from US$21 billion in 2019 to US$82 billion in 2025. It is the fastest growing and going to be the largest [e-commerce] market. We just can't ignore it," he said, adding that Malaysia's location and culture-fit is an advantage.
Although there are no investments lined up for Commerce.Asia in the immediate future, Ganesh makes it clear that he will not shy away from the right opportunity at the right time, despite the tough markets at present. "I have been quite disciplined in my investments doing it step-by-step. I have grown this over the past two years. I wouldn't say no to more investments, but it has to be very synergistic."
Related stories:
Commerce.Asia invests in 'Malaysia's hidden gem' BizApp rural social commerce platform
MOL on Nasdaq: 'This is just the beginning'
Commerce.Asia Enterprise aims to accelerate omni-channel commerce
Keyword(s) :
Author Name :