Spurned by Medium, MCMC strikes back, users suffer
By A. Asohan January 27, 2016
Medium refuses to kowtow to unbacked removal request, 'this post stays up'
Government response a signal that we're not quite ready for today's world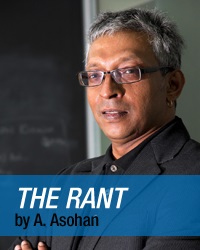 THE two pieces of news that have been heating up Malaysian cyberspace over the last couple of days are closely linked: 1) Malaysian Prime Minister Najib Razak has been exonerated of corruption charges by the Attorney-General he appointed a few months ago; and 2) Blog-publishing platform Medium.com is being blocked in Malaysia.

Let's look at the first: The Malaysian Anti-Corruption Commission (MACC) began investigating Najib after allegations of graft surfaced last year, involving his brainchild, 1Malaysia Development Bhd (1MDB), a kind-of sovereign wealth fund, but not quite.

This intensified after the Wall Street Journal (WSJ) reported (subscription required) that nearly US$700 million had found its way to the prime minister's personal bank account just before the general election in 2013, which Najib's Barisan Nasional won by the slimmest of margins, having lost the popular vote.

Central bank and industry regulator Bank Negara Malaysia initiated its own inquiry into the transfer of funds, which was not declared in spite of the country's banking regulations.

Because the funds were transferred across various jurisdictions, authorities in Europe, Singapore and the United States are also reportedly investigating the matter.

Najib never denied the money was banked into his account, but he did deny it was used for his personal benefit. Until today, he has yet to officially account for how that money was used.

Despite some talk about suing WSJ, and with his lawyer shooting off some letters seeking clarification, no legal action was taken. The paper has stood by its report.

In the months ensuing, the Malaysian Government blocked websites, hauled up civil advocates and Opposition politicians for alleged sedition, and even arrested journalists and the publisher of one of the online portals that had been covering the issue, although purportedly for a different matter.

Najib fired the previous Attorney-General (A-G) who had been behind the investigations, and installed a new top prosecutor, Mohd Apandi Ali. He fired his deputy prime minister Muhyiddin Yassin, who had been publicly asking for an explanation of the US$700 million as well as 1MDB's enormous pile of debts. He shuffled his Cabinet, and emasculated the Parliament's Public Accounts Committee (PAC) which had been looking into the 1MDB affair.

The police hauled up MACC investigators. Some people were transferred. The list goes on.

On Jan 26, the new A-G absolved the prime minister, saying that it had verified that the US$700 million was a personal donation with no strings attached, and that it came from the Saudi royal family, which the British Broadcasting Corp (BBC) confirmed, citing an unnamed source.

As at press time, the Saudi royal family had yet to issue any official statement, and neither has Saudi media reported it.

A senior MACC executive told English daily The Star that MACC may appeal the A-G's decision.

Pesky independent media


What does this all have to do with Medium.com?

It is doubtful that any of these allegations would have surfaced if it weren't for the efforts of independent media, mostly online, and spread further by social media.

Business weekly The Edge, online publications like The Malaysian Insider, Malaysiakini and The Malay Mail Online all did their part before the mainstream media cottoned on to the fact that strange, questionable things were happening.

Indeed, Malaysiakini's sister-publication KiniBiz was probably the first news outlet to start reporting on these issues extensively. Sadly, the portal has just announced it will close down on Feb 1.

All these outlets' efforts pale in comparison with the dogged pursuit of The Sarawak Report, a blog founded and operated by London-based journalist Clare Rewcastle-Brown, which has been posting email threads and correspondences between 1MDB and its related companies, with various partners. Indeed, most of the news coverage came from tipoffs on the blog site.

The Malaysian Government, strangely reluctant to seek legal recourse, instead decided to do what it usually does: It blocked the website.

Last July, industry regulator the Malaysian Communications and Multimedia Commission (MCMC) instructed Internet service providers (ISPs) in the country to block The Sarawak Report, citing Sections 211 and 233 of the Communications and Multimedia Act 1998 (CMA).

This, of course, only prevents Internet users in Malaysia from accessing the website, and only those users who have not signed up for a virtual private network (VPN) service or do not know how to tweak their settings or use a proxy server.

Undeterred, Rewcastle-Brown and her team decided to publish their stories on the Medium.com blogging platform.

On Jan 22, users in Malaysia started reporting that they could not access Medium either, or had difficulty getting to the site, depending on which ISP they were using.
The MCMC has confirmed it has instructed ISPs to block Medium. In a statement to Digital News Asia (DNA), it said:

The Malaysian Communications and Multimedia Commission (MCMC) had instructed ISPs to block medium.com due to the publishing platform being used by The Sarawak Report to continue publishing its articles.

The decision to limit access to the site was taken in accordance with Section 233 of the Communications and Multimedia Act 1998.

MCMC is at the same time engaging with medium.com to remove Sarawak Report from its platform.

Section 233 covers the "improper use of network facilities or network service."
No kowtowing here

According to the Medium legal team in a post you probably will not be able to access, on Jan 20, they received an email from the MCMC asking for the removal of a certain article:


Medium said that it responded to the MCMC on Jan 21, requesting further information:


"Medium's in no position to evaluate the truth of the Sarawak Report's Medium post. We've received no evidence that the post violates any of our Rules, or any law," the Medium legal team said in a statement.

"We stand by investigative journalists who publish on Medium. Until we receive an order from a court of competent jurisdiction, the post stays up."

The MCMC did not respond to Medium's request. Instead, the regulator – which is supposed to uphold the laws of Malaysia – got Putin-on-Medium's-ass and just instructed ISPs to block the entire blog platform.

Apparently one Malaysian ISP is not kowtowing either, according to one of my colleagues who has no problem getting to Medium and is laughing at the rest of us.

Nuking mosquitoes


The Malaysian Government response to Medium's stand is yet the latest in the kind of shady moves that take place within the country's corridors of power.

In January 2014, a BBC story on Najib being made fun of on social media was blocked, for no accountable reason, and with no authority taking responsibility. No investigation was launched to find out who had trampled on the rights of Malaysian Internet users.

In 2013, Facebook Inc reported that it had turned down every single request by Malaysia to remove posts or give information on its users. The MCMC, again, did not launch any investigation to identify the supposed local authorities which had made these requests.

That same year, in the run-up to the 13th General Election (GE13), there was sufficient evidence that certain Malaysian ISPs had been throttling access to both alternative news portals and Opposition content on the Internet. Again, the MCMC did not take any action against these recalcitrant ISPs.

And yes, I describe ISPs which block access as "recalcitrant." ISPs have an obligation to provide access to customers who are paying them. Yes, they have to obey the laws of the land – but they must require proof that such laws are being broken.

They cannot, and should not, just take the word of the MCMC, or of any 'Little Napoleon' in power. They need to push back because they are being paid for their services, and their failure to provide these services is essentially a breach of contract, unless they have concrete, lawful reasons for doing so.

And the whims of some people in power are definitely not concrete, lawful reasons.

This is why Medium declined the MCMC's request, and why Facebook pushed back. Just as Google and YouTube have done against any government trying to throttle free speech, or restrict the rights of users.

Medium was founded by Twitter cofounder Evan Williams in 2012. Taking the original cue of Twitter as being a micro-blogging platform, as opposed to the social network we all love and loathe today, he wanted a 'Twitter' without the 160-character limit.

It has since become a platform for a mix of amateur and professional user-generated content (UGC), not just for journalism, but for all sorts of content. Public relations professionals and business executives, including chief executive officers, have taken to issuing official statements and personal thoughts on the platform.

Medium is not just about The Sarawak Report. It has become a key communications platform for today's professional – cutting off access to it is like cutting off access to a substantial portion of the entire promise and potential of the Internet.

It is a signal to all the Internet and technology companies around the world that Malaysia is not quite ready to abide by universal concepts of the law and free speech.

That Malaysia is not quite ready for the Internet and the changes it has wrought.

That Malaysia is not quite ready for the world out there.

Related Stories:

Internet censorship: What you allow is what will continue

Grave concern over tinderbox that is new media

The kangkung block: Denial seems to be the best defence

The mystery of the Malaysian Govt and its rejection by Facebook


For more technology news and the latest updates, follow us on Twitter, LinkedIn or Like us on Facebook.

Keyword(s) :
Author Name :