Singapore's Klinify closes US$600K+ seed funding round
By Digital News Asia February 4, 2014
Removes challenge of managing patient records without doctors having to change workflow
Funds to be used to grow team, expand prototype into full product and extend support service
KLINIFY, a document management system that helps private medical clinics manage patient records while preserving their existing workflow, said it has closed a S$770,000 (US$601,600) seed funding round.

The funding round was led by Jungle Ventures through Singapore's Technology Incubation Scheme under the National Research Foundation (NRF), and was supported by angel investors from the medical industry in Singapore, Klinify said in a statement.

The investment will be used to grow the team, expand the functional prototype that has already secured backing from customers into a fully-fledged product, and extend the support service for clinics, it added.

Klinify's founders developed their business through the JFDI.Asia accelerator programme, securing an introduction to their new investors at the programme's demo day held in the middle of last year.
"It was obvious Jungle Ventures' portfolio companies offered great synergies with Klinify," said Klinify cofounder and chief executive officer Krishanthan Surendran (pic above).

"Investment is a long-term people relationship too and we found that we connected immediately with the team at Jungle and their partners. Those relationships, networks and experience are exactly what we are going to need as we bring medical clinics in Asia to the forefront of technology," he added.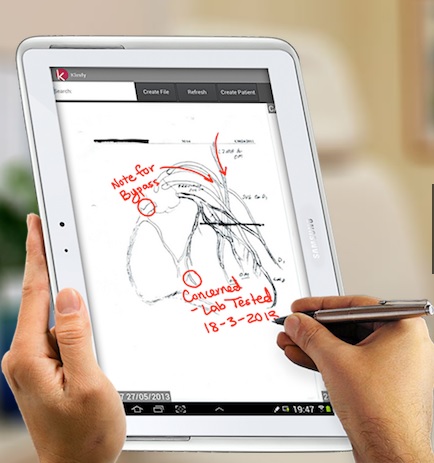 Klinify said it removes the challenge of managing paper-based patient records without requiring doctors to change their workflow process. It takes just 20 minutes to set up application, a scanner, and tablets that substitute for paper.

The technology enables clinicians to start using the system immediately, with very little training or downtime, the company claimed, adding that it was currently actively developing relationships with "major medical groups."

"Every other profession introduced screens and keyboards to manage information 20 years ago," said Amit Anand, cofounder and managing partner at Jungle Ventures.

"Clinics have held back because doctors don't want to be turned into data entry clerks; they're there to care for patients. We are impressed that Klinify has put so much energy into really understanding the problems faced by their customers and the many stakeholders involved in medical records management," he added.

Jungle Ventures is a Singapore-based, entrepreneur-backed venture firm whose other investments include financial services comparison platform iMoney, mobile commerce app ShopSpot, micro-lending platform Milaap, social payments platform fastacash, digital media platform ebus (acquired by IMD Group) and vacations rental site Travelmob (acquired by Homeaway).

Related Stories:

JFDI.Asia targets accelerator hattrick for 2014

iMoney raises US$2m in Series A funding from international investors

Encouraging moves from Singapore's ivory towers to industry, society

Frustration the trigger for success at iGene


For more technology news and the latest updates, follow us on Twitter, LinkedIn or Like us on Facebook.
Keyword(s) :
Author Name :