Say hello to the 'new' DNA
By Karamjit Singh November 3, 2015
Mobile-first the mantra for new adaptive site design
Other enhancements, including job listings, to come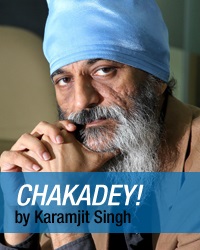 THE marketing team at my former company used to tease me that I had the dress sense of a migrant worker. This was back in 1996.

Little did they know then that I was actually ahead of the curve.

Fast forward to 2015 and I suddenly find that trying to pass off as a migrant worker is the latest technique in the toolkit of the Malaysian CEO who likes to be on the ground, or 'turun padang' as we like to say in Bahasa Malaysia.

Digi.Com CEO Albern Murty does it. So does Tony Fernandes of AirAsia, as he told our What's Next audience in September. I heard Albern himself say this last week as a speaker at the Innovate Malaysia Conference organised by Agensi Inovasi Malaysia (AIM) and PlatCom.

The moderator at Albern's session mentioned that Fernandes, who delivered the morning keynote address, also apparently liked to go 'undercover' in a similar manner.

While they had to deliberately dress down to look the part of a migrant worker, mine – unfortunately – was an all-natural look. But that was in 1996. I have changed! Phew.

However, while my dress sense has changed, unfortunately both I and Digital News Asia (DNA) have been stuck in 2012 as far as the design for our portal goes.

That is, until you see today's neat layout, the result of a few long months' work. By the way, this is apparently a '2016 design' according to the vendor we engaged.

And naturally, this is not just an aesthetic change for DNA. We have improved our backend CMS as well, although most will judge us by the visual aspects of the new site and its navigation.

And yet, I suspect that almost everyone will love it – by default, since the previous design was as bland as a tech news portal can get.

The mantra for us when planning this site was simple: It had to be designed with a mobile-first focus. This is such a no-brainer for any site designed today that I will not dwell on this.

But I will share that we started the year with just under 50% of our site traffic coming from mobile devices, with almost the same percentage visiting our Facebook page.

Today, 10 months later, both the site and the FB page receive over 65% visits through mobile. I am just wondering how soon it will hit 80% as I feel that will be the upper limits of mobile-based readership.

Two features that I am looking forward to will be launched shortly. With DNA now covering three countries – Malaysia, Indonesia and Singapore – giving you the option to read more country-specific news is also important, and that feature will be made available soon.

An exciting feature that I am looking forward to, which is also part of our business model, is to launch a jobs listing section. Note that this will not just be on technology- and design-related jobs, but all kinds of jobs that tech companies need filled.

While DNA clearly attracts a leadership-skewed and tech-savvy audience, we have begun to attract readers who are not as tech-savvy but who want to know about the latest digital trends and news. We are betting that these readers will be a talent pool employers are keen to engage with.

Now, truth be told, the changes you are seeing today and will be seeing over the next two months have been long overdue, and that's fodder for a leadership based article for another day. We've also had a few technical glitches, and apologise for the website going down intermittently before launch.

But the changes are here now, and we hope you like what you see – and if you don't, tell us why. I look forward to your feedback.

Related Stories:

DNA lands in Indonesia

DNA in Singapore: A big step towards the vision

DNA raises RM1mil in seed funding from IdeaRiverRun

And we're live ... finally!!


For more technology news and the latest updates, follow us on Twitter, LinkedIn or Like us on Facebook.
Keyword(s) :
Author Name :