Review: Samsung Galaxy A5 (2016)'s premium looks, not premium-priced
By Winnie Lee February 17, 2016
SURE, Valentine's Day may be over, but it is not too late to think about love and gifts for that special one.

With roses and chocolates priced at their highest, what can you give that's practical and functional, yet gives a hint of pink roses?

Get a mobile phone in pink rose. The one we are recommending is the Samsung Galaxy A5 (2016). It's hot off the production lines, having just been launched in January. It's a premium-looking phone that comes without the premium price tag.

Design

Once your precious sets her (or his!) eyes on the Samsung Galaxy A5 (2016) in pink gold, we are sure she will be overwhelmed by your thoughtfulness. Next, she will be impressed by the sleek, slim design, because really, that's what the Galaxy A5 (2016) is all about.

She will first notice the smooth shape of the phone, with few jutting edges, thanks to the small but well-placed power and volume buttons (pix below) on both sides of the phone. It's nice that the sides are also slightly contoured inwards for a more secured grip.


As one holds the phone for a longer time, the 7.3mm slimness of the phone becomes more obvious, with a 2.7mm super narrow bezel that surrounds a sizeable 5.2in display with Corning Gorilla Glass 4 panels on the front and back for better durability.

The gentle side contours, together with the polished glass panels, give the metal frame a more tactile feel and stability, making it non-slippery and easier to hold on to.

The pink gold colour itself makes this Galaxy A5 (2016) distinctive and lets it stand out from the crowd, with an aesthetically pleasing design on a familiar platform.

Performance

The Galaxy A5 (2016) runs on the Android 5.1.1 platform, and it's quite surprising that it's not the Android 6 instead.

In terms of user interface, it's on Samsung's TouchWiz UI (user interface), which is manageable, except that apps sometimes launch randomly, even if the phone is in your pocket or bag.

Still, the TouchWiz is pleasantly good looking, with bright and fun colours, and nicely designed shapes and styles, that make it distinctively Samsung.

The Snapdragon processor is rather satisfactory, other than those few times when it runs a tad slow while multi-tasking across apps.

It does get a little overheated at times too, but as it is an issue that is not likely to be solved anytime soon, it's a matter of getting used to it by ensuring you don't operate too many apps at the same time.

The Galaxy A5 (2016)'s 16GB internal memory is rather small, but a microSD can be used in one of the dual SIM slots to increase memory.

A highlight that sets the Galaxy A5 (2016) apart from its siblings is the fingerprint scanner. It is built into the home button at the bottom.

While it is quite accurate and fast most of the time, we find that it does have its quirky moments. As such, we prefer to stick with the tried-and-tested numeric passcode to lock the phone.

The Galaxy A5 (2016) features a 5.2in AMOLED touchscreen, which is of little surprise with its punchier colours and overall clearer images.

The flexibility of the screen's brightness is impressive – whether outdoors or indoors, the screen turns becomes bright or dim enough for comfortable viewing.

Camera

The Galaxy A5 (2016) has a 13-megapixel rear camera with f/1.9 aperture and optical image stabilisation, as well as a 5-megapixel front camera. It has a Quick Launch Camera feature, which allows fast access to the camera by just double-clicking on the home button.

What's also convenient is the separate video and photo capture buttons that allow one to pause video recording or switch between front and rear cameras. We just wish that it could capture videos in 4K.

The Galaxy A4 (2016) doesn't have many camera modes, but what it has is quite enough for a package this sleek. Its PRO mode allows adjustments to the white balance, ISO and exposure.

This is very much what most phone cameras have, but we like the accessibility and user-friendliness.

It's also quite interesting how some of the camera options are arranged in the Galaxy A5 (2016). Instead of being in a separate mode by itself, the effects option is in the form of a toggle on the viewfinder, along with the option to change the aspect ratio.

Now if the recipient of this pink gold style statement is a selfie lover, then this mobile is made for her. The Galaxy A5 (2016) has several selfie features like the Wide Selfie, Palm Selfie and Beauty Face.

The Wide Selfie mode allows one to pan around in selfie mode, so one can take a group wefie, or the panoramic scenery behind.

The Palm Selfie mode (pic below) is essentially a timer for taking selfies, but instead of tapping the photo capture button, one just puts one's palm in front of the camera. This tells the camera that one is ready to take a selfie and takes the photo seconds later, allowing one to get into position.

The timer can be set to two or five seconds and the palm gesture can be turned off so the capture button is used instead.

While innovative, we found that this mode wasn't as sensitive as it should be, so we would rather opt for the good old 'tap the capture button' way.

The Beauty Face mode is basically the editing function to beautify selfies and get rid of pimples.

Features

Of all the apps, we like the Smart Manager (pic below), which controls key areas like battery, RAM, storage and device security. It lets you track apps that drain the battery, use too much RAM, and do the clean-up when necessary.


S Health is another app that is extremely useful. Though it doesn't have advanced sensors to track heart rate and blood oxygen, it still tracks activities like walking and cycling.

In addition, one can input the amount of water and caffeine intake, so it's also useful in monitoring one's diet.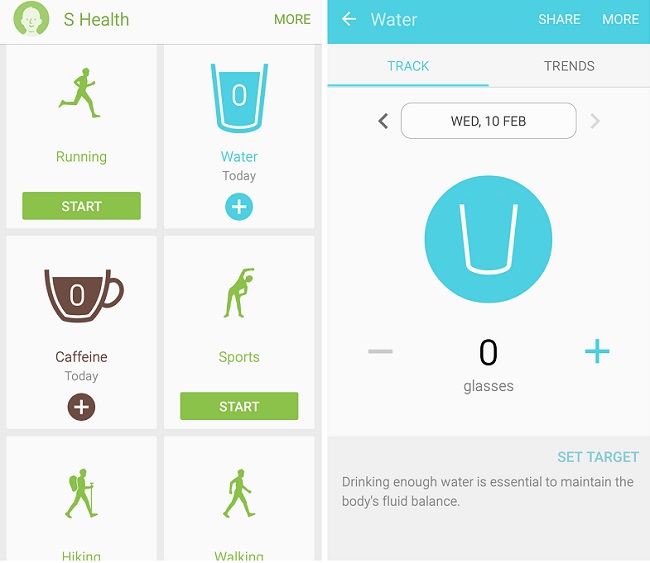 Our verdict

The Samsung Galaxy A5 (2016) is very stylishly put together, and the pink gold colour gives it an added sense of sophistication that is quite different from the predecessors.

This might even save your life, if you completely forgot Valentine's Day.


Related Stories:

mySamsung aims to make users 'feel at home'

Samsung updates large-screen smartphone portfolio amid slowing sales

Pressure mounts on Samsung as competitors up ante

Samsung's Galaxy A8 sports a slender body with big features


For more technology news and the latest updates, follow us on Twitter, LinkedIn or Like us on Facebook.

Keyword(s) :
Author Name :