Review: Asus ZenFone Selfie vs Asus ZenFone 2 Laser
By Winnie Lee January 5, 2016
WE had previously done a review of the Asus ZenFone Selfie and our verdict was that it is a tempting offer, given its competitive pricing.

But how does it fare against its sibling the Asus ZenFone 2 Laser? Read on to find out.

Design
The Asus ZenFone 2 Laser (left) and Asus ZenFone Selfie are so alike that they can almost be twins.

Almost. Except for tiny design differences, both mobiles are practically identical, and it is hard to tell them apart.

Except for the colour and some differences in size, there really is little that distinguishes one phone from the other in terms of design.

The ZenFone Selfie is slightly longer, by about 4mm, and this is probably to accommodate the larger front camera capability.

Both are 10.8mm thick at the thickest and 3.9mm at the thinnest, with rounded, curved plastic backs that are extremely ergonomic.

Both fit snugly in the palm and are really a delight to hold, without facing the risk of dropping.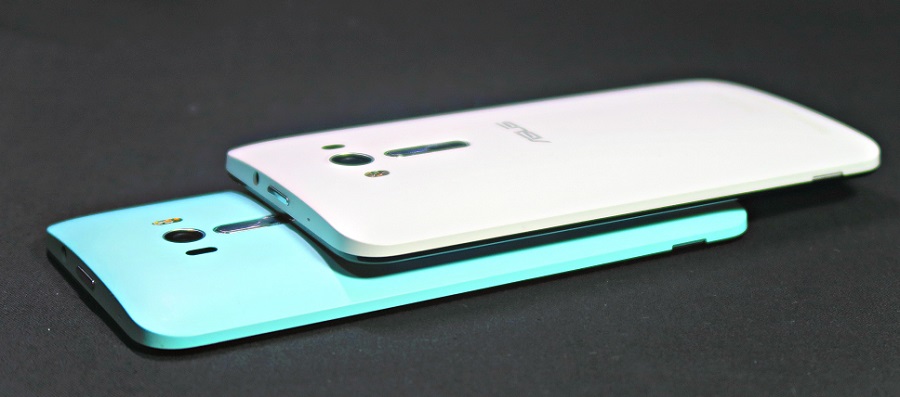 Another design feature we like about both ZenFones is the extremely flushed, ergonomic form factor, which leaves no protruding elements, especially where the screen meets the casing.

The sides are extremely smooth, enhanced by the power button that is at the top of the phones. Some may find this location a little inconvenient to reach when switching the phone on, but it is a small price to pay for the phone's mostly flushed body.

To achieve this smooth design, Asus moved the volume button – which doubles up as camera shutter key – to the back. This new position is rather convincing, and we find that it is suitable for increasing the volume when speaking on the phone or listening to music.

As a camera shutter key, however, it was a different story. Using it felt unnatural and clumsy, and needed a little getting used to.

Still, this unique design shift is what sets the ZenFone Selfie and ZenFone 2 Laser apart from the rest.

One distinctive feature, of course, is the colour. The ZenFone Selfie is the funkier of the two, and comes in pure white, chic pink, or aqua blue. The ZenFone 2 Laser is available in black, red or white.

Hardware

Besides controlling the volume, the volume button can also be used to take screen shots, by pressing the power button and the volume down button together.

Doing this was a little convenient, but the two other ways are a breeze to set up and use too.

The first way is to head to the Quick Settings page (pic below). Swipe down the screen from the top and tap the 'pencil' icon to edit. Scroll through the tools list and check the 'Screenshot' option.

Now, to take screenshots, just head to the Quick Settings page and tap on the 'screenshot' icon.

The last way is to use the Recent Apps key (pic below). Head to settings, and look for 'Asus Customised Settings' and tap the Recent Apps key setting. Choose the 'Tap and hold to capture screen' option on the pop up.

Removable batteries set both ZenFones apart from the pack. This allows flexibility in case of a faulty battery, but also gives easy access to the card slots, which, in addition to supporting MicroSD and MicroSIM cards, support dual SIM cards.

Performance

The ZenFone 2 Laser runs on the Qualcomm Snapdragon 410, while the ZenFone Selfie is powered by the Snapdragon 615.

Both run on the Android 5.0 Lollipop platform, upgradable to 6.0 Marshmallow.

Running both phones over the same time-span showed that the ZenFone Selfie, with its 64-bit Snapdragion 615 chipset, was slightly warmer than the ZenFone 2 Laser.

However, unlike some other phones in the market, applications did not have warning notices nor the tendency to shut down when overheated. This is an important point because it makes mobile use less frustrating.

Display

The two phones have 5.5 inch displays.

One of the key worries these days with smartphones is the possibility of dropping them and shattering the screens. Asus seems to have addressed this issue with the introduction of Corning Gorilla Glass 4, which is known to withstand hard knocks and drops, and is 85% less likely to break.

This is definitely a selling point, since replacing a screen does not come cheap these days. The Gorilla Glass 4 makes both ZenFones more sturdy and durable, and is economically friendlier in the long term, unless it drops at a certain vulnerable angle or hits surfaces like concrete.

It is also fingerprint-resistant, thanks to an anti-fingerprint coating to help minimise smudges, but that does not mean that greasy fingers might not leave marks.

Camera

Now this is really where you will see the differences between the two phones. Touted as a phone ideal for selfies (no surprise there!), the ZenFone Selfie is indeed so, with 13-megapixel PixelMaster dual-LED flash front and rear cameras.

In contrast, the ZenFone 2 Laser has a 13-megapixel PixelMaster dual-LED flash rear camera and a 5-megapixel front camera.

The ZenFone Selfie's higher capability front camera, which has an f/2.2 aperture and 88-degree wide angle lens, and its quick auto-focus, is probably the reason why Asus decided on the Qualcomm Snapdragon 615 chipset for the phone.

The rear cameras of both phones have the capability to auto-focus within a speedy 0.2 seconds. We have been using both phones for about a month, and we find that the auto-focusing is one of the fastest we have seen and is quite useful to help one capture fidgety subjects like a little kid.

So what's so special about the PixelMaster technology? Basically, it is Asus' way of combining hardware, software and optical functions to bring about better quality images, in a more fun way.

It does this by delivering about 16 rather interesting photo and video effects such as GIF Animation, where a series of continuous images is automatically converted to an animated GIF.

The Time Rewind Mode captures images before and after the shutter button is pressed, so that one can select the best image and not miss a moment.

PixelMaster can even do a Depth of Field image that focus on a single subject and blurs the background. This mode is quite impressive, and one can take photos almost professional-looking DSLR photos.

Both the ZenFone 2 Laser and the ZenFone Selfie have other similar camera modes, such as the Beautification mode.

As mentioned in an earlier review, the Beautification mode allows for instant editing of features such as the softening of facial features and brightening of skin tones, all industry standards, before the shutter button on the screen is pressed.

Doing this activates a 5-second countdown timer, so that subjects can be better prepared.

This, however, is only available on the front camera, and we wish that such an intuitive self-timer system can be extended to the next generation of Asus phones.

We were quite impressed by the manual mode too, which allows many imaging features to be customised, such as white balance and ISO.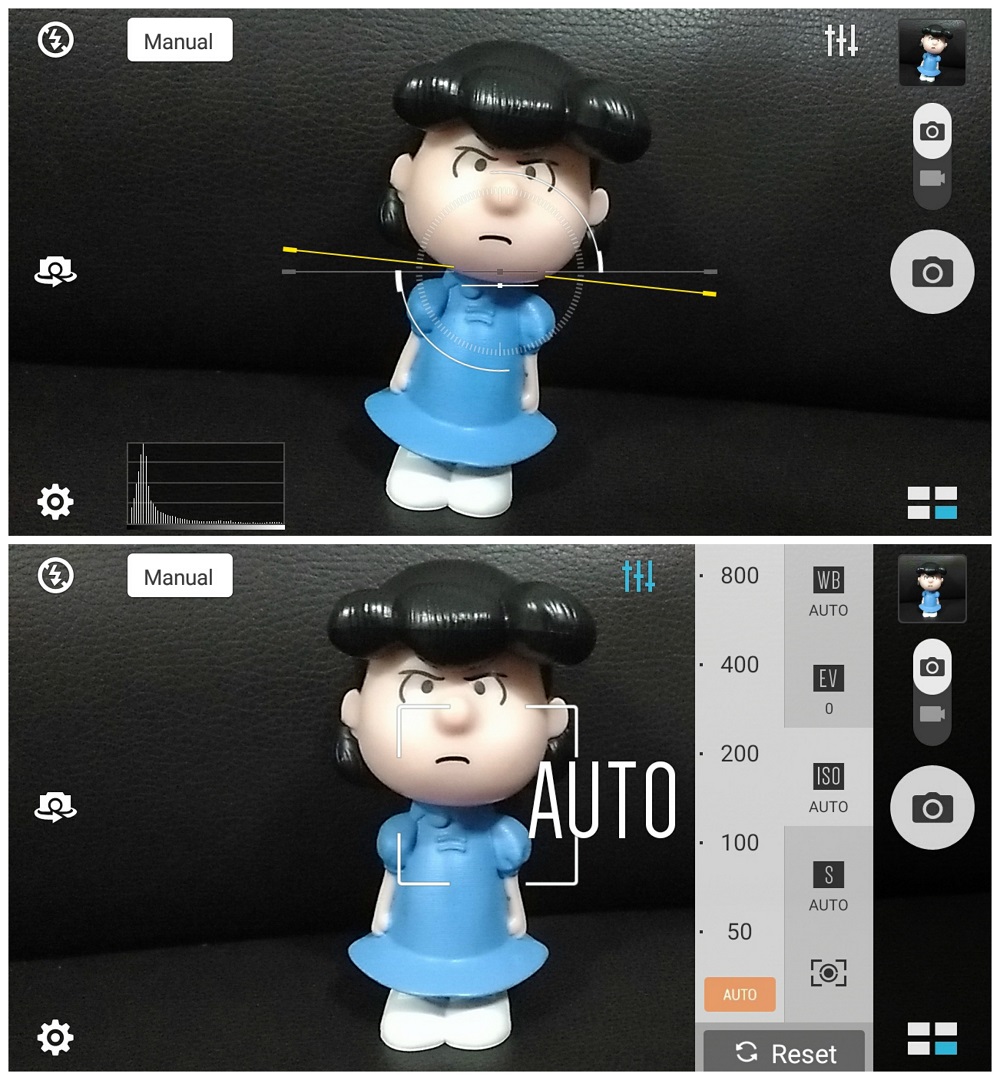 Software

Some of the software that we find worth highlighting include Kids Mode (pic below) and Mini Movie applications.

The former is a built-in parental control application that allows parents to decide which applications their children can have access too. It can also set a limit on play time and also restrict incoming calls to allowed contacts.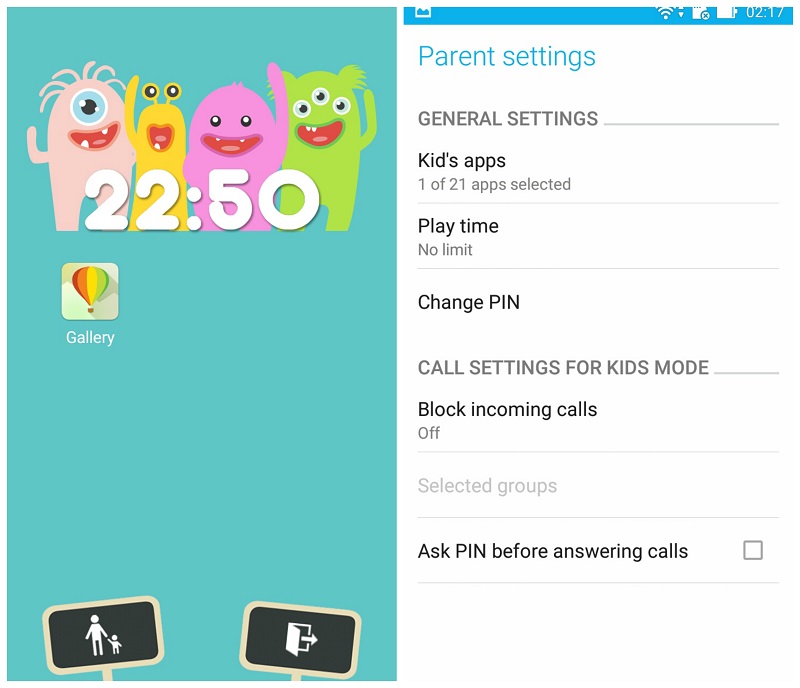 MiniMovie (pic below) enables one to select still images to make into a movie, with the option to change themes and music.

We like the personalisation of this app and the possibility of sharing on social media directly.

There is one other mode that tells us that Asus is aware that a wider section of both the young and the old is using smartphones. It is the Easy Mode (pic below), which caters to these first-time smartphone users with larger icons and font sizes.

It also enables fewer steps to be taken to do basic activities like messaging or making a call – a truly emphatic app.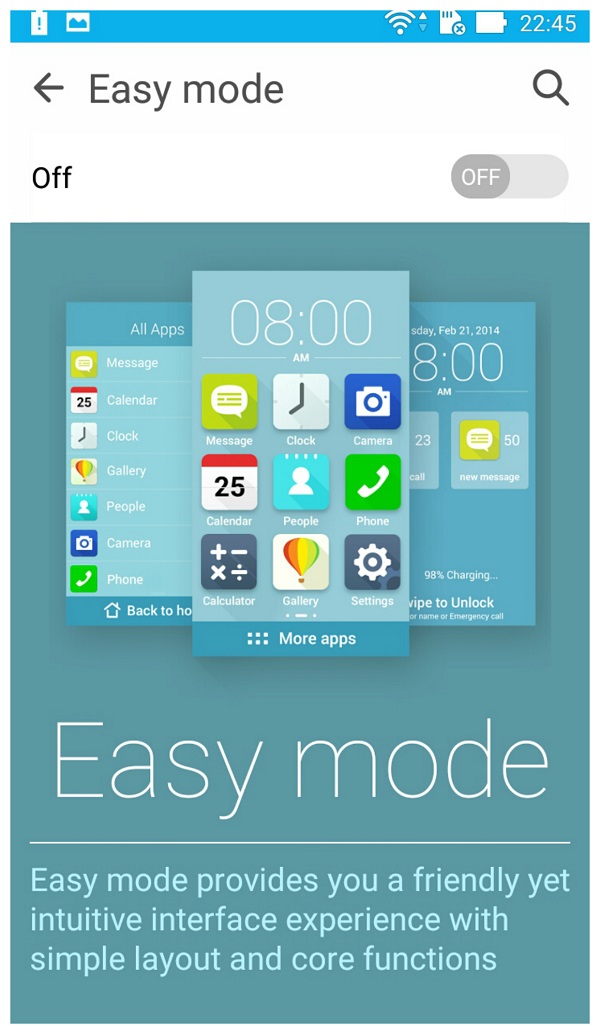 Winner

So which phone reigns? We think that the Asus ZenFone Selfie is great value at S$399 (. What you get is not only a bigger screen, but also two 13-megapixel cameras for good pictures, whether it is a selfie or scenery.


Related Stories:

Review: Master your mugshots with the Asus ZenFone Selfie

DNA Test: The Asus ZenFone 2 hits the right pricing notes

Asus Malaysia rolls out ZenFone 2, world's first 4GB RAM smartphone


For more technology news and the latest updates, follow us on Twitter, LinkedIn or Like us on Facebook.

Keyword(s) :
Author Name :