Samsung Galaxy A7 (2017): Bringing the A-game to the mid-range
By Chong Jinn Xiung February 22, 2017
The A7 comes with IP68 certification for water and dust resistance
The 5.7inch full HD Super AMOLED display offers vibrant colour and crisp text
SAMSUNG'S Galaxy A series phones have made a name for themselves as a strong choice for those who want a decent yet solid smartphone that doesn't break the bank.
The latest edition of the Galaxy A7 is the high-end model of the new A series and is Samsung's attempt to capture the budget-conscious segment of the market.
Having used the Galaxy A9 Pro from 2016, I was quite eager to check out the enhancements in the Galaxy A7 and see if it is indeed a phone worth upgrading to.
Design
It is clear that Samsung wants to prove that the A7 looked to the Galaxy S7 for inspiration emulating the flagship's metal frame that wraps around. The look is topped off with a glass back.
The glass back, however, smudges easily, often requiring a wipe to keep it looking pristine.
This year's A7 is built tougher too, boasting IP68 certification for water and dust resistance, meaning to say you can even bring it into the pool or shower without fear of it short-circuiting.
That in itself is a killer feature that had me sold on the device and immediately set it apart from other mid-range models.
The A7's 5.7inch full HD Super AMOLED display certainly does not disappoint offering vibrant colour and crisp text that is bright enough to be seen outdoors.
It is worth noting that Samsung has added a Blue Light filter mode that makes the display easier on the eyes, especially at night.
I have to say that Samsung's fingerprint readers are not as responsive or accurate as some others that we have tested. At times it worked perfectly but at others, I needed a second or third attempt before I could unlock my phone.
The A7 is among the first new Samsung phones to make the switch from microUSB to USB Type-C. It provides convenience as you don't have to worry which side to plug in your cable but you will need to buy more USB Type-C charging cables and they are not so common yet.
The Galaxy A7 is among the first Samsung smatphones to make the switch to USB Type-C
Performance
Under the hood, the A7 has a 1.9Ghz Exynos 7880 octa-core processor coupled with 3GB of RAM and 32GB of onboard storage.
To be honest, 32GB of built-in storage seems small considering the fact that some phones around this price range have double the storage.
Though the A7 has not been updated to Nougat just yet but it already sports an updated version of TouchWiz that is cleaner and snappier. In fact, it is not too far off from our experience with the S7 Edge's version of Nougat.
Looking at the benchmarks, the A7 scored 58,996 on Antutu which is pretty mediocre and far from Samsung's own Galaxy S7 Edge which scores 132,374. On GeekBench its single-core score was 765 while its multi-core scored 3939.
From a productivity point of view, we used PCMark's Work 2.0 benchmark in which it scored 3,873. Again this isn't very high on the chart as it doesn't even hit the top best devices list where the minimum score is 4,000.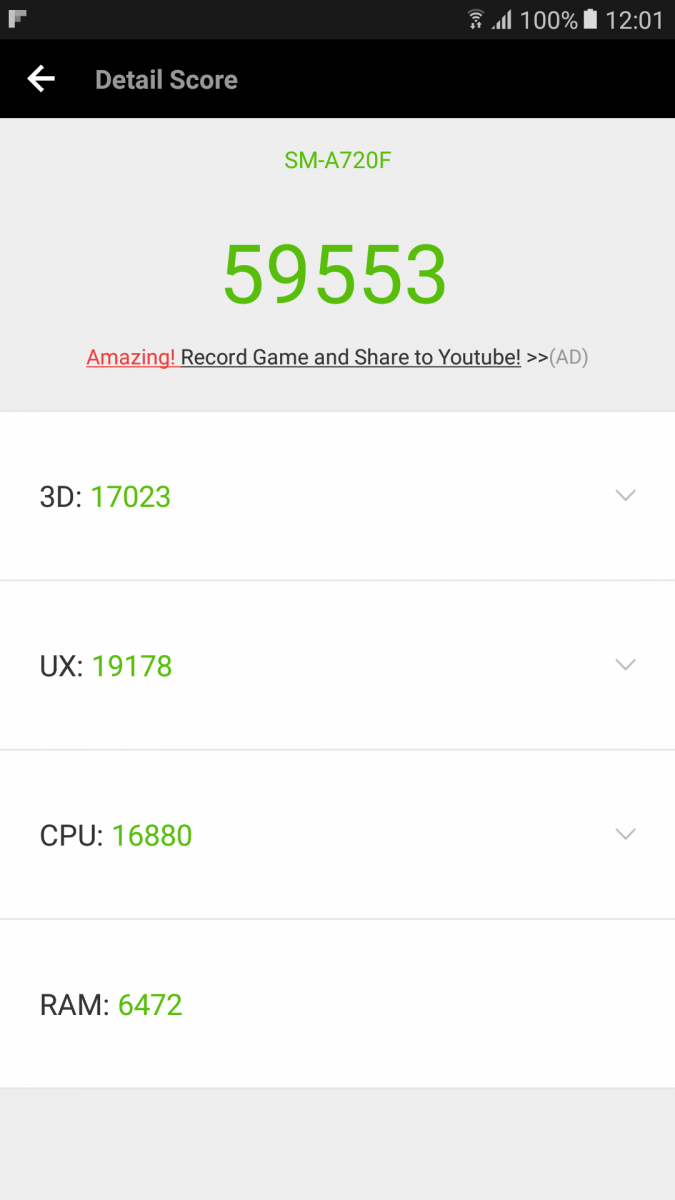 Results of Antutu, PC Mark and GeekBench benchmarks tests
To put its graphical capabilities to the test, we put the A7 through its paces with 3D Mark's Sling Shot Extreme test. The A7 only managed to score a modest 804.
That being said, the A7 is still a solid performer in world settings. I did not encounter any slowdowns as I used the phone for web browsing, email and social media checking throughout the day.
The A7's mobile gaming experience also proved satisfactory as I waged war in a galaxy far, far away in Star Wars: Force Arena and executed daredevil stunts in Asphalt 8: Airborne.
The battery has received a minor upgrade from 3,300mAh in last year's model up to 3,600mAh. The beefier battery certainly helped keep the A7 going for a full day of Facebook browsing, answering emails, playing games and listening to music on Spotify, from 9 am to 10 pm with 30% still left in the tank.
Camera
The A7's camera has received an upgrade over last year's model sporting 16-megapixel shooters on both the front and rear of the device.
As far as image quality goes, the A7 is a very competent shooter taking sharp, contrasting and detailed pictures when I took test shots outdoors.
Its autofocus is ever ready to snap subjects into focus under most conditions save for low light. Though the f/1.9 aperture isn't the brightest that we have seen on a mid-range smartphone, I found it still capable of capturing photos in low light. The only trade-off is that images can appear soft and pastel-like due to the heavy noise reduction.
The A7 has also upped its selfie game to deliver great looking 16-Megapixel images for the narcissist in all of us.
Sporting 16-Megapixel cameras on the back and front the Galaxy A7 is well equipped for any sort of photo taking.
There is also a Wide Angle selfie mode that though sounds good for taking big group selfies in theory but in practice, it feels cumbersome and is not worth the trouble. It would be far easier to ask someone to take a photo of your group instead of using this mode.
Video-wise those looking for 4K video recording may come away disappointed but the full HD videos are still pretty sharp and detailed for both the rear and front camera. The autofocus is fast and usually spot on.
You get optical image stabilisation too and while it does correct for some shakes, you will still get shaky videos if you record while walking.
Here are som sample images taken with the Galaxy A7
Conclusion
The Galaxy A7 benefits from a host of features inherited from its flagship models that boost its standing among mid-range phones.
The IP68 water and dust resistance design, snappy performance, better user interface and improved camera are some of the highlights of the A7.
All this, however, comes at a cost as the Galaxy A7 is priced marginally above its competition. This may be to its detriment as budget conscious users may be tempted to seek cheaper alternatives or top up just a little more for a flagship phone.
Still, if you want a feature-packed phone that shoots decent photos and performs well, you would be hard pressed to find another phone like the Galaxy A7.
Samsung Galaxy A7
Design - 4
Performance - 3 ½
Value - 4
Overall - 4
Related stories
Android Nougat update hits a home run on Samsung's flagship phones
Samsung gaming monitor stays ahead of the curve
Samsung Pay comes to Malaysia with Maybank
For more technology news and the latest updates, follow us on Twitter, LinkedIn or Like us on Facebook.
Keyword(s) :
Author Name :