Review: The ThinkPad Carbon struts its stuff
By Edwin Yapp December 5, 2018
No nonsense, high specs targeting the business executive
Great screen, build quality; battery life could be better, audio lacking
MY FIRST brush with a ThinkPad-branded laptop was way back in 2003, when it wasn't even a Lenovo as yet. Back then it was known as the IBM ThinkPad. It was one of the very first laptops I reviewed and although I can't remember what I wrote exactly, the few things I can still remember about the ThinkPad was that it had high specifications, it was known for its durability and reliability, and that it had a no-nonsense look.
Fast forward a decade and half, and the ThinkPad still lives. Yes, ownership has changed hands to China's Lenovo, but I come away from this review feeling the same way I did back then.
The unit on review is Lenovo's sixth generation ThinkPad X1 Carbon. Despite Lenovo taking over, we still essentially have a very high quality product.
Just to set the context right: The ThinkPad was IBM's flagship series of laptops and remains so with Lenovo. So don't expect it to retail for sub-RM5,000 as this baby isn't aimed at the 'casual surfer' market but at mid-to high-end business users. In fact, the review unit starts at RM6,832.00, and is currently available online and at all Lenovo exclusive stores (LES) nationwide.
So let's get down to it.
Design and build
As usual we start with hardware specs and design. The X1 sports an eighth generation Intel i7 processor that is mated with Microsoft's Windows 10 Pro 64-bit operating system.
Graphics are powered by Intel ultra HD Graphics 620, while the device is also equipped with 720p HD Camera with ThinkShutter (a manual slider to shut the camera) feature, dual array microphones and a fingerprint reader, as well as a Kensington lock slot. There is also an option for the unit to be equipped with an IR camera, which allows facial recognition for unlocking.
The unit I reviewed came with 16GB LPDDR3 memory and a 1TB solid state storage. Display comes courtesy of a 14" WQHD (1920x1080) IPS screen and the unit weighs a mere 1.13kg. As mentioned, all the goodies here are high-end specs, as one would expect from a RM7,000 machine.
But specs aside, the factor that drew me to the X1 is its build quality. The unit is made from a combination of carbon fiber and magnesium – hence the name X1 Carbon, and this makes it not only light but also extremely durable. From the soft-feel, matte-finished cover down to the plastics which hold the frame together, the X1 exudes top-notch quality and class. The slender weight also complements this.
All the moving parts of the ThinkPad were also great to use. The hinge was tight enough to prevent any accidental movements while working on it, and yet was smooth enough when opening and closing the unit.
The keys click nicely with the right pitch; left and right trackpad buttons are firm but not stiff. Personally, I would have liked to have a deeper pitch for the keyboard as I'm used to my Macbook but I think this is a minor issue, as one can always get used to it again.
The trackpad area is generous enough for movement but again, I did feel it was a tad small compared to my Macbook Air. What's interesting is that a NFC sensor is integrated onto the trackpad to support said connections.
To the right of the trackpad is the fingerprint sensor. Setup was pretty straightforward and while it generally unlocks the laptop from sleep, I did find the sensor reading speed a little slow.
I'm not sure if it's a Microsoft Windows software, known as Windows Hello, issue or the sensor hardware itself but given that consumers are so used to the lightning reading speeds of our smartphones, this was disappointing.
Curiously the ThinkPad's signature red 'nipple-like' button, known as the TrackPoint, still sits at the intersection of the 'G,' 'H,' and 'B' keys. I personally don't think many would use the button to maneuver the cursor given the trackpad functionality and so I think it's there for tradition's sake – after all, that's what really made the ThinkPad stand out back in the day.
On the left of the laptop are the ports, which include a USB-C and Gen 2 ethernet port that can be mated to one of Lenovo's physical docks, and a HDMI port for video output. On the right is a USB A port, the headphone jack, a space for heat sinks and the Kensington lock dock.
The use of USB C for charging is a nice touch and is Thunderbolt-enabled, meaning that it can supply (or receive) power and provide USB 3.0 data transfers. Finally, the top of the X1 has a standard ThinkPad logo on the right, bottom side of the cover, with a small red LED light telling you the unit is on.
The unit has all the hallmarks of a business laptop with good, modern connectivity and should sit well with most executives.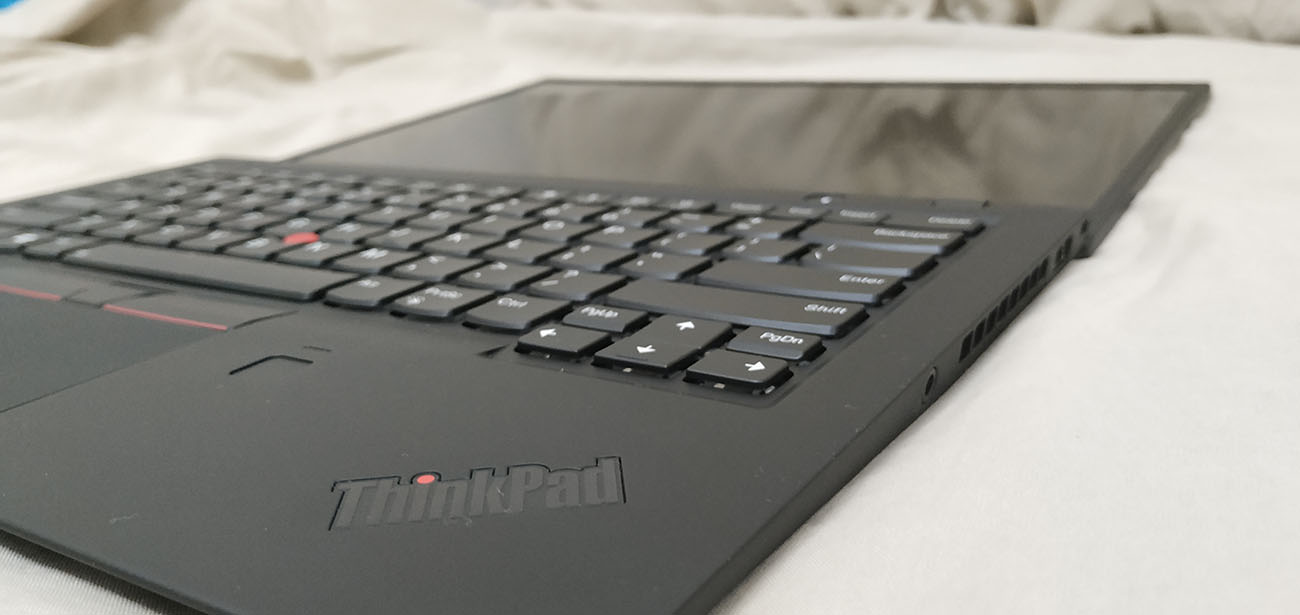 Performance and features
The X1 is a great machine to use. Apps and programmes load quickly, the screen is easy on the eyes and yet has enough resolution and detail for most of what I do. Watching videos on Netflix or YouTube was also pretty great, something I would expect from such a machine. From a gaming front, it may not be the best of options given that it doesn't have a dedicated GPU (graphics processing unit), but hey, this isn't what you buy the X1 for.
One thing that was a miss for me was the quality of the audio. The speakers face the bottom to begin with and that's not an optimal position for them to be in. That said, I found it soft and it lacked good quality – the timbre was really thin thereby making speech sound hollow.
As a solid business machine it passes by all counts. When it came to battery life though, I was a tad disappointed. I did get about seven to eight hours of usage with it before I had to recharge but I had hoped that I could approach a full 10-hour work day without having to re-juice it.
I tried playing around with the battery versus performance slider on the Windows settings, and also dimmed the display, but I only approached eight-plus hours with it. Still, it wasn't a slouch either. I had multiple Google Chrome tabs opened, WiFi turned on the whole time as well as videos and audio playing from time to time.
Recharging the unit was good. Being USB-C, the unit did ramp up to a respectable 80% from 10% in about an hour.
All the time working on the machine, I didn't feel any lag even though I was running multiple tabs (more than a dozen), and other programmes in the background, thanks to the 16GB RAM and the i7 processor.
Wrap up
The X1 Carbon is pretty much as advertised. Although the competition is much stiffer these days in the mid- to high-end business laptop segment, the X1 doesn't disappoint much, except where the price is concerned. Its steep pricing might deter some from investing.
The X1 is squarely positioned as a machine with business in mind. Security additions such as dTPM 2.0 also help in this respect. Still, there are options for you to consider, given the market being so competitive these days, so do shop around before committing.
Related Stories :
Keyword(s) :
Author Name :