DNA Review: A gamepad for the competitive mobile gamer
By Chong Jinn Xiung May 14, 2018
The G5 has an extensive setup process that must be completed
Has a long-lasting battery but high asking price
MOBILE games, whether iOS or Android, have grown in popularity so much so that you can find high-quality experiences right on your smartphone or tablet.
Games like PlayerUnknown's Battlegrounds (Mobile Edition) and Fortnite are as popular on mobile devices as Multiplayer Online Battle Arenas (MOBA) copying Defense of the Ancients.
However, it is worth noting that many of these games are made for a desktop experience and as such have vastly complicated controls that normal gamepads and touchscreen controls fail to capture the entire experience.
Enter the GameSir G5, a gamepad that is specifically designed for MOBA and first person shooting games and wants to show the rest how these games should be played.
Design
Right off the bat, it is evident that the G5 is not your typical gamepad. Decked in black and featuring a futuristic design, it looks like a serious tool for mobile gamers.
Despite the bevy of features, the G5 keeps a featherweight 240g. It is compact in size with a solid ergonomic design that will sit comfortably in any gamer's hand.
The layout is reminiscent of Valve's Steam Controller married with a Nintendo Switch Pro controller. You have a single left analogue stick for controlling movement along with a d-pad for older games.
Cutting right down the centre is a built-in bracket for holding your smartphone in place as you game. In our experience, the bracket accepts devices up to 6in in size, so phones like the Xiaomi Mi Mix 2 would work well on the G5.
On the right, the G5 features a full-haptic trackpad occupying the space where the four face buttons normally are. The trackpad essentially takes over the right analogue stick and is perfect for precision actions like aiming in a first-person shooter (FPS) game or casting and directing spells in a MOBA.
It also adds eight extra configurable buttons around the top and bottom of the trackpad area that you can customise with an app to suit the different layout controls of each game.
Looking around the sides and you will find the four mechanical triggers on the side that function as the trigger buttons similar to that of the Xbox One and PS4 controller. Their spring and bounciness is assuring.
Just like the buttons, there are four extra configurable buttons on the back and bottom that can be assigned to any action you want.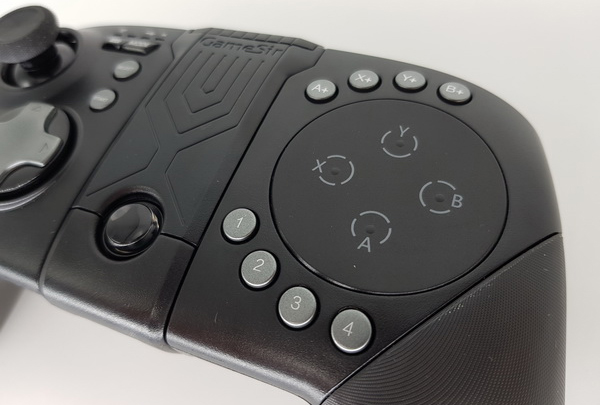 Performance
Unlike most regular Bluetooth gamepads, the G5 has an extensive setup process that must be completed if you are to play games properly on your device of choice.
It supports both major mobile platforms but the method of setting up varies as you will need the GameSir World app installed on your device for Android and the Happy Chick Emulator on an iOS device.
Either way, you must complete the set up because the G5 just doesn't work without it. The process is cumbersome but once you set it up you can harness the true potential of the G5 and its vast array of custom options.
Taking it for a spin on the two game genres it was made for: namely FPS and MOBA, the experience playing games like Modern Combat 5: Blackout was elevated thanks to the increased accuracy provided by the trackpad.
With the right set up of buttons that fit our play style, the game felt on par with playing a full console game.
Likewise, popular games like PUBG Mobile felt good as we could assign all manner of buttons as shortcuts to various functions be it picking up items while scavenging or pulling up the map to get your bearings straight.
As for aim during combat, the unusual layout of the buttons need some getting used to but once you find your groove you should be good to go.
On MOBAs like Arena of Valor, the controls are much more straightforward to set up. But the biggest benefit offered by the G5 is the ability to drag-and-cast abilities, something that is annoying while playing using touchscreen controls as your fingers block part of the screen.
An added bonus is the ability to program the custom buttons to upgrade skills as your character progresses, all without taking your eyes off the screen.
With the G5, it never felt like we were fighting to game and with a little practice, it felt so natural playing with it that is hard to imagine playing without it.
You may be disappointed to find that the G5 offers no vibration feedback, something that we have grown accustomed to ever since the days of the Sony DualShock controllers. Sure, it isn't a deal breaker but it would have been nice to have.
We had no complaints with the G5's stamina which kept playing games for hours at a stretch, just like the claimed 18-hour battery life.
Conclusion
All in all, the GameSir G5 looks to be an invaluable tool for mobile gamers who want to have an edge over the competition in games like PUBG Mobile or AOV.
It is, however, not a pick-up and play kind of device. There is a rather scary initial set up process all G5 owners need to undertake before being able to enjoy their game.
But, once the setup is done, we definitely saw the benefits of using the gamepad as our daily driver for mayhem and destruction. The long battery life also was a good plus point and allowed us to keep gaming for hours on end.
That being said, the G5 is very expensive at US$69.99 (RM275), so it is worthwhile getting if you are a truly competitive gamer who needs to win at all cost. For the casual gamer, the price is a too high and the feature set is overkill for their needs.
Related Stories:
Viacom International Media Network seals first Southeast Asia game collaboration with goGame
Mobile social gaming gains momentum with Celcom Game Hero Tournament Kill Shot Legacy
Razer partners with Spanish eSports team, Team Quesco
For more technology news and the latest updates, follow us on Facebook, Twitter or LinkedIn
Keyword(s) :
Author Name :