Challenger rolls out new retail concepts, value-added services
By Keith Liu April 23, 2015
Launches 'Go Android' and 'Game On!' to merchandise Android-related products
Spends almost US$500K to revitalise 4,000 sq ft of flagship store space
RIDING on the back of a 380% growth in unit sales of Android-based devices last year and increased demand for gaming hardware, Singapore's homegrown IT retail giant Challenger rejigged more than 4,000 sq ft of its flagship retail store at Funan DigitalLife mall to offer dedicated retail spaces for these products.

The 'Go Android' zone, as the name suggests, brings together a broad selection of devices from established brands like Samsung and Huawei, to upcoming ones like Asus and Oppo.

The 1,100 sq ft zone, developed at a cost of almost US$200,000, allows shoppers to experience the actual working devices from the different manufacturers in a spacious, brightly-lit, and surprisingly promoter-free environment.

Speaking to Digital News Asia (DNA) during the media tour on April 17, Challenger's head of marketing Loo Pei Fen (pic, above) said the self-serve concept is well-suited for its customers.

"Today's consumer are so tech-savvy, before they even come to the store, they already have all kinds of information, and are probably more well-versed than my retail staff.

"So when they come in, it's really about the basic tactile thing, like feeling the weight of the phone. Even though you see and know the weight, it's different when you feel it," she said.

However, Loo said that the conversation with the customer really starts after the purchase is made. "The experience must go full circle, so our communications with members will be about asking what went right, what went wrong, and how we can improve."

She said that Challenger's aim was to package the largest collection of Android-related gadgetry in one place, from devices to accessories and wearables, claiming that no other retailer had the same breadth of products.

Taiwan-based Asus had a special section carved out, as a result of Challenger being the exclusive IT retailer for the newly launched ZenFone 2 smartphone.
At the media event, Hektor Tung, regional director for Asus (pic, above), said that in 2014 both Asus and Challenger "moved aggressively into the local smartphone market and the growth was phenomenal" for both companies.

He said that Challenger is the top off-contract smartphone distributor for Asus, helping the vendor to achieve the No 3 position in Singapore in terms of market share.

In an effort to differentiate itself from operator-based outlets and traditional mobile phone shops, as well as encourage customers to join its loyalty programme, the retailer announced it will provide its ValueClub members a free Accidental Damage Protection plan on cracked screens, for all Android and Windows Phone smartphones purchased from its stores beginning April 1, 2015.

This plan, underwritten by insurance firm Star Shield, includes a one-time repair claim with a 10% deductible fee.

Game On!
On the gaming front, Challenger set aside more than 3,000 sq ft of space and worked with half a dozen partners, led by the likes of Microsoft and Sony, to create the 'Game On!' retail concept.

This area is split pretty evenly among the Microsoft Xbox One, Sony Playstation 4, and PC gaming sections.

The Microsoft Experience Corner (pic, above) is perhaps the most immersive – a darkened area featuring three massive video walls created from 12 large displays. Shoppers get to experience different titles on the Xbox One consoles that are connected to the video screens.

According to Microsoft Singapore's Xbox marketing manager Hanson Yap, this venue will play host to a 10-week long gaming competition, and he called it "an ideal platform for us to identify the best Xbox One gamer in Singapore."

The Sony Playstation 4 zone (pic, below) meanwhile, offers a number of demo machines running the latest titles, and two racing simulators complete with racing car seats, steering wheels and foot-pedal controls.

The PC gaming area features the latest gaming laptops as well as peripherals targeted at PC gamers – namely game-centric mice, keyboards and headphones from brands like Razer, Steelseries, and Armageddon.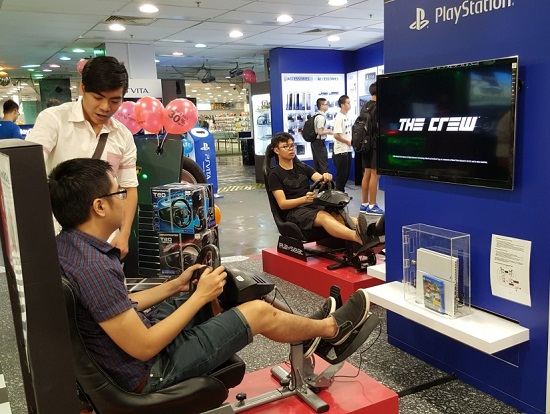 Making use of data

Moving away from a one-size-fits-all approach, Challenger also plans to dive into its membership database of half a million people, to identify purchase history patterns using analytic tools in order to customise offers that are more relevant to the individual customer.

The retailer is also expanding the use of its e-commerce platform and mobile app to drive demand generation through pre-orders, working with partners like Asus, for example, to run the campaign for the ZenFone 2.

Rather than threatening its brick-and-mortar presence, Challenger's online storefront has made it possible for customers to shop round the clock and pick up their purchases at the stores.

"It's interesting because these are the people who are shopping at midnight, or 1am. People just want to shop [but] they can't shop in the store since we're not open 24 hours – but at least we're there on your phone or the Web, and online is filling the gap for us as a new channel," Loo said.

However, based on the spartan user interface of its online store, it's clear where Challenger's priorities are for now – driving footfall into the physical stores.

As such, the two new retail concepts are being rolled out in varying degrees to all of the retailer's 45 stores island-wide, with about 20 outlets already set up with 'Go Android' zones.

And considering the space requirements, the 'Game On!' retail concept will be right-sized for only certain outlets, as not all of them will feature the game consoles in action.

Related Stories:

Disrupting the retail industry: Here's how you do it

Pikom to retailers: We feel for you, but move up the value chain

E-commerce will be 'do or die' for brick-and-mortar retailers: Criteo


For more technology news and the latest updates, follow us on Twitter, LinkedIn or Like us on Facebook.
Keyword(s) :
Author Name :