Acer Malaysia's new product line-up to power up businesses, education and prosumers
By Tan Jee Yee May 1, 2019
New TravelMate notebooks can withstand drops and are highly mobile
The Chromebook 311 is designed for students and even younger children
ACER Malaysia has just launched a bevy of products specifically targeted towards businesses, education and prosumers. Besides lightweight, secure and durable laptops, the line-up also includes a Chromebook designed for students, a monitor for professionals and projectors optimised for business use.
"Acer is constantly pushing the boundary of thin and light technologies for consumer products and today we are extending the technology and features into commercial products for businesses and professionals alike," says Acer Sales & Services Sdn Bhd products, sales and marketing general manager Chan Weng Hong.
They're pretty serious on the durability aspect. The recently-announced Acer TravelMate P614, TravelMate X314 and TravelMate P214 laptops all pass the US Military Grade standard test, meaning that they can withstand drops from 122cm heights and 60kg of pressure.
The laptops are also secured with Acer ProShield Security Manager and Trusted Platform Module 2.0, which safeguards company data in the hardware level. All three also come with three years onsite, parts and labour warranty, with one year international traveller warranty.
The professional TravelMate
The Acer TravelMate P614 is arguably the most impressive of the bunch. The US Military Grade durability is just one thing – this laptop manages to house an Intel Core i7 processor, 8GB of RAM and 512GB of super-responsive Gen3 x4 PCie SSD in a chassis that weighs only 1.1kg.
It's clearly made for mobile prosumers, with a 14-inch FHD touchscreen with 72% NTSC colour gamut to delivery accurate colours. You'll also find USB 3.1 Gen 2 Type-C with Thunderbolt 3 ports for data transfers up to 40Gbps and support for up to 8K display.
As for security, the power button of the TravelMate P614 has an integrated fingerprint reader while the IR supported camera allows users to log into Windows 10 via Windows Hello. There's even a camera shutter to keep the webcam hidden when not in use.
Acer claims that the laptop comes with up to 20 hours of battery life. The Fast Charging technology it has can apparently top up the laptop's juice in just 2 hours, or provide a 50% charge in less than 45 minutes. If it holds up, that's immensely impressive.
The TravelMate P614 laptop retails for US$1,379.36 (RM5,699). There's no official release date just yet, but it will be available for purchase in Malaysia in 3Q19 at Acer official online stores and selected authorised Acer resellers.
For the travelling business-person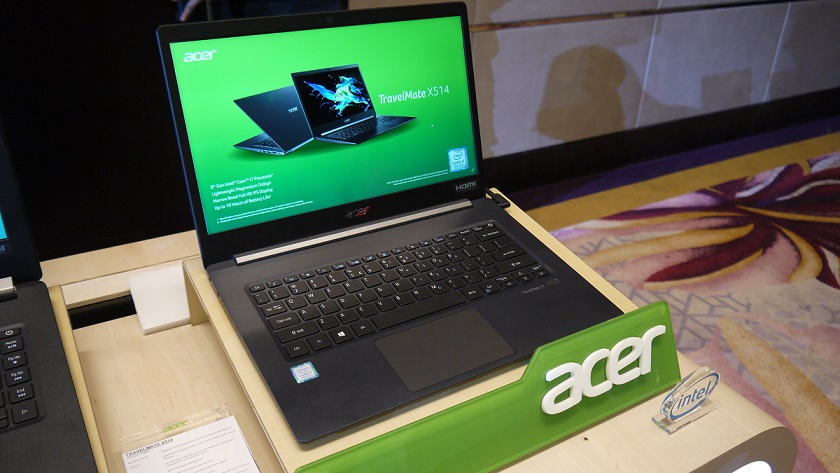 Those seeking something less premium can aim for the TravelMate X314 and the TravelMate P214. The former features the same fingerprint readers incorporated in the power button as well as the IR webcam biometric facial recognition, which eliminates password use.
Both laptops feature a design less than 20mm in thickness and weighs only 1.6kg each, though the X314 houses slightly more powerful specs. Specifically, it is powered by up to an 8th Gen Intel Core i5 processor coupled with 8GB DDR4 RAM and up to 256GB SSD. The P214, on the other hand, is powered by either an 8th Gen Intel Core i3 or i5 processor with 4GB of DDR4 RAM.
The P214, however, comes with an option of a 14-inch IPS display or a customisable 15.6-inch screen, as well as a choice to include a built-in DVD writer, which still proves useful for some. The X314 only has a 14-inch display build, though it also comes with a gesture-responsive Precision Touchpad with 27% more surface space than standard touchpads of the previous TravelMate X3 laptops.
The Acer TravelMate X314 will be available in Malaysia in Q3 2019 for US$943.69 (RM3,899), while the TravelMate P214 is available now with prices ranging from US$629to US$750 (RM2,599 to RM3,099).
A student's book
For students, Acer has announced the Acer Chromebook 311. This laptop offers protection against accidental spills of up to 330ml of water (thanks to a keyboard design with a drainage system) as well as handle drops from heights of 122cm and 60kg of pressure. It'll likely survive even the most accident-prone of students.
Worth noting is its ASTM F963-16 and UL/IED 60950-1 toy safety standards compliance, which translates into the fact that the laptop is designed to be used by younger children as well.
The laptop is powered by an Intel Celeron N4100 processor, which prioritises energy conservation (Acer claims a 12-hour battery life on a full charge). Rounding up the specs are 4GB of RAM and 32GB eMMC storage.
As it is a Chromebook running Chrome OS, you can expect fast boot time plus support for Google Play, which gives access to Android and Chrome web apps for learning. Parents can also control and monitor usage with the easy-to-setup digital ground rules, letting them restrict the types of website and apps that can be used. Automatic updates ensures the system is secure with the latest patches.
The Acer Chromebook 311 will be available in May 2019 for a price of US$314.14 (RM1,299).
Display for the pros
The Acer EI491CR monitor announced with the laptops is able to deliver a broad colour gamut covering 90% DCI-P3 colour standard, achieving this thanks to Quantum Dot display. Adding to this, the monitor has VESA certificated DisplayHDR 400, which shows colours as they truly are.
Did we mention that this is a 49-inch ultra-wide display? Essentially two Full HD display placed side-by-side, the Acer Display Widget's split-screen feature it has comes with 11 types of split regions, letting users divide the screen into several regions and assign apps to each of them.
The Acer EI491CR monitor also comes with the Radeon FreeSync 2 technology providing low-latency HDR gaming experience, as well as overclockable 144Hz rapid refresh rate to lower input lag and offer quicker frame rendering. It's a monitor for gamers, as well as professionals handling graphics and video.
Priced at US$822.68 (RM3,399), the monitor will be available in May 2019.
For other display options, there are the Acer PD1320Wi and PD1520i projectors. The former provides WXGA (1,280 x 800) projections while the latter comes with 1080p or maximum 4K2K (3,840 x 2,160) resolutions.
Both are equipped with an LED light source, which offer up to 30,000 hours lifespan (that's eight hours of use daily for more than 10 years), making it last longer than traditional projectors. The LED light source also lets it start up in a second, and there's no need to wait for the projector to warm up or cool down for use.
Both projectors use three separate Red, Green and Blue LED emitter panels for better color saturation and achieve an extended 85% NSTC wide color gamut and reproduces accurate color balance.
Available now, the Acer PD1320Wi projector retails for US$725.86 (RM2,999) while the Acer PD1520i projector retails at US$895.29 (RM3,699).
Related Stories :
Keyword(s) :
Author Name :