Acer's monstrous Predator 21 X gaming laptop lands in Malaysia
By Chong Jinn Xiung May 18, 2017
Features a massive curved 21-inch screen and eye tracking capabilities
Boasting some of the very best in specs and features it will cost US$9,270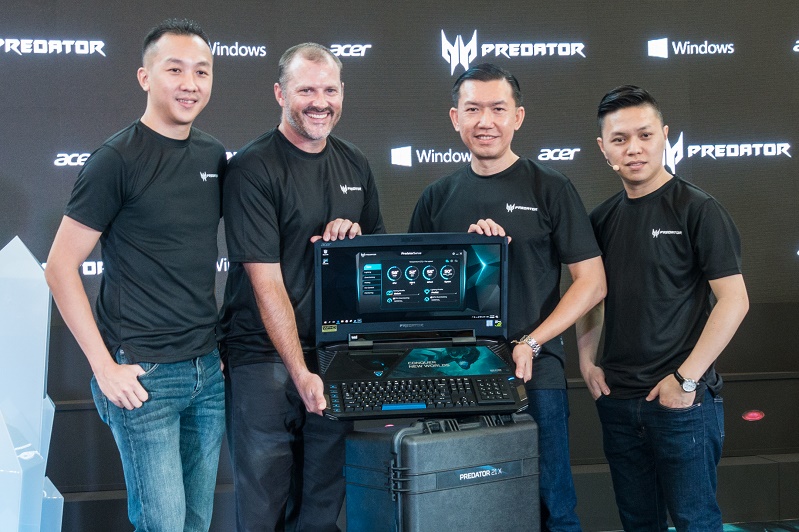 From left: Acer Malaysia director of products Johnson Seet, Microsoft Malaysia general manager for Microsoft consumer and devices sales Bruce Howe, Acer Malaysia general manager for products Chan Weng Hong and product managerJeffrey Lai at the launch of Acer's top of the line Predator 21 X
WHEN it comes to gaming laptops, you would think once you have seen one then you have seen them all. But every once in awhile something strange and unique comes along to completely throw this notion out the window.
At last year's IFA trade show in Berlin, Acer introduced its top of the line Predator 21X, the world's first laptop with a curved screen.
Acer recently announced that the Predator 21 X will be available in Malaysia The Predator 21 X is no ordinary laptop, this hulking beast that holds enough power to put even a dedicated gaming desktop to shame.
In fact, Acer said there are only 300 units of the gaming laptop produced and there due to its high price tag of US$9,270 (RM39,999), only one unit will be available for sale in the country.
The Predator 21 X practically dwarfs every other gaming laptop on the market. Portability certainly isn't its strong suit as the laptop weighs a hefty 8kg.
The highlight of the laptop is definitely its genre class defining 21-inch curved IPS display with a blazing fast 120Hz refresh rate made specifically for gamers. Coupled with the fact that it features Nvidia G-Sync technology to ensure smooth and sharp gameplay without any tearing during frantic battles.
Though it has an unusual 21:9 aspect ratio, that boasts an impressive 2,560 x 1,080 resolution.
To top it all off it comes with integrated Tobii eye-tracking technology that allows you to aim and identify enemies in games like Assassin's Creed just by using your eyes.
Gamers will not be left wanting with the sound quality as it comes equipped with Acer's SoundPound 4.2+ that consists of four speakers and two subwoofers and Dolby Audio for pristine audio enjoyment.
If a 21-inch screen still isn't big enough for you, not to worry it has an HDMI port and two DisplayPorts to take your gaming to an even larger display.
Nested within the enormous laptop is a mechanical keyboard that uses Cherry MX Brown switches complete with RGB backlighting built into each key. All this, Acer said, makes for a satisfying typing and responsive experience whether it is used for productivity or slaying of enemies.
There are also macro keys on the left side of the device that can be used to initiate specialised commands within games.
Interestingly, it has a removable side panel that converts it number pad to a trackpad.
Inside, it holds dual Nvidia GTX 1080 GPUs in SLI (Scalable Link Interface), that offer it plenty of power to handle some of the most graphically demanding games to date.
That's not all, the new Predator 21 X has the internal specs of every gamer's dreams with Intel's new 7th generation Kaby Lake Intel Core i7 processor along with 64GB of DDR4 RAM and can hold up to 512GB SSDs.
As one can imagine, to power such a powerful laptop it will take a lot of power and generate a lot of heat. Fortunately, the Predator 21 X has two power supplies to keep it running along with five system fans and nine heat pipes to keep it cool.
Adding to that for safe transportation and storage, the Predator 21X comes with a custom ultra-durable Pelican carrying case to securely store it. The hard-shell case is said to be watertight, crushproof and dustproof.
Related Stories:
Acer debuts three new Chromebooks
HotShotz qualifier "awesome" says APU CEO
Dell introduces upgrades to its Latitude and Precision lineup
Keyword(s) :
Author Name :