Samsung Galaxy Note10 will bring the wizard out in you, pre-orders available
By Tan Jee Yee August 9, 2019
S Pen gets new gesture functions, video getting more focus
Gaming gets boost with world's slimmest vapour chamber cooling system
There's always something about the Samsung Galaxy Note line of smartphones. It used to be about its size – they are notably bigger, straddling the line between smartphone and tablet. But really, it's almost always about its premium specs, its position as a device for both entertainment and productivity, and its unwavering commitment to the S Pen.
The Samsung Galaxy Note10 is here, and it's very much the aforementioned core aspects of the series dressed to the tenths. There are tonnes of new improvements, but the main difference here is that the Note10 has two iterations – the smaller, more affordable Note10; and the Note10+, which comes with the largest Note display yet (6.8-inches).
Malaysians can pre-order it starting 8 August 2019 to 18 August 2019. The Galaxy Note10 with 256GB of storage prices at US$879.36 (RM3,699), while the Note10+ retails for US$998.23 (RM4,199) for the 256GB version and US$1,140.87 (RM4,799) for the 512GB version.
There are perks to pre-order the device now. With the Note10, customers can get complimentary gifts worth RM1,058, which includes the Galaxy Buds earphones and a wireless battery pack. For the Note10+, you get RM1,159 worth of freebies, which includes a memory upgrade from 256GB to 512GB.
I recently had the opportunity to try out the smartphone at a media event, so here are some early impressions:
Great: The gorgeous display
It's great. It looks crisp and glorious, and near bezel-less. The in-display cutout for the front camera is nicely small and not obstructive. Placing it in the centre is a smart choice, too – the hole-punch cutout of the Galaxy S10 had felt odd and intrusive on the top corner, but not here on the Note10.
The smaller Note10's 6.3-inch display (2280 x 1080 resolution, at 401 ppi) is quite the looker, but it's the Note10+'s 6.8-inch Quad HD+ screen that's a stunner. 3040 x 1440 resolutions with 19:9 screen aspect ratio at 498 ppi, the display looks expectedly sharp and eye-catching. And despite the ostentatious screen estate, the phone doesn't feel unwieldy.
Both feature a Dynamic AMOLED panel that is HDR10+ certified, so yes: vibrant, rich colours are to be expected.
Not-so-great: No headphone jack
It's a bummer. It helps declutter the Note10, sure, but you'll likely have to rely on Galaxy Buds (it's available for free, if you pre-order) for an audio experience that frees up the USB Type-C port. At the very least, Wireless PowerShare is available on the Note10 as well, so you can charge the buds wirelessly.
It's not the only thing that got nixed – there's no dedicated Bixby button now, which is a good thing (who truly uses it?).
Cool: New S Pen functionality
The S Pen still does what it does best, like letting you take notes and doodle on people's faces. This year, however, Samsung is making it a lot more than just a glorified stylus and selfie remote – they've added an accelerometer and gyroscope to the S Pen.
Now, in addition to button presses, the Note10 can detect gestures like flicking and swinging of the S Pen, which lets you control some aspect of the smartphone with just the S Pen alone.
On the camera, for instance, you can flick left and right to change the camera's functions. Performing a circular gesture clockwise or counter-clockwise lets you zoom/unzoom the camera. It feels a little awkward initially, but it's quite responsive and makes you feel like a smartphone wizard.
Other neat S Pen features: the phone has a built-in feature that converts handwriting to digital text, and it's pretty darn accurate despite my horrible handwriting. You can also doodle on videos, which – combined with the simple-to-use video editor tool – could lead to some nifty work and play applications.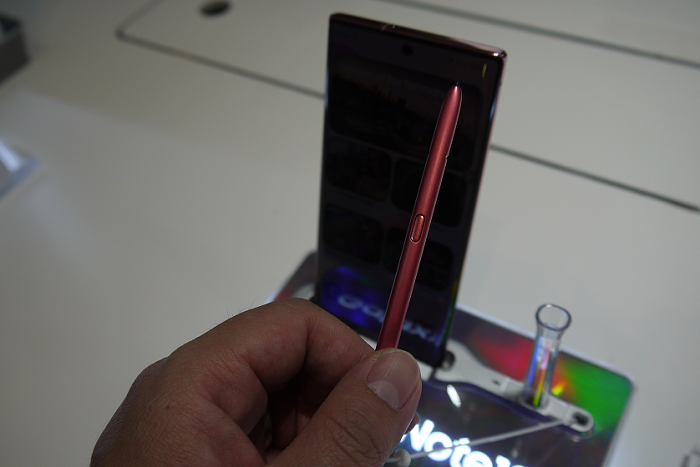 Cool, but only if you pay: Specs disparity
Less of something I could experience but more an observation. The Note10 may be cheaper, but there are a number of things you'll be missing out. For starters, the Note10 packs a 3,500mAh battery, which isn't bad but not exceptional for such price point. The Note10+, on the other hand, has a massive 4,300mAh one.
The Note10+ also has more RAM (12GB, versus the Note10's 8GB) and also a microSD card slot. Annoyingly, the expandable storage is not available on the Note10 – you'll be stuck with the 256GB provided.
Another kick in the Note10's shins: the Note10+ additionally supports 45W wired charging capability, which Samsung says can give the phone enough juice to last the day with just 30 minutes of charge. The 45W charger is sold separately, though.
Excellent: Video gets a lot of focus
The Note10 gets a quad-camera setup that is more or less identical to the S10+. You get a 12MP main camera, 12Mp telephoto camera with OIS and a 16MP ultra-wide camera. The Note10+ notably has an additional sensor that helps with depth sensing and a 3D scan mode, called VGA DepthVision.
The Note10+'s camera's capabilities, from as far as I could tell with the time I had, is at least on par with the S10+ (which is excellent).
What's more in focus, though are the new video capabilities. Samsung intends make the Note10 a premium video maker, and they're certainly packed with the features to do so.
There's a Live Focus Video feature that lets you add bokeh to videos to better focus on a subject (works like a charm), while Zoom-in Mic can help amplify the audio in frame while pushing background noises aside. It's hard to tell how well the latter works in a noisy environment, but from what I could tell, it does help amplify and isolate audio decently.
Extra: More productivity, more performance
There are several other interesting features I wasn't able to try. Samsung DeX has been given new capabilities – you can now drag and drop files between a PC and the Note10 via USB, as well as access mobile apps using a mouse and a keyboard.
The Link to Windows feature is integrated into the Note10's Quick Panel – with one click, users can connect to their Windows 10 PC. There, they can see notifications, send and receive messages, and review recent photos without needing to look down at the Note10.
Gaming is also receiving additional focus. Samsung tells us that the Note10 features the world's slimmest vapour chamber cooling system. There's also a feature that lets you record your screen's interactions as a video, which works for mobile game streamers.
So far, so very much a Galaxy Note device. I can't wait to try it out for the long run, and there's certainly much promise here. The devices will be available on 23 August 2019.
Related stories:
Review: The Galaxy S10+, a worthy 10th anniversary champ
Review: No bells and whistles but the Samsung Galaxy Tab A 10.1 is a solid mid-range tablet
Keyword(s) :
Author Name :