Digi Q2 2015 revenue edges up 1.3%, expands music service
By Digital News Asia July 14, 2015
Affected by GST implementation and 'intense competition'
Music streaming service adds Jay Z's Tidal; Astro's Raku and Tencent's Joox
CELLULAR operator Digi.Com Bhd reported a slight increase in revenue for the second quarter of 2015 (Q2 2015), even as it expanded its music streaming service with new partnerships.

For the quarter under review, service revenue rose 1.3% to RM1.589 billion year-on-year (Q2 2014: RM1.588 billion) on the back of effects from the implementation of Goods and Services Tax (GST) and intense competition. [RM1 = US$0.26]

Earnings before interest, tax, depreciation and amortisation (EBITDA) was RM788 million from RM795 million a year ago, the company said in a statement.

Profit after tax (PAT) tapered to RM464 million during the quarter (Q2 2014: RM499 million) as a result of moderated EBITDA and progressively higher depreciation and amortisation charges, as well as higher tax expenses.

"For the second half of the year, we will build on our … 4G LTE (Fourth Generation Long-Term Evolution) momentum with an ambition to continue expanding our reach to more areas nationwide," said chief executive officer Albern Murty (pic above).

"We will also continue to strengthen our products and services value proposition, and introduce new digital innovation to encourage adoption and stimulate usage on our high-speed network," he added.

Digi said it has rolled out its 4G LTE network to cover more than 65% of the population. It said it spent RM200 million during the quarter primarily to boost data network coverage and quality.

Over RM2.3 billion has been spent as capital expenditure in the last three years, it added.

As of the second quarter, nationwide 4G LTE population coverage is approximately 35% while 3G coverage stood at 86.6%.

Consequently, Digi has seen its customer base growing to 11.8 million, primarily bolstered by an increase in postpaid subscribers. Internet subscribers also steadily rose to 57.9% or 6.8 million of its total customers, with the quantum of smartphones on its network expanding to 57.1% in the second quarter.

The steady increase in smartphone and Internet penetration on its network in the preceding quarters has helped lift Internet revenue by 24% compared to the same period last year, and today contributes 31.9% to the company's overall service revenue.

Digi announced a second interim tax exempt dividend of 5.9 sen per ordinary share equivalent to RM459 million or 99% payout ratio to shareholders on Sept 4.

Tidal, Raku and Joox on board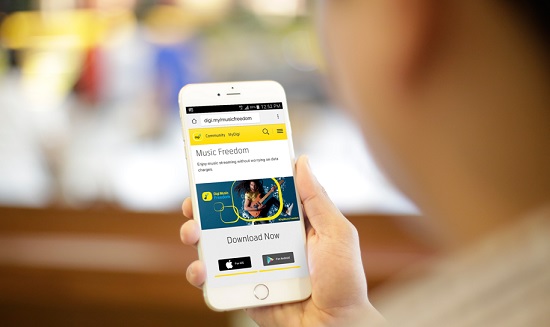 Digi also announced new partners have been added to Digi Music Freedom unlimited streaming service, first announced in March, bringing the total number of partners to 20.

The 10 new partners include US hip-hop superstar Jay Z's high fidelity music streaming service Tidal; Astro's Raku which features international and local artistes; Australian provider Guvera; and the recently launched Joox from Tencent.

New radio streaming services include MIX fm, LiteFM, SINAR fm, MELODY FM, THR Gegar and THR Raaga.

They join Digi's initial 10 services: Deezer, Spotify, Rdio, KKBOX, SoundHound, hitz.fm, ERA fm, MY FM, BE-AT.TV and Q.us.

Digi said it is also extending its free subscription for an extra 120 days. Existing customers will see their free subscription extended automatically while new customers will have 120 days of free streaming from the time they activate Digi Music Freedom on their devices before Sept 30.

To subscribe, Digi customers should download the Digi Music Freedom app from the Apple App Store or Google Play Store. For more information, visit musicfreedom.my.

Related Stories:

Digi maintains data momentum in Q1 2015

Digi offers unlimited music streaming to its Internet users

Astro takes on Spotify and Deezer with its Raku app

WeChat's Tencent enters music-streaming fray with Joox


For more technology news and the latest updates, follow us on Twitter, LinkedIn or Like us on Facebook.
Keyword(s) :
Author Name :