Digi nails it with its family postpaid
By Digital News Asia January 16, 2018
Users enjoy both convenience and savings with Digi Postpaid Family™
Unlimited calls for all lines, principle owner enjoys free roaming in 10 countries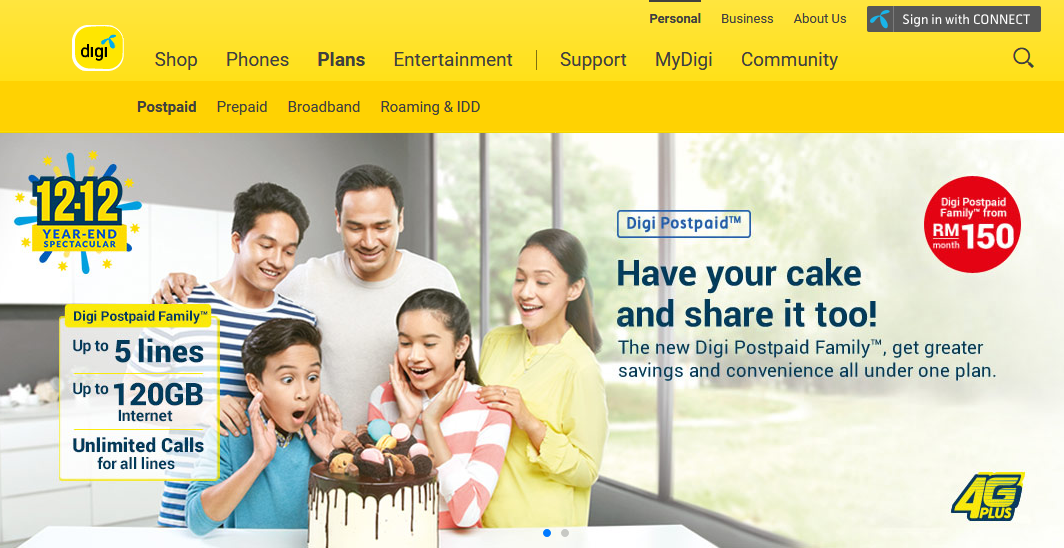 HAVE your cake – and share it too – that is the confident message coming from Digi and its Digi Postpaid Family™ Plan that is gaining in popularity with families.
So great is the size of this particular "cake" that you can not only consume it with family but friends as well, and this is mainly enabled by the fact that you share up to 5 lines under this plan. Which is also why Digi touts its Digi Postpaid Family™ as giving you both the convenience and savings all under one plan.
The savings come in thanks to the one low price for the family to enjoy that starts from RM150 a month.
Simplicity comes from the fact that you get one plan with one bill. Members under the plan get to enjoy up to 120GB internet that is shared by all the users. One thing no one will have to share though is how long they talk on their phones because the Digi Postpaid Family™ offers unlimited calls for all the lines – bringing new meaning to the phrase "talk till the cows come home".
And for the owner of the line, there is even better news, especially if they are heavy travellers because they get to enjoy free roaming in 10 countries – Australia, China, Hong Kong, Taiwan, Singapore, Thailand, Philippines, Indonesia, Brunei, Myanmar.
Yet another feature that makes the Digi Postpaid Family™ stand out even more is how accommodating it is for those who are heavy users of digital gadgets with some even inseperable from their devices, especially those Digital Natives. You will love the fact that this postpaid product also covers wearable devices and any gadget which requires the use of a SIM.
For those who have friends they describe as "almost part of the family", well the Digi Postpaid Family™ allows you to welcome your close friends to the family and start sharing with them.
You will be hard pressed to find another postpaid family plan that offers you the convenience of Digi Postpaid Family™ where family could be your blood ties, your favourite digital device or your close friend who is almost like family.
In a nutshell, the advantages can be headlined as follows:
Everybody needs more data these days and if you have a big family that could be a big problem. But not to worry. Whether you have a small or large family, there is plenty of data to go around for everyone; up to 120GB in fact!
Choose between sharing out the line between two or four other family members. So even if junior or your better half need more data to surf, this plan has you covered.
Sure you can always surf all day long, but sometimes you need to talk to someone without needing to worry about racking up a high bill for phone calls.
With the Digi's Postpaid Family plan, you don't have to watch your minutes and enjoy unlimited calls to all lines.
It used to be a headache taking care of multiple lines for each family member but Digi has made it easier for customers to take care of their bills all in one place. That's right. One bill to settle them all. You are in control of your billing and no hidden surprises await you at the end of the month.
Everybody and all SIM-embedded digital devices are welcome under this comprehensive plan Digi has introduced to the market. You can subscribe to yours, here.
For more technology news and the latest updates, follow us on Facebook, Twitter or LinkedIn.
Keyword(s) :
Author Name :