Yasmin Mahmood – driver, not the driven
By Karamjit Singh February 24, 2015
Focusing on fighting battles she can win
Malaysia as a gaming hub, far fetched?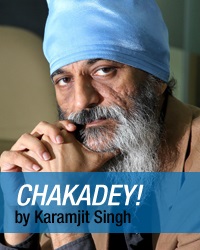 IS SHE going to be driven around, or will she be the driver? This was the question on my mind when I found out that Yasmin Mahmood (pic below) was to be appointed the chief executive officer (CEO) of Malaysia's Multimedia Development Corporation (MDeC) last September.
Well, half-way through my interview with her on Feb 11, I got my answer. She was going to be the driver. The realisation came to me when she said, "I don't want to flog a dead horse." This was in reference to trying to convince the Malaysian government to carve out certain public sector IT jobs and let Malaysian-owned Multimedia Super Corridor (MSC) status companies bid for those.
Her predecessor, Badlisham Ghazali, had tried gamely to get this going but failed. I myself had urged Badlisham to not let up on his efforts to get this done. I even brought this up to the then Prime Minister Mahathir Mohamad in 2002 at the annual press conference held after the International Advisory Panel (IAP) meet.
He told me it was very difficult to do and would be unfair to non-MSC status companies. But knowing that many of the large American tech companies got their breaks delivering tech projects for various government agencies, there was already some early lobbying going on to try to secure a similar foothold for Malaysian tech companies.
But with nothing to show for those efforts over the past dozen years, it is both obvious and yet bold of Yasmin to make this call. Bold, because it may not make her popular with some MSC Malaysian company CEOs who believe that the government should do more to help them as they bought into the MSC vision in developing IT into one of the growth pillars of Malaysia.
But being a leader is not about being popular and I think this is a good call by her. Keep your energy to fight battles you can win.
While she closes that battlefront, she has now opened a new one and this will be a tough one – to get a clutch of MSC Malaysia status companies in the RM20 million (US$5.58 million) annual revenue range into the RM200 million (US$55.8 million) annual revenue category. She has not set a time period for this to happen but with a three-year contract for herself, this is clearly not going to be a 10-year plan either.
[RM1 = US$0.27]
But she had to first start by acknowledging (and, it helps that you cannot be blamed for it either) that not enough companies had moved into the RM200 million revenue category from the lower RM20 million tier. An Enterprise Division has been established, led by entrepreneur Gopi Ganesalingam, to help make this huge leap in revenue possible.
As part of the strategy to make this happen, she is also launching the MDeC Americas office. To be based in the Silicon Valley, this initiative will be led by former entrepreneur turned senior MDeC technocrat Dan Khoo.
There is definitely a lot of interest in how this will work once Khoo heads over to the US and I have been asked a few times about how tech companies here can expect to fully tap the existence of a permanent base in the Silicon Valley. I will follow up with another article on this soon.
Driving more companies into the RM200 million revenue category is definitely a huge target but Yasmin is not shying away from setting bold targets. And yet, I am wary of her ambitions and the resources she will put into building Malaysia into a gaming hub.
It seems like she is basing her confidence in this, mainly on the success of outsourced animation studio Lemon Sky which does top quality work for leading Japanese gaming company Namco Bandai.
I also remember the confidence many of us had of Rhythm & Hues Studios and its efforts to move up the value chain. And look at what happened to them.
I am no expert in the gaming industry but I know it is a huge ask to expect a body shop to be able to move up the value chain, and either attract a new pool of talent with different skill sets than you presently have, or upskill your own talent, and to develop its own intellectual property, build cool games and then market the games to reach the global gaming community. There is no guarantee of revenue until one gets that hit game.
I note that Malaysia's most successful player in the animation space, Les' Copaque Production Sdn Bhd has not managed to churn its IP into any kind of commercially-successful game. So, while setting ambitious targets is fine, they also need to be based on a realistic assessment of the assets one has on the ground. I hope Yasmin will listen carefully to the views of the existing gaming players in the ecosystem here.
Related Stories:
Yasmin Mahmood starts to shape MDeC
Yasmin's key challenges at MDeC
It's official: Yasmin Mahmood formally announced as MDeC CEO
For more technology news and the latest updates, follow us on Twitter, LinkedIn or Like us on Facebook.
Keyword(s) :
Author Name :