Week in Review: With new CEO, will MaGIC morph?
By A. Asohan April 29, 2016
New CEO Ashran Ghazi may be tasked with getting MaGIC back on track
It's a 'damned if he does, damned if he doesn't' scenario for him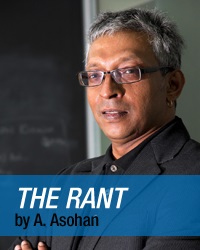 THE first time I met Ashran Ghazi, who on May 1 will take on the role of chief executive officer (CEO) of the Malaysian Global Innovation & Creativity Centre (MaGIC), was in late 2012. It did not quite turn out the way I had expected.

For a few months then, Digital News Asia (DNA) had been hearing rumours that certain parties were pushing for the Malaysian Government to introduce race-based preferences for its ICT programmes and procurement policies. Given that the Digital Malaysia programme would be moving into second gear, there was a lot at stake.

These people wanted special preferences for 'bumiputeras' – largely Malay-Muslims who make up 60% of the country's population – despite the fact that the Government had already launched a slew of initiatives to develop and aid bumiputera entrepreneurs.

DNA had heard that as chairman of the New Entrepreneurs Foundation (MyNEF), Ashran was pretty much a champion of bumiputera entrepreneurs. I wanted him on the record, to explain what this was all about. I knew nothing of him beyond the fact that he was a successful ICT entrepreneur.

To be honest, I had expected him to be 'one of those people' – unsuccessful or merely moderately successful bumiputera businessmen who expect things to be handed on a platter. Instead, I was disarmed by his articulate sincerity, and an unusual combination of quiet intelligence and deep passion.

"I am against preference policies and it's not about filling racial quotas ... . I want to keep away from that, because they minute you go into that, you're in a trap," he told DNA then. "[It] is about upgrading the quality of bumiputera technopreneurs and businesses …."

His appointment as MaGIC CEO seems to be a benign case of 'what goes around, comes around.' Before former CEO Cheryl Yeoh abruptly left last December, we had been hearing there had been increasing pressure on MaGIC to revert to its original mandate.

Yes, the fact is that MaGIC's original mandate was to help all entrepreneurs, not just technology entrepreneurs – a fact that Yeoh and some members of her team kept denying, despite the Ministry of Finance's own statement when the agency was first proposed.

The tech focus also went against Prime Minister Najib Razak's assurance in his Budget 2014 speech (PDF) that MaGIC would annually train 5,000 young people from its 1Malaysia Entrepreneurs (1Met) programme, which had a large focus on those from rural areas – where a large proportion of bumiputera live, by the way.

While rural businesses may not be sexy or Silicon Valley enough, that is what MaGIC was supposed to have been about, among other things.

So when I first heard that Ashran had been shortlisted for the CEO role a few months ago, I was not surprised. One of my sources couldn't sing his praises enough: Here was a successful tech entrepreneur who has not only dedicated quite a bit of effort towards helping disadvantaged entrepreneurs, but also one who knows how to navigate around government types and politicians.


I am quite sure that Ashran (pic) would be tasked with getting the agency back on track. The problem is, it is going to be pretty much a thankless task.

One thing Yeoh and her team did superbly well is play the Silicon Valley startup game: A lot of public relations (PR) was done around her personally – so much so that some regional tech blogs believe that she singlehandedly created Malaysia's startup ecosystem, a perception she herself has encouraged.

Under her, MaGIC did a great job engaging with regional and even international investors, startups and entrepreneurs, and to an extent, succeeded in putting Malaysia on the startup map. No denying that.

But it was also done at great expense to the Malaysian taxpayer. Despite being a government agency, MaGIC has not been open about its books, but we do know that it was allocated RM70 million under Budget 2014; and RM35 million under Budget 2016. [RM1 = US$0.26]

Sure, that investment may pay off in the end; it's too early to say. But what I can say is that I believe that Ashran will be operating under an environment of greater fiscal discipline.

This might mean less regional media outreach and engagement with Silicon Valley, and fewer high-profile, high-publicity programmes.

In today's 'media' parlance, if Ashran succeeds, MaGIC will not be as 'click-baitish' as it used to be under Yeoh.

In other words, if he succeeds, he will merely be remembered as the guy who just wasn't 'as good as Yeoh.'

Good luck, bro – you're going to need it.

Editor's Picks:

6 key takeaways from Digi's Q1 results you may have missed

Indonesia to create state fund for startups, pundits say it's not that easy

Google's enterprise cloud play seems rather … cloudy

Don't throw money blindly at BDA projects: Gartner analyst

Malaysian startup out to help SMEs by 'humanising' technology

Mission Impossible? Bridging the cyber-physical divide in security

Sponsored Post: Automating the e-commerce supply chain


Previous Instalments:

Week in Review: SEA ecosystem shrugs off MOL's delisting

Week in Review: The Chinese are coming

Week in Review: Of GMV and e-commerce startups

Week in Review: Malaysia's Khazanah shows its risk appetite

Week in Review: More money to power tech in SEA

For more technology news and the latest updates, follow us on Twitter, LinkedIn or Like us on Facebook.

Keyword(s) :
Author Name :