Week in Review: You are not indestructible!
By Karamjit Singh February 7, 2014
In pushing themselves, founders ignore their health, sometimes of the family too
DNA among earliest media in world to pinpoint Satya Nadella as Microsoft CEO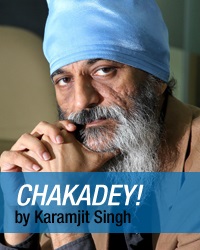 YOU entrepreneurs out there may be a special breed but you are not indestructible, so don't act like you are because when your health fails you, you are no good to anyone – and certainly will not be changing the world.

What that means is that you have to take care of yourselves – and because no entrepreneur is a universe onto himself – certainly pay attention to the health of those who matter most to you, your family.

Like many of you, I am not getting enough sleep, and while you can tell yourself that you will catch up on sleep over the weekends, somehow time seems to accelerate over the weekend with family duties, especially if you are married (and I am ashamed to say that I sometimes resent having to devote time to 'unproductive' activities) and you are left with the late nights to catch up on work. Which means not enough sleep, again.

But then while we are focused on building our companies, and may neglect taking better care of ourselves, we sometimes also don't pay enough attention to the needs of our loved ones, and again I have been guilty of that.

Just recently my younger son needed to be taken to a paediatrician because I let a minor injury he had go untreated until it got infected. I thought, let his body heal itself, this would toughen him up. It doesn't always work that way.

Because I need to be tough – after all, this entrepreneurship journey is so darn hard – I feel my family needs to learn to be tougher too.

I think here, just listening helps a lot. Listen to your body because it will always try to alert you if something is not right in how you are ticking.

One journalist I know recently had a bypass. Sensing something was not quite right, he went to the National Heart Centre in Kuala Lumpur and got himself checked, with the doctors telling him he was lucky he came in for a check-up. "I listened to my body," he told me.

And listen to your loved ones when they come to you with their health-related issues, no matter how minor they may seem. While prevention is better than cure, early intervention is the next best action plan.

Because, for sure, if your health or that of those closest to you, breaks down, it affects your ability to build your company.

So while you stay focused mentally and are steely determined to build a successful and strong company, make sure your 'engine' is in good shape too!

Meanwhile, not in such good shape is Multimedia Development Corporation's (MDeC) reputation. Its reticience in commenting on the issue of dictating business models and pricing for MSC Malaysia status applications makes it seem like it has something to hide.

In a conversation I had last night around this issue, I found out that the Inland Revenue Board actually has the final say in which portions of a company's revenue streams can be tax-exempt and which are not.


If that is true, MDeC is doing its reputation and credibility a huge disservice by keeping mum. I certainly see no reason this fact can't be shared with the ecosystem.

Ending the week on a high note, I am really proud of the fact that my cofounder A. Asohan was among the first journalists in the world to pick out Satya Nadella (pic) as a potential CEO choice to replace Steve Ballmer at Microsoft. Asohan wrote his piece within three hours of the news of Ballmer stepping down became public.

He has now followed that up with a commentary piece this week and an all too rare appearance on BFM to talk about this with our colleague Gabey Goh. Do have a listen to that podcast.

Finally, our most read story of the week is MSC status process: More share their frustrations.

Have a good weekend and a productive week ahead, and 'listen' carefully.

Editor's Picks:

Women in tech ... or the lack thereof

DiGi to spend more on capex in 2014

MSC status process: More share their frustrations

New Microsoft CEO Satya has to step out to step up

Telenor out to avoid the 'dumb pipe' nightmare

Malaysian SMEs, SIs warming up to public cloud: Oracle

Hacker economics: Three cost-effective ways to tackle them


Previous Instalments:

Week in Review: Attitudes towards failure changing
Week in Review: 50 to watch and be inspired by

Week in Review: Defending the rights of all Malaysian netizens

Week in Review: How do we measure the Minister in 2014?

Week in Review: Stand up and be seen


For more technology news and the latest updates, follow us on Twitter, LinkedIn or Like us on Facebook.


Keyword(s) :
Author Name :