Week in Review: University R&D not aligned to national interests
By Karamjit Singh June 13, 2014
Publishing research seen as more important than spawning disruptive startups
11th Malaysia Plan needs to create stronger alignment, market focus R&D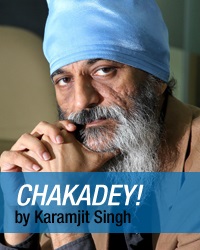 I REALLY liked my cofounder, A. Asohan's two-part series on TechCare Innovation Sdn Bhd. It is one of the rare stories we have brought you where academia research meets market needs. TechCare is also one of the few robotics companies that have come to our attention.

When we were planning Digital News Asia (DNA), we felt that there would be a lot of interesting stories we could bring readers on academia-private sector collaborations, but that has not been the case.

And, if you read between the lines, the TechCare story highlights a key reason for this: Universities have greater self-interest in pushing their researchers to get their research and development (R&D) published in reputable journals than in spawning tomorrow's disruptive companies.

Dr Yeong Chee Fai, a senior lecturer at University Technology Mara (UTM) and the lead researcher at TechCare, explains that there are plenty of funds available in Malaysia for academics to indulge in R&D, with researchers able to get "easily get funded for RM500,000 (US$156,000) and some even get close to RM2 million (US$622,000)."

UTM is one of the five research universities in Malaysia. In an effort to concentrate all research-inclined academics into clusters, the Malaysian Government designated UTM, Universiti Sains Malaysia, Universiti Putra Malaysia, Universiti Malaya and Universiti Kebangsaan Malaysia as research universities, with each getting a larger budget for R&D.

Unfortunately, because our five research universities are locked into a race to climb global university rankings, most of the research projects have, as their end goal, a research paper that will hopefully get published in a Tier 1 or Tier 2 industry journal.

That makes the university look good to the Government and helps it fight for a larger share of the R&D budget that is allocated yearly. The Government allocates around US$202 million (RM650 million) yearly for R&D budgets. It is believed that most of the budget is allocated to the five research universities.

The Government though has long recognised the flaw in this non-market-centric research. In an effort to get public universities to commercialise their R&D, public universities will have to eventually generate 30% of their operating budget themselves and not rely on government funding.

The reality on the ground, however, is that publishing research is seen as one of the main criteria to move up the global university rankings, not helping spawn tomorrow's disruptive companies. Indeed this is why there are hardly any academics who sit as advisors to technology companies, much less startups.

Being part of the system, but not agreeing with the skew in R&D, UTM's Yeong is gentle with his thoughts. "In my opinion, this money can be better spent and bring greater benefit [in other ways]."

Indeed it can. Aside from what Agensi Inovasi Malaysia (AIM) is working on with our universities, I don't see a strong concerted effort here. And certainly, not while universities and their academics have greater incentive to publish their R&D instead of creating market-driven products and services.

I am hoping that the dialogues that are going on now in preparation for the launch of the 11th Malaysia Plan see a big change in this area.

Meanwhile, this week's most popular article was Startup with rehab robot aims for next level with crowdfunding drive.

Editor's Picks:

iGene conquers UK, eyes Middle East and US next

Free Autodesk software for all students and public schools

Taking robotics research to the next level a challenge

Echelon: Advice and caution from 9GAG, Rotten Tomatoes cofounders

Dave McClure's 500 Startups hits 750 investments

On mobile, Criteo gets personal with permission

Are Malaysian business networks ready for the World Cup?


Previous Instalments:

Week in Review: Doesn't matter where the money comes from

Week in Review: DNA is global tech media too

Week in Review: TeAM in angst over Gen Y disconnect

Week in Review: It's all happening in the telco space

Week in Review: Why we should applaud Zafrul Noordin


For more technology news and the latest updates, follow us on Twitter, LinkedIn or Like us on Facebook.
Keyword(s) :
Author Name :