Week in Review: Small fish will eat the big fish
By Karamjit Singh September 4, 2015
Catcha Group's Wild Digital conference predicts change in natural order
Will large companies really miss the disruption happening now?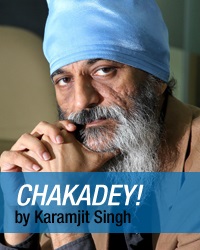 IF anyone in this region knows how to think big, it has got to be Catcha Group founder and chairman Patrick Grove. I don't know who else would have the chutzpah to organise a global digital conference in Kuala Lumpur and charge US$1,500 and US$2,500 a ticket!

While there are already successful startup conferences, Wild Digital is aimed at more established startups that have market traction and have raised some serious money (north of US$10 million) already.

Indeed, building billion-dollar digital businesses was the theme for the recently-concluded inaugural conference.

PODCAST: DNA on BFM: Catcha's Wild Digital scores home run

When asked about his motivation in organising Wild Digital, Grove says, "We found that there wasn't an event that focused on startups that had raised in excess of US$10 million.

"Two years ago, there were maybe only two companies in that pool, but now Asean (the Association of South-East Asian Nations) has dozens of great companies growing tremendously, and raising significant funding.

"Wild Digital is the event for these companies and the investors that back them.

"Also, through the Catcha universe, we have built up tremendous relationships with great entrepreneurs and investors from all over the world, and we want to push the Asean agenda to all these groups.

"We are proud to say about 20% of the Wild Digital attendees were from outside Asean and this can only grow," he says.

Among the Asean-founded startups that have raised a lot of money are MyHero, GrabTaxi (known as MyTeksi in Malaysia), and CompareAsia Group.

There are others which have not raised that kind of money but are already leaders in their space, and there are those which have built successful companies with no venture funding but are now ready for that big leap.

Count MindValley among them – founder and chief executive officer Vishen Lakhiani describes MindValley as a US company headquartered in Kuala Lumpur.

The quality of companies also attracted some serious money to the two-day event, and I met an Australian attached with a global bank who says its high-net worth clients are very interested to place long-term bets on startups targeting the South-East Asian market.

And we all know that has been Grove's speciality: Making bets on various verticals in this region. He has a hand on social news via Rev Asia, property via iProperty, automotive via iCar Asia, and e-commerce via Ensogo. All are listed companies, with Rev Asia listed in Malaysia and the rest in Australia.

He also has made investments in frontier markets in Africa through venture fund Frontier Digital Ventures. And let's not forget his bid to now disrupt the US$40-billion video market with iflix.

Now, if there was one criticism of Wild Digital, it was that there were too many Catcha Group companies there – but I am sure Grove will get the balance right next year.

During his opening keynote, he made a number of predictions, including that there will be no company in 30 years that is not digital-based. In other words, the brick-and-mortar corporate world as we know it will go the way of the dinosaurs, with the new reality being digital-only companies.

But what caught my attention was his point that in this new digital world we are moving into, it is the small fish that will eat the big fish. That caught my attention because Digital News Asia's (DNA) own conference is about what the big fish – large companies – need to be aware of. More on that, later.

Will this changing of the natural order happen as Grove predicts? Will the big fish, large corporate companies with billions in revenue, just be blindsided by this new reality that he sees as inevitable?

I don't think so. They have too many assets in their favour, and some of them will be able to make the right moves to transition.

Which is why DNA is organising its own inaugural conference on Sept 29, What's Next, which is really about the big fish, and what is happening with their customers, and with consumers in general, and how customer expectations and behaviour are changing.

The big fish really need to be able to understand this because the small fish absolutely do, and they are coming after their customers. Some big fish understand this, with Tony Fernandes of AirAsia and the Tune Group, absolutely tuned in to this shift.

Through the various businesses he has invested in outside of the airline industry, Fernandes is coming after the customers and markets of established big fish. Do catch Fernandes and others DNA has lined up for What's Next.

Have a restful weekend and a productive week ahead.

Editor's Picks:

Slugfest: Malaysia's Big 3 telcos in H1 2015

50 years on, Moore's Law still rules: Intel exec

IBM and Singapore's EDB launch e-commerce centre

Post-acquisition, Trii.be's journey enters new stage

CatchThatBus raises US$1.5mil from Jungle Ventures, 500 Startups

IBM Malaysia names new MD, first woman in the role

DNA Test: Xiaomi Mi Note balances price performance with style

Previous Instalments:

Week in Review: Bank CEO joins What's Next conference lineup
Week in Review: GrabTaxi has left the SEA ecosystem

Week in Review: What's next for disruptor Tony Fernandes?

Week in Review: The startup and brick-and-mortar mashup

Week in Review: Startups can learn much from FashionValet's founder


For more technology news and the latest updates, follow us on Twitter, LinkedIn or Like us on Facebook.
Keyword(s) :
Author Name :