Week in Review: No more love
By Karamjit Singh August 22, 2014
DNA to be more questioning of entrepreneurs
Long relationship does not mean an easy ride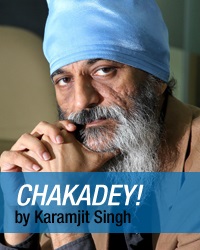 IT is a sad day for Malaysia as the country receives the remains of the local victims of Malaysia Airlines Flight MH17 on our National Day of Mourning. Our thoughts and wishes go out to their families and loved ones.

It is a sad end to an otherwise interesting week in the tech ecosystem, which has kept me pretty busy. When Catcha Group chairman and chief executive officer (CEO) Patrick Grove met me, he introduced me to his new head of communications, telling her that we have known each other for 15 years.

Then he asked, "Hey man, why were you slamming us like that?"

I was meeting him for a quick interview to get his side of the story on the two articles we wrote about Catcha portfolio company iProperty last week: The first was a deeper look into its financial performance by my colleague Goh Thean Eu, the second was my own OpEd reflecting on Thean Eu's story.

Grove's contention was that since we have known each other for a long time, I should have checked with him if I was writing anything on any of his companies.

Frankly, I don't think talking about a company cutting headcount falls under being critical. That happens all the time. Good companies tend to do it more than others, in fact.

I also wondered how iProperty lost its No 1 position in Singapore and if it was still searching for the ideal business model too. These were obvious questions to ask, as an institutional broker I spoke to in Hong Kong had agreed with me. Watch out for my story next week where Grove addresses these questions.

This is where I leverage on my over decade-long association with Grove – and indeed, with any other industry player I have known for a long time – to get them to carve out a few minutes of their schedules to see me or respond to questions I have.

In between a meeting with some bankers and dinner at a steakhouse with a bunch of people, Grove was kind enough to have a quick chat with me at the restaurant. I grabbed it, and now have an interesting article for Digital News Asia (DNA) readers … and I won't be writing it worried if Grove will be upset with the piece. Our priority is to ensure DNA readers get the best news and insights we can provide.

Entrepreneurs have to accept that DNA will take a questioning stance when needed. You will start to see that even more now as my team feels that we have given enough 'love' to the ecosystem and have to work harder at living up to our tagline of wanting to be 'Your Eye on the Tech Ecosystem.'

In that vein, I was with some people from the creative industry for a chat, but after hearing the same issues as I have in the past, I cut to the chase and pointed out that they themselves have not played their parts to the fullest in coming up with a solid roadmap for the industry.

They acknowledged that this was in the works now, and that they should be doing a better job to help themselves before seeking the help of the media to spread the message. No story there until they get their act together!

This week, we also wrote a piece about the key challenges Yasmin Mahmood, the incoming CEO of Multimedia Development Corporation, will face. Do share your own thoughts on this.

Finally, the DNA-TeAM Disrupt session earlier this week was really fun, with some solid sharing and questions from the audience and panellists.

I am already looking forward to next month's gathering which will take us to Telekom Malaysia R&D's office in Cyberjaya, where it will play the role of sponsor and venue host. More details on that in two weeks.

Our most-read story of the week was It's official: Yasmin Mahmood formally announced as MDeC CEO.

Editor's Picks:

Disrupting the retail industry: Here's how you do it

SC seeks feedback on equity crowdfunding regulations

Yasmin's key challenges at MDeC

50 hues of Big Blue: IBM's transformation, according to Paul Moung

Lean IT emerges as potential aid for CIO struggles

TIME invests in Faster to keep pace with IP traffic demand

Omise raises US$300K to plug Thailand's e-payment problem


Previous Instalments:

Week in Review: Of dotcom business models

Week in Review: Don't let IP issues bite you in the rear

Week in Review: Lots of funding activity in SEA

Week in Review: A long and hard grind

Week in Review: MOL listing will inspire SEA ecosystem


For more technology news and the latest updates, follow us on Twitter, LinkedIn or Like us on Facebook.
Keyword(s) :
Author Name :