Week in Review: Make the best of GES
By Karamjit Singh October 4, 2013
Despite Obama not coming, so much going on for entrepreneurs who attend
There's a CEO doing interesting things in an un-sexy part of the Internet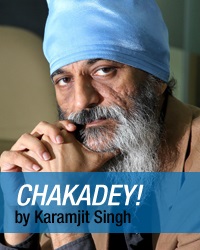 WHILE it will come as a disappointment to some that US President Barack Obama cannot attend next week's Global Entrepreneurship Summit (GES), this in no manner should take away from what will be the most interesting week for entrepreneurs this year.

Digital News Asia (DNA) has written a number of stories about the event and just this week, highlighted what we feel are two of the more interesting events, Global Youth Startup by StartupMalaysia.org and Ideas2Invest (i2i) organised by Cradle Fund Sdn Bhd.

Meanwhile, national ICT custodian Multimedia Development Corporation (MDeC) is having a cloud conference and something called MSC InnoTech, will which bring tech entrepreneurs together to pitch to venture capitalists.

From what the main GES organiser, Malaysia's Ministry of Finance, has indicated, there will be a large number of international participants too.

This is where I hope that Malaysian participants will come out of their shell and make as many connections they can with the international attendees, many of whom will be entrepreneurs themselves.

As StartupMalaysia.org founder Dhakshinamoorthy 'Dash' Balakrishnan describes it, "This is a global event, the lineup of speakers [is] impressive and the topics will provoke thinking."
Indeed, even Marc Nager, the co-founder of Startup Weekend and now CEO of UpGlobal is excited about GES and had this to say about the 30 leaders he is bringing down to represent UpGlobal. "Inviting 30 of our most amazing facilitators from around the world to join GYS is going to be an amazing opportunity for several reasons. This is a collection of the some of the world's foremost experts on startup community building. They all started as local leaders running programs and communities in their home towns and they have also travelled around the world to help support and develop other communities."
[New para added]
Imagine this calibre of people in town.

For all of us who are going, we need to grab this opportunity to learn as much as we can, connect with as many new people as possible, and revel in the energy that will be created at the various venues, with so many entrepreneurs and national startup leaders from various countries present.

There will also be a number of venture capitalists around, so make the effort to find out who they are and introduce yourselves and what you are doing. Hopefully the connections you make will bear fruit down the road.

As Dash advises, "Go and get empowered and connect with the people who are there. It's going to be an awesome event!"

Meanwhile on Oct 2, I went to Kuantan Port in the Malaysian state of Pahang to visit a ship that started the next day to lay the fibre optic cable for the Asia Pacific Gateway (APG), in which Malaysian telco TIME dotCom Bhd has a 10% stake.

You can read that story here, especially about how both TIME and Telekom Malaysia Bhd may have inadvertently helped save the Malaysian Government RM650 million!


Minister of Communications and Multimedia Shabery Cheek (pic, right) also made time to tour the ship; a tour organised by TIME to help its stakeholders understand the complexity of this business and "the sweat and tears that goes into making sure we all have Internet connectivity at our fingertips," said its CEO Afzal Abdul Rahim (pic, left).

I think Afzal is going to do some interesting things with TIME. Only 34 years old and becoming the chief executive in 2008 (before he was 30!), he has been an entrepreneur since 2001 building AIMS Sdn Bhd into a top data centre and telco hubbing company.

He is also a judge on the current Make The Pitch reality TV show for entrepreneurs produced by MyEG, and is as sharp as they come.

Because he plays in the 'boring pipes' portion of the Internet economy, not many may know of him, but I can tell you that Afzal too has built his company up with blood, sweat and tears, and been through the ups and downs of building a sustainable business.

I hope to bring you his entrepreneurial story some time soon so you can be inspired and consider him an "Anak Kebanggaan Malaysia" (proud son of Malaysia) as Shabery described him when pointing out in his speech that Afzal has Google and Facebook as partners in the two submarine cable systems that TIME has a stake in.

The point of this? That Malaysia has some pretty impressive entrepreneurs in the tech space and not all of them are playing in the sexy consumer side.

However, a number of those playing in the consumer side are going to be speakers at the GES and I hope the platform that gives them will elevate them and their companies to even higher planes.

See you at GES next week!
Finally, this week's most read story was Telcos and phones: Is it their problem or ours?.

Have a good week ahead.

Editor's Picks:

Telcos and phones: Is it their problem, or ours?

BlackBerry goes private, but what next?

The latest chapter in the 'Dash' startup story

Cradle and Angels Den launch the Ideas2Invest 'hack-celerator'

With Birthday twist, TableApp eyes bigger slice of booking pie

Have TIME and TM solved a US$201mil problem?

Microsoft launches Surface enterprise assault with cautious approach

Previous Instalments:

Week in Review: Does not have to be 'Made in Malaysia'
Week in Review: 'How's business?'

Week in Review: There's so much more to hackathons

Week in Review: We are hustling all the time
Week in Review: The pain they go through …

For more technology news and the latest updates, follow @dnewsasia on Twitter or Like us on Facebook.
Keyword(s) :
Author Name :