Week in Review: MaGIC will enrich our ecosystem
By Karamjit Singh April 18, 2014
Govt funding is not the magic bullet
CEO will need support of entrepreneurs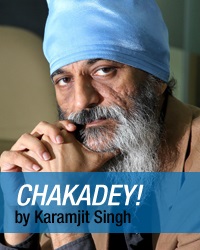 SO I met Cheryl Yeoh, the new Malaysian Global Innovation and Creativity Centre (MaGIC) chief executive officer yesterday (April 17) in Cyberjaya and came away impressed by her grounded nature.

With the pressure and expectations and inevitable criticisms at her being picked as CEO, I was struck by how she did not try to come across as knowing it all, or giving hints of her Silicon Valley pedigree and having a firm idea of what needs to be done and how to help Malaysian entrepreneurs.

That's not to say she is clueless. As I wrote in my article earlier today, she is bubbling with ideas, but wants at least two months to get a real feel for what is happening in the ecosystem.

Her yearly trips back to Kuala Lumpur to visit family have kept her in the loop to what is going on, and she had picked up on signs that interesting things were happening and was already thinking of coming back after her one year lock-in period ended with WalMart Labs, which acquired her startup last year.

But instead of coming back as an entrepreneur, hustling to build a team, product, market share and customers, as head honcho of MaGIC, entrepreneurs are her customers now!

And having been an entrepreneur, a successful one, and having failed before too, she brings with her an empathy and instinctive understanding of what the key tactical tools entrepreneurs will need, and where state intervention can play a helpful role.

She also knows the emotional and mental strain entrepreneurs go through and it is what she tries to do to support them from this aspect that I will be watching keenly, because this is not an area public funding or public policy can help in.


She is aware of this too and already speaks of being part of the process to build a genuine community among tech entrepreneurs.

So my plea to all of you is to give Yeoh and MaGIC your full support and honest thoughts about the ecosystem here, and the role you can play to enrich it. Don't just sit back and say, "You have government funding behind you, help me because I am an 'Entrepreneur'."

Yeoh (pic) may be CEO of MaGIC but a magician she is not. Throwing money may plug some of the gaps, but she cannot help entrepreneurs double their drive and passion.

She also cannot increase their self-confidence or instil in them a refusal to give up or show them where that switch is that will silence that little voice that is urging you to give up and go back to the luxury of a stable job.

All that has to come from deep within you. In fact, she made the point that the foundation of her drive and passion were formed in Malaysia as she was growing up – not in Silicon Valley or New York City.

The message is that she succeeded because of her Malaysian upbringing that enabled her to take full advantage of the fertile and supportive ecosystem she found in Silicon Valley.

I am sure she will enrich the existing ecosystem we are forming now and accelerate its growth with some of the magic dust she brings from Silicon Valley.

And for those of you who have booked your spot at next week's Disrupt, you can hear first-hand about Yeoh's own struggles, failures, frustrations and highs as an entrepreneur as she joins the DNA-TeAM Disrupt as our third panellist.

There are still some slots available though, so act fast!

Meanwhile, this week's most read article is Glints not just a gleam in the eye of three 21yr-old founders.

Editor's Picks:

Glints not just a gleam in the eye of three 21yr-old founders

Low revenue not a sign of ICON failure: MDeC

Many CEOs still clueless about megatrends: Frost chairman

Cyberjaya to become global tech hub

MaGIC CEO: I'm not about fluff or hype

Big data hype slowly but surely melting away

Nation's cyber-defence needs holistic approach: Applied Intelligence


Previous Instalments:

Week in Review: A home run missed by GrabTaxi
Week in Review: DNA's exclusive with Mr Dell himself
Week in Review: Growing the ecosystem, one exit at a time

Week in Review: Investors ask the wrong question
Week in Review: Tootpay scores one for the 'old-school' boys

For more technology news and the latest updates, follow us on Twitter, LinkedIn or Like us on Facebook.
Keyword(s) :
Author Name :