Week in Review: Lots of funding activity in SEA
By Karamjit Singh August 1, 2014
Patrick Grove gets money from billionaire Rupert Murdoch
Two entrepreneurs apply creativity, superior execution to win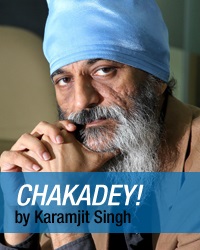 THE Eid al-Fitr or Hari Raya festivities in the region certainly did nothing to slow the flow of stories coming out this past week. There were two major funding stories with a direct, and indirect, Malaysian link.

First was Easy Taxi, a Rocket Internet company, raising yet more money via a US$40-million Series D round. That is bound to raise the competition with GrabTaxi, a South-East Asian competitor that was first launched in Malaysia and seems to have the upper hand in its no-holds-barred fight to dominate the taxi app market.

Then Catcha Group's Patrick Grove was in the news again, having convinced that most savvy of billionaires, Rupert Murdoch, that his iProperty would be able to dominate the online property industry in Asia.

iProperty received US$100 million in a deal that values it at almost US$600 million – making it the most highly valued publicly traded Internet company in Asean.

It is listed in Australia where bragging about the US$600 million valuation would not put it as the top Internet company. Focusing on Asean would, and that is just smart public relations.

Then there was Kuala Lumpur-based Andrew Wong's MAD Incubator raising an undisclosed amount from two Singapore-based funds. Incubators are really not a sexy part of the ecosystem. You work behind the scenes helping your 'incubatees' while trying to shake the general perception that incubators are nothing more than glamorised cheap office space for rent.

But having run incubators since 2002, Wong probably knows more about what it takes to add value to MAD's startup tenants than anyone else in the region – which is probably why he calls MAD a "business incubator."

Cynics may sneer and say he is just trying to put on a glossy veneer, but Wong has just convinced two entrepreneur-led funds to invest in him. I think trying to get money from other entrepreneurs is even tougher than from venture funds led by banker types, but he has succeeded.

Both fund owners, Anne Cheng of Start Up Nation and Charles Kathrein Jr of Kathrein Ventures, have a lot of confidence in Wong being able to scale his incubator model throughout South-East Asia and give them a quality deal flow of promising startups in the region.

Never afraid to try new things, Wong has even wrapped his incubator know-how into a franchise model for the Philippines.

I almost forgot, but a Thai startup also received a nice angel investment boost of US$620,000. We don't hear too much about what goes on in Thailand but I am sure it has an active startup ecosystem as well.

Finally, if you have not read it yet, do check out the story about Agility IO, a software services company that is focused on helping founders come up with their product sans the need for a CTO (chief technology officer) in the beginning.

Cofounder Chok Leang Ooi is from Malaysia, and launched Agility IO from New York and Vietnam. While one cynical reader remarked that it sounded like it was a typical software shop, his business model is different from that of your average software house. Tell me what you think.

And actually, I see some parallels in how Chok and Wong have approached their businesses, which on the surface seem to be operating like how any average software services company or incubator would.

But both of them have approached the business with creativity and are executing better than their peers. There are lessons here for all of us.

This week's most popular article was When women in tech 'flaunt it'.

Editor's Picks:

Big data key to developed nation goal: Communications Minister

CTOs not the be-all and end-all for startups

Ebizu on regional mission to digitalise retail sector

Malaysia's MAD Incubator gets investment boost from Singapore

Delay in TM-P1 deal as parties agree to extension

Catcha.com's Nic Lim to get his IPO … 14 years later

Catcha's iProperty gets US$100mil funding from News Corp company


Previous Instalments:

Week in Review: A long and hard grind

Week in Review: MOL listing will inspire SEA ecosystem

Week in Review: Our suffering spouses

Week in Review: How you spend the money

Week in Review: Fusionex's US$12.5mil bid for talent


For more technology news and the latest updates, follow us on Twitter, LinkedIn or Like us on Facebook.


Keyword(s) :
Author Name :