Week in Review: It just might be 'Startup Malaysia Year'
By Karamjit Singh October 17, 2014
Plans to invest in early stage entrepreneurs in SEA, Japan, Taiwan
Will be early-stage investor and play active role to jumpstart growth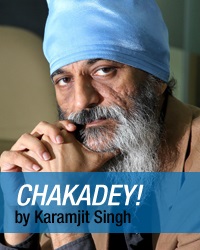 WHAT a difference a week can make. Just last week, as I started to think about what my highlights for the year would be, it struck me that I could just end up being wrong about my prediction that 2014 would be Startup Malaysia Year.

For while there were some successes in terms of raising funds, there was not much in terms of actual commercial success. But then I was off on a flight to New York to witness and report on the historic initial public offering (IPO) of MOL Global on Nasdaq.

The impact of that IPO sees MOL Global chief executive officer Ganesh Kumar Bangah become the first ever Internet entrepreneur from South-East Asia to list his South-East Asian based company on the Nasdaq exchange.

While Ganesh is a proud Malaysian and his success is Malaysia's success, the successful listing is bigger than Malaysia – it will hopefully inspire entrepreneurs across the entire region and its 600-million population.

Khailee Ng, the newly-minted managing partner of 500 Startups, agrees. "Malaysians will see how this once teenager from Johor started out on his entrepreneurial journey that today has taken him into an elite group of entrepreneurs who have successfully taken their company to a Nasdaq listing."

Ng also sees the South-East Asian link. "Ganesh has now shown everyone what they can aspire to and achieve. Before this, entrepreneurs just wanted a trade sale or local listing as their exit, they will now see what he has done and say, 'Hey, I want a Nasdaq listing too,' " he adds.

I had a quick chat with Ng this morning (Oct 17) at Day 3 of the five-day programme to launch the MaGIC Startup Academy (MSA). This is going to be one of the anchor programmes for MaGIC (the Malaysian Global Innovation and Creativity Centre) as it sets out to help equip entrepreneurs with the various tools they need to succeed.

At first I thought a five-day programme was overkill, but when you look at the agenda for each day, every session was useful and will benefit those who make the time to attend. Day 5, this Sunday (Oct 19), will be a startup Job Fair and that has never been done before.

So, if you are running your own tech business, it may be worthwhile to head down to Cyberjaya to check out the fair.

Taken together, with MaGIC beginning to ramp up operations and with the global profile Ganesh has delivered to the Malaysian and South-East Asian tech scene, and with still two months left in the year, perhaps 2014 can live up to its Startup Year moniker.


And let's not forget our veteran Internet entrepreneur Mark Chang (pic), who shared with Digital News Asia (DNA) his plans for life after his exit from selling the Internet assets of JobStreet.com.

Note my choice of words. I didn't write "exit from JobStreet" as Chang is not exiting from JobStreet. He is only selling off the Internet assets of JobStreet. The company actually still has between RM250 million and RM300 million in assets. [RM1 = US$0.31]

But Chang will have to rename the company though, as along with the sale of its Internet assets was the name JobStreet.com.

This is just to set the facts straight. But what is more important is that Chang will now also start investing back into the ecosystem with a focus on entrepreneurs from Malaysia and South-East Asia as a whole, and even farther afield in Taiwan and Japan.

He will start with US$10 million of his own funds, will invest more if needs be, and will focus on entrepreneurs at the early stage as he plans to be an active investor to help them.

What's really cool here is that he wants to focus on entrepreneurs from a disadvantaged background – as he once was. I am excited by this and can't wait for him to get started. What a boost to the ecosystem too.

Have a good weekend and a productive week ahead.

Editor's Picks:
Disrupt #24: Pay to play

Free your IP, and make money: Mohan Sawhney

Mark Chang's second act: To aid disadvantaged entrepreneurs

MaGIC gets a Budget 2015 boost

Singapore deepens relationship with IBM's Watson

TmaxSoft on track to seize growth opportunities in SEA

Salesforce.com jumps on the cloud analytics bandwagon


Previous Instalments:

Week in Review: Picking yourself up from a stumble, and MOL

Week in Review: Milestones and markers

Week in Review: iMoney inspires the ecosystem

Week in Review: Message behind Nova Founders' fundraising

Week in Review: The entrepreneur's journey and MaGIC


For more technology news and the latest updates, follow us on Twitter, LinkedIn or Like us on Facebook.
Keyword(s) :
Author Name :