Week in Review: Fusionex's US$12.5mil bid for talent
By Karamjit Singh June 27, 2014
Founder believes creating a great workspace helps retain, attract talent
Resets the bar in terms of how to create a world-class work environment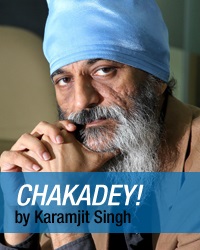 IF you want to see what is possible when one builds a product that can scale globally, go visit the spanking new US$12.5-million (RM40-million) digs of Fusionex International Plc, the Kuala Lumpur-headquartered company that is listed on London's Alternative Investment Market (AIM).

You are just going to be blown away by the spaciousness, and the consideration for staff that went into designing and outfitting the office.

From washing machines and showers, from snacks and sandwiches to beverages that include beer (after hours of course) spread across not one or two or three, but four spacious pantries, to a gym and game room, to spacious workstations.

Ivan Teh, the soft-spoken boyish-looking founder of this big data and analytics company, has clearly gone out of his way to create, arguably, the best workspace in the country.

It can surely claim to be the only office in the country with a gazebo-cum-pool feature smack in the middle of the main working space for staff, and a room with queen-sized bed for power naps! It also has an Innovation Gateway, a sphere structure with red leather Recardo racing chairs and a small drone that is used to collect data.

I could go on and on, but you should go visit the place. Sitting down in his spacious office for a chat, I already guessed why Teh had gone to all this effort and he confirmed it: To both attract and retain talent.

After all, there is a fierce war for talent going on and Teh has just invested US$12.5 million to ensure Fusionex can win this war.

That is the lifeblood of his big data and analytics firm which competes head-on with the largest technology companies in the world for clients and which, with 18 data scientists and 120 people in his big data group, is among the largest big data and analytics companies in the country.

Its stellar client list of global airlines, logistics and insurance companies, and hotel chains, speaks of how he has been competing with and beating some of the largest technology companies in the world.

The office is also an incredible showcase for the software that Fusionex builds and which powers the analytics of some of the world's largest companies. Touch-powered screens are everywhere, from the meeting rooms with super hero names (Spider Man was my favourite) to workstations and hanging from walls.


And coming soon "is voice control," says Teh (pic) with a glint in his eye. It is currently in research and development with his team.

"With many chief executive officers today demanding information like daily sales, inventory, receivables and raw material supply at their fingertips within three seconds, our software can deliver that – provided the client is willing to pay for it," he says.

To deliver these capabilities to his clients, Teh needs to attract the best talent from Malaysia and elsewhere to join him. Already an employer which pays above-market rates, the new work environment he has created will ensure he is never short of talent wanting to join him.

And he has reset the bar for everyone else in terms of how to create a world-class work environment.

Incidentally, Teh is also one of Digital News Asia's Digerati50, and this week's most read article was Digerati50: Instilling the 'can do' attitude in entrepreneurs.

Editors Picks:

Long Term Evolution: A long game in the making

Trojans out for your credit card data and money, warns Kaspersky

Analysts expect Astro key indicators to further improve

Disrupt: LTE can boost ARPU, but will take time

Mobile data plans need to evolve: Ericsson

20% of Malaysian mobile users on LTE by 2019: Ericsson

Focusing on quality pays off for Mindvalley Mobile


Previous Instalments:

Week in Review: Badlisham the bridge across that 'trust chasm'?

Week in Review: University R&D not aligned to national interests

Week in Review: Doesn't matter where the money comes from

Week in Review: DNA is global tech media too

Week in Review: TeAM in angst over Gen Y disconnect


For more technology news and the latest updates, follow us on Twitter, LinkedIn or Like us on Facebook.


Keyword(s) :
Author Name :