Week in Review: Enter a tycoon and a new fund
By Karamjit Singh June 5, 2015
Could Singapore's Peter Lim's property portal investment be a catalyst?
Malaysia's VC sector needs a richer set of data to market itself better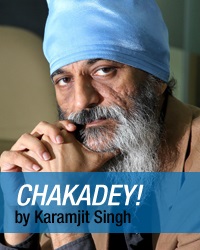 THIS week we have started running a series of telco articles, which go on till next Friday (June 12) as part of our annual Telco Deep Dive.

And while we have some solid telco pieces, including one on whether YTL Communications and its YES service can hit its long stated target of breaking even by 2016, we have run an equally interesting number of startup-related stories.

None were more interesting than that of Singapore billionaire Peter Lim taking a stake in a The Edge Property, an online property portal owned by Tong Kooi Ong.

I used to work for Tong's flagship media product, The Edge Malaysia for donkey years (three months short of 17 years) before I decided that instead of working at The Edge, I should live on it as a content-preneur.

Lim currently has stakes in various sporting entities including in a football team in Spain, Valencia CF, and I wonder if this is the start of other billionaires taking an interest in Internet startups. Of course, Lim's risk is lower as he is investing into a corporate startup and not an entrepreneur-run one.

Also, Lim's investment can really be categorized as 'dumb money' (of course there is absolutely nothing 'dumb' about him!) as he has no property background at all in his career and will be a passive investor. Let's see how that goes.

Meanwhile someone who never took any outside money at all, Christina Ng of ChristyNg, has done pretty well for herself, leveraging on her passion for women shoes into a successful e-commerce business today that had revenue of over RM1 million (US$274,000) in its 2014 financial year.

And now, Ng, who is 29, offers her customers the help of a 3D engine to find their perfect pair of shoes. Check out her story by Gabey Goh.

But I think today, with so much money out there looking for good ideas married to good teams to invest in, it will be very tough for any startup that shows early promise, not to take any funding. I wonder if Ng will go for some funding herself if she decides to get more aggressive in the business.

And of course, in Malaysia, we now welcome the long overdue Cradle Seed Ventures Pte Ltd has launched and will manage the RM40 million (US$11 million) Cradle Seed Ventures Fund 1.

While I am personally disappointed that MyEG Services Bhd has not come in as expected, I am really happy to see that the fund will look at non-Malaysian startups as well with a cap of 30% of its fund.

The more open one is, the better chance that one can find a good startup to invest in. In this borderless world, let's not confine ourselves within a box.

I also wrote an article on how the venture capital sector did in Malaysia last year. My chat with the chairman of the Malaysian Venture Capital and Private Equity Association, Amin Shafie, was interesting because he highlighted that the sector needed to share a richer set of data in its annual report.

Basically the more granular one gets with sharing information, the clearer a picture can emerge of the state of funding in an ecosystem. And Amin feels the Malaysian funding scene must do a better job of telling its story.

One South-East Asian country that does a great job at telling its story is of course Singapore. And this past week it shared more details about its soon to be launched Infocomm Media Masterplan. Do have a read and see if you spot any opportunities for your business.

And be sure to check out Bloomberg TV Malaysia on alternative Wednesday's, as Digital News Asia will be powering the tech segment. You can view the inaugural show here.

As of this month, we are also cutting down on our previously weekly slot on BFM Radio to twice a month i.e. the first and third Thursday of the month.

Have a restful weekend and a productive coming week.
Editor's Picks:

YTL Comms' break-even target may be under threat

18 months later, Cradle Seed Ventures finally launches

Malaysia's ChristyNg adds new dimension with bespoke shoes

Richer data needed on venture capital scene in Malaysia

Telco Deep Dive: U Mobile plans to be a 'strong No 4'

Telco Deep Dive: Spectrum refarming in limbo?

DNA Test: The Asus ZenFone 2 hits the right pricing notes


Previous Instalments:
Week in Review: Of funding, courtship and zombies

Week in Review: Speed is not a thrill but a necessity

Week in Review: Of IP, and impact reports

Week in Review: A new startup star on the horizon?

Week in Review: Malaysia a second-tier hub, Singapore first?



For more technology news and the latest updates, follow us on Twitter, LinkedIn or Like us on Facebook.
Keyword(s) :
Author Name :