Week in Review: Ecosystem cogs moving into gear
By Karamjit Singh January 2, 2015
Individuals starting to give back through sharing experiences
Signifies entrepreneurial ecosystem starting to empower itself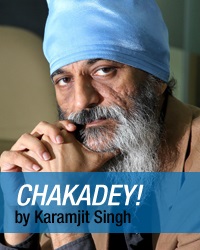 SOMETIMES it is the small things that send a big signal. And thus it was the case for me during the Sept 2014 GREAT festival in Kuala Lumpur, Malaysia, where I witnessed something that struck me as being more than just its surface appearance. GREAT was an entrepreneur mashup targeted at women entrepreneurs and those in lifestyle, agriculture, technology and the creative arts.
[Corrected: An earlier version wrongly referred to the launch of the MaGIC Startup Academy]

I attended the final pitching session of the Social Entrepreneurship Bootcamp on Sept 19, one of the many concurrent events that were held during the Sept 17-20 period that GREAT was held. I was invited to be a judge, but the timing did not work for me.

In any case, I was glad I could not make it and will explain why shortly.

The bootcamp was organised by the dynamic Grace Sai, the Malaysian cofounder of The Hub Singapore, the island-republic's largest community and incubator for purpose-driven entrepreneurs. Incidentally, this is where our Singapore editor Gabey Goh is working from.

Sai was also the chief executive officer of The Hub at that point, but has since joined MaGIC as its director of social entrepreneurship.

About 10 teams were pitching their social business ideas at the end of the three-day intensive bootcamp. Among the were Malaysians Zaman Ahmad, managing director of Endeavour Malaysia; and Mohd Ridzwan Nordin, vice president of investments at Khazanah Nasional Bhd. The third judge was En Lee, co-head Asia of LGT Venture Philantrophy.

As I started listening to the pitches from the eager and excited teams, my attention eventually started wandering as I did not find many of them really compelling. But then I suddenly sat up and took notice of the judges, and how enthusiastic and energetic they were in both listening and then giving what I felt was very constructive feedback to the teams.


I could see the teams really taking in and appreciating the feedback they were getting, which while off-the-cuff from Zaman, Ridzwan and Lee, was really useful and insightful. Just look at the picture I took of Zaman (right) in action.

Frankly, their energy and enthusiasm blew me away because I knew that in their professional capacities, they would have been exposed to many entrepreneur ideas that would have been more robust than the ones they were hearing – yet they gave it their all, as judges.

And I was thinking to myself, "You guys are better men than me." I felt ashamed at myself for thinking that some of the ideas were not robust, but at the same time I also recognised that Zaman and Ridzwan's participation, in particular, and giving back in this manner was a great example of the various cogs in the Malaysian ecosystem gearing up and working together, in both visible and quiet ways. Lee, being in the role he holds, is clearly passionate about social entrepreneurship but this is not the case for Zaman and Ridzwan who are more commercial minded in their roles.

But what I mean is that when the more exposed and experienced individuals in any ecosystem start to give generously of their time and experience, you can be assured this is a strong sign that the ecosystem is starting to empower itself.

And really, while I highlight this particular instance because I was there, I am sure you readers can share similar examples too, and this really gives fills me with optimism for what we will witness in the ecosystem in 2015.

Just as long as you don't invite me to be a judge at any pitching event!

Wishing all our readers a Happy 2015.

The most popular article for this week was Wake up: Content industry needs a reboot.

Editor's Picks:

2014 in Review: The telco battleground

2014 in Review: Cloud computing comes of age

Gamification's future lies in being invisible

Wake up: Content industry needs a reboot

Cyberview pins hopes on nine technologies

MaGIC seeks to replicate Chilean wizardry

Targeted attacks the 'new normal,' says Trend Micro exec


Previous Instalments:

Week in Review: Malaysian ecosystem still reliant on govt

Week in Review: 'Tis not the season to be jolly

Week in Review: Startups need to broaden their horizons

Week in Review: Does Anthony Tan have the chops to win the war?

Week in Review: Will funding floodgates open in 2015?
For more technology news and the latest updates, follow us on Twitter, LinkedIn or Like us on Facebook.
Keyword(s) :
Author Name :