Week in Review: Does quality come through quantity?
By Karamjit Singh February 20, 2015
Latest accelerator in Malaysia run by Cyberview, to benefit Cyberjaya
Top civil servant sees little harm if initiative overlaps with others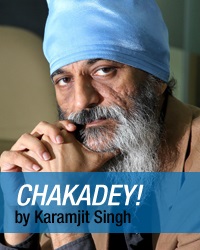 IN this Chinese New Year shortened week in South-East Asia, the news flow tends to dry up and it can be tough coming up with my highlights of the week, especially when many of us only really had two full working days, Monday and Tuesday.

[By the way, Digital News Asia will not be publishing its SNAP newsletter this week.]

Fortunately I attended the launch of the latest accelerator in Malaysia, the Cyberview Living Lab Accelerator Programme, and picked up two comments that I felt were fascinating: "With quantity, quality will follow;" and "Never mind if there are overlaps [with other private/ public sector initiatives]."

They were made by Mohd Irwan Serigar, Cyberview chairman and secretary-general of Treasury at Malaysia's Ministry of Finance.

The senior civil servant has been involved in many entrepreneur-focused support programmes. He supports these programmes not just through funding mechanisms and supportive policies, but also by lending his time to attend many of the initiatives, especially when they are launched.

Irwan made the remarks in response to a question I asked about why entrepreneurs would pick Cyberview's accelerator over the few existing ones in the Klang Valley. I realised from the manner in which he answered my question however, that he felt I was really questioning the need for yet another accelerator in Malaysia.

Actually, I wasn't. I just wanted to be able to share with DNA readers the core value that they can expect if they should choose to join Cyberview's accelerator instead of the handful of existing ones, including the corporate accelerator that Telekom Malaysia Bhd kicked off in December, 2012.

Irwan's contention is that more accelerators offer entrepreneurs more options to find one that suits their needs, and that this would also encourage more people to take the jump into becoming entrepreneurs since they would get a lot more support.

This increase in quantity of those going through such accelerator programmes will naturally lead to a higher chance that some of them will eventually make it. Irwan pencils 2019 as the year in which he expects to see an impact from the various accelerator graduates.

What will also inevitably happen now is that the existing accelerators see a new competitor in town, and with all of them trying to position themselves as best suited to help entrepreneurs achieve their dreams, they will naturally have to up their game too.

The end result is that entrepreneurs win.

In fact, I had coffee with two entrepreneurs on Wednesday night and they were asking me which accelerator they should apply for. I told them the best people to ask were the startups that are going through the various accelerator programmes now. Their feedback is the best input you can ask for before you make that choice for yourself.

This is then yet another motivator for the accelerators to deliver their very best to the companies they take in. You would think that the accelerators taking a stake in the startups they accept, with one accelerator taking 8%, is enough of a motivator for them to do their best. But I say this extra element does not hurt.

And then Irwan's comment about not worrying too much about any overlap with either existing government-funded accelerators or private sector ones, also had me thinking back to my article last week.

Yasmin Mahmood, chief executive officer of Multimedia Development Corporation (MDeC), stressed very strongly that she did not wish to see any overlap between what the national ICT custodian will do and what other public agencies do.

I think some overlap is inevitable, and as long as it is kept to a minimum, especially between public funded agencies, that is fine. In fact, even in Singapore, there are inevitable overlaps among the various public sector programmes for entrepreneurs.

By the way, in the private sector, it is called competition. And that's always good for the market, which in this case are entrepreneurs based in Malaysia.

Here's wishing all those who celebrate Chinese New Year, Gong Xi Fatt Choy! May you be showered with a prosperous Year of the Goat.

Our most popular story of the week was Soft Space levels up, out to transform entire payment landscape.
Editor's Picks:

Soft Space levels up, out to transform entire payment landscape

Freenom launches .ml domain in Malaysia, expects business to boom

Cyberview launches Living Lab Accelerator Programme

Global cultural treasures we will lose for 20yrs under the TPP

HP's enterprise tablet strategy takes shape

HotelQuickly closer to hitting 2015 goals, thanks to Korean expansion

Veritas Architects uses tech to deliver better services


Previous Instalments:

Week in Review: Wisdom, delusion and the space between

Week in Review: One mega effort fades, another makes debut

Week in Review: Let's benefit from Singapore's strengths

Week in Review: Everything is interlinked

Week in Review: Smart nation, digital nation
For more technology news and the latest updates, follow us on Twitter, LinkedIn or Like us on Facebook.
Keyword(s) :
Author Name :