Week in Review: DNA is global tech media too
By Karamjit Singh May 30, 2014
GrabTaxi sizzles with Series B, story broken by TechCrunch
BolehVPN's experience shows banks struggling with digital models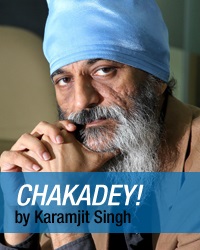 THIS has been a spectacular week for the ecosystem with lots of exciting news, ranging from the CatchThatBus (maybe they should rebrand to GrabThatBus?) raising funding in Singapore, estimated to be in the low seven-digit figures, to GrabTaxi raising an amazing Series B amount of more than US$15 million (RM48.2 million).

There was news other than funding too, but let me start off with GrabTaxi, as this is the first time in DNA's two-year history that a startup has raised such a large amount, and from global investors. The round was led by Silicon Valley-based GGV Capital with participation from new investor Qunar and existing investor Vertex Venture Holdings, which is Singapore's oldest venture capital company.

This is not the single largest amount raised by a tech company though, with that honour going to Matt Chandran and his advanced medical informatics company iGene Sdn Bhd, which raised US$22.7 million (RM70 million) in January 2013 from Agensi Inovasi Malaysia (AIM), a government-backed agency promoting an innovation agenda.

Even when you combine GrabTaxi's earlier amount raised, of more than US$10 million, with this more than US$15 million, it may not be the largest amount raised by a Malaysian tech company as Chandran had also raised an earlier round for iGene.

But let's not split hairs over that, as I am sure neither are Chandran nor Anthony Tan, founder and group chief executive officer of GrabTaxi. Both are busy building out their companies – Chandran with his global ambitions and Tan with his regional ambitions.

In fact, as we speak now, Chandran is in England on a tour of the two Digital Autopsy Systems iGene has built for its customers. The tour was organised by Malaysian Venture Capital Management Bhd (Mavcap), the venture capital agency that has invested in him. DNA editor Goh Thean Eu is there and will bring you the exciting developments.

While both these companies have electrified the ecosystem here with their traction and funding raised to further build out their companies, as they now move beyond Malaysia and unto the global stage, it would be interesting to see how they craft their media engagement strategies.

GrabTaxi already has opted for a 'US-first' approach, with its announcement carried first by Tech Crunch before being released to media elsewhere. It also gave an interview to tech blog out of the West, but with an Asian presence.

They did not reach out to DNA (Digital News Asia) though. With 33% of our readers coming from across the world, DNA, while being a homegrown tech media outfit, clearly offers a global platform to our tech companies as they try to reach the levels that GrabTaxi and iGene have reached.

I just hope our tech companies don't forget that when they do reach the global stage!

And I know some have not as next week we are going to break a global story involving a Malaysian tech company. (Stay tuned!) I am glad that particular founder sees the global value of DNA.

So, if you think the action was sizzling this week, you haven't seen anything yet!

For those of you who missed out on our most recent Disrupt, you can read all about it here, where, coincidentally, the topic was about startups and their need for professional PR (public relations) help. As all Disrupts are, it was a fun and engaging event.

Meanwhile, my favourite story of the week was Gabey Goh's analytical piece on the problems BolehVPN is facing with its bank over its online credit facility.

It is journalism at its best because Gabey not just reported on the issue but added background to show that what BolehVPN is facing is not just a Malaysian issue. She also painted a wider picture of how banks are still struggling with handling clients which have digital-based business models.

Finally, please check out and download our inaugural Deep Dive, which we did on the telco industry in conjunction with World Telecommunications Day earlier in May. I believe this is the first time a media outfit here has published a digital-only industry focus!

Have a good weekend and a productive work-week ahead.

The most popular story of the week was Malaysian startup CatchThatBus raises money in Singapore.

Editor's Picks:
Digital animation survivor Inspidea gears for rapid growth

Disrupt: Startups, don't neglect public relations

BolehVPN's credit card cutoff highlights privacy, payment issues

Surviving transformational shifts: Patience and recycling failures

GrabTaxi announces US$15 million Series B funding

eBay's denial aside, it's still Malaysian user data

Malaysian startup CatchThatBus raises money in Singapore

Previous instalments:

Week in Review: TeAM in angst over Gen Y disconnect

Week in Review: It's all happening in the telco space

Week in Review: Why we should applaud Zafrul Noordin

Week in Review: Yet another bid to help SMEs, using IP

Week in Review: Diversity our strength, contradiction our weakness


For more technology news and the latest updates, follow us on Twitter, LinkedIn or Like us on Facebook.
Keyword(s) :
Author Name :