Week in Review: Asking the right questions
By Karamjit Singh November 14, 2014
Questions investors ask before they put in their money
iBuy Group CEO's management and execution challenge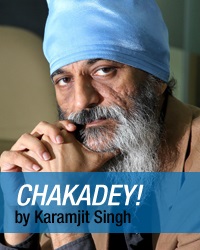 IS it just a coincidence that next week's DNA-TeAM Disrupt in Kuala Lumpur is on funding, and specifically the type of questions potential investors ask?

In a week when we wrote about what guides Khailee Ng's investments in South-East Asia and a small grouchy team of hardcore journos covering the tech ecosystem in the region managing to raise US$300,000 (RM1 million), this is as pertinent an issue as any when it comes to funding.

And here, I have to say I like what Khailee does, which is to give startups an idea or two on what they could be doing and see what the founders do with those ideas. It is his execution filter. He places great value on startups that, in his words, "have an execution bias."

I know I wrote about this in my column two weeks ago, but this is the strongest theme that I see in some of the stories we have covered this week.

You may say that's a given – execution done right. But then so are the 99 other facets of what it takes to build a successful company, be it a brick-and-mortar business or a digital one.

And yet, this ability to talk – that is, plan – and then execute – that is, doing the actual work – has been discovered to be one of the core factors driving companies that outperform their peers.

If you download a copy of management consultants McKinsey & Co's 50th Anniversary issue of McKinsey Quarterly, you can read about it yourself. But make sure you read all the highlighted stories DNA has for you first! And register for Disrupt too. I am sure it will be an interesting session.

Meanwhile, one executive who has execution on his mind is Krzysztof Marszalek, CEO of iBuy Group, a predominantly flash-based e-commerce site in South-East Asia that aims to become a more mainstream e-commerce site.

In the hot seat since September, he has a lot on his plate, from building a world-class management, launching a new tech platform for the group, right-sizing (an elegant term with a nasty kick) and using a just-approved rebranding exercise as a tool to mould and gell the six separate operating units into one united entity.

All this while managing staff angst at the changes and manner of the changes, and with the board demanding opex cuts.

If you come down to its essence, his challenge is about managing the whole process and ensuring strong execution, while aiming to hit the target of becoming a A$1-billion revenue company … and in the process, the most dominant e-commerce company in South-East Asia.

Can he pull it off? "If it was easy, Karamjit, someone else would have done it already to become the Amazon or Alibaba of South-East Asia," he told me when we spoke over Skype. I also spoke about this on DNA's weekly Tech Talk segment on BFM on Nov 13, where my Freda Liu and my colleague A. Asohan also chipped in with their thoughts, so do have a listen to that podcast.

Finally, for those keen to get a feel for Malaysia's ICT pulse, Asohan's article on Frost & Sullivan's market briefing makes for interesting reading, with Malaysia being a hard country to categorise cleanly as in some areas it is developed, while in others it is still emerging.

Editor's Picks:
iBuy under pressure, board orders US$216K monthly opex cut

500 Startups' Khailee Ng on his investment preferences

Malaysia's ICT outlook: Cloud disappointment, 4G lag

Censorship 2.0: Shadowy forces controlling online conversations

Our seed funding: The day after

Security the 'elephant' in the IoT/ smart city room: Frost
Amazon Web Services trains its spotlight on enterprises
Previous Instalments:
Week in Review: Is Malaysia ready to welcome them?

Week in Review: Execution always trumps 'me too' model

Week in Review: From Norway to Singapore to Malaysia

Week in Review: It just might be 'Startup Malaysia Year'

Week in Review: Picking yourself up from a stumble, and MOL


For more technology news and the latest updates, follow @dnewsasia on Twitter or Like us on Facebook.
Keyword(s) :
Author Name :