Week in Review: A long and hard grind
By Karamjit Singh July 25, 2014
Key takeaway from Disrupt for entrepreneurs not to expect quick exit
Dual MH tragedies bring out dark side in mankind with trademark bid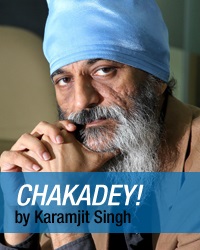 WHAT I felt was going to be a slow week due to the upcoming Hari Raya celebration next week did not pan out, mainly because of our article on the attempt to register the terms MH17 and MH370 as trademarks, and then the follow-up today where Gabey Goh delves into a Malaysian-based company which has also filed a bid to register the term MH17 as a trademark.

Both those stories read like something out of a spy novel, and how apt it is that an expert in intellectual property matters told Gabey that this developing story reads like the beginnings of a Dan Brown novel!

I personally find it extremely disturbing and distasteful that someone could be cold-hearted enough to see profit in two disasters that have cruelly taken away almost 600 lives, with no closure for many of their grieving loved ones as the bodies have not been found.

If there is a lesson for the tech ecosystem here, it is that intellectual property is a very important ingredient for entrepreneurs as they seek to build a sustainable business.

Funding is obviously another key ingredient, especially at the starting point of the entrepreneur's journey. Most times, this funding will come from the entrepreneurs themselves and/ or from angel investors.

In Malaysia, some entrepreneurs are fortunate enough to get a grant from Cradle Fund Sdn Bhd. But more often than not, entrepreneurs have to go out and try to convince someone to take a bet on them and their idea.

How they go about doing this and what these generally high net worth individuals and angel investors look for was as the heart of this Wednesday's Disrupt session.

Titled Angels are from heaven, mostly, the hour-long conversation with angel investors Bob Chua and Sachin Bhatia, the latter being from India but who spends part of his time living in Malaysia, proved very useful to the entrepreneurs who attended it.

To me, one of the key points that came up was the length of the journey. As Sachin noted, even in a large market like India, it tends to take 10 years for a startup to get to an exit such as a trade sale or IPO (initial public offering).

Sachin speaks from experience as he was a founding member of a travel portal, makemytrip.com, that only listed on Nasdaq 10 years after it was founded.

In Malaysia, we only have to look at the 15-year journey of Ganesh Kumar Bangah, who last Monday, July 14, filed papers to list on Nasdaq.

As you motivate yourself by reading about all the exciting stuff that is happening in the Silicon Valley ecosystem, you have to realise that coming from Asia and building a company from Asia is going to be a long and grinding journey. Be prepared for that, and good luck in your own hunt for an angel investor.

And let's congratulate Sync Media (M) Sdn Bhd and its founder Muhammad Zharif Md Sarif for successfully finding his angel. Zharif has raised US$78,840 (RM250,000) to help him build and market his school communication platform.

Well done, Zharif! And, well done Cradle, which helped make this happen through its quarterly Chill&Chat session that brings entrepreneurs and potential angels together.

To all of you celebrating Hari Raya, we at DNA wish you a Selamat Hari Raya and safe trip back to your home towns.

Editor's Picks:

Shoppers flocking online for convenience, prices: Google

Disrupt: 'Taking money in Malaysia would've been a mistake'

Unknown Caribbean company files for MH17 trademark

Malaysia's WaryBee in crowdfunding drive on StarHub platform

TM R&D aligned with its parent company

ICT reseller 1 Utopia's first half losses widen
New wireless standard Hotspot 2.0 faces hurdles: Analysts

Previous Instalments:

Week in Review: MOL listing will inspire SEA ecosystem

Week in Review: Our suffering spouses

Week in Review: How you spend the money
Week in Review: Fusionex's US$12.5mil bid for talent

Week in Review: Badlisham the bridge across that 'trust chasm'?


For more technology news and the latest updates, follow us on Twitter, LinkedIn or Like us on Facebook.


Keyword(s) :
Author Name :
By commenting below, you agree to abide by our ground rules.