The kangkung block: Denial seems to be the best defence
By A. Asohan January 17, 2014
BBC story blocked, TMnet passes the buck to MCMC, which says no such thing
The experience of so many Malaysian netizens cannot be denied however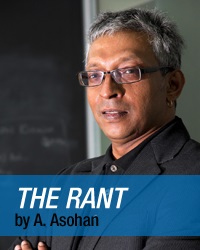 FOLKS, not to worry – it was all but a figment of our collective imagination, a Gibsonesque consensual hallucination in cyberspace. The BBC story on Malaysian Prime Minister Najib Razak being lampooned on social media for his remarks on the price of kangkung (water spinach) was not blocked. Move along, there's nothing to see here.

Or at least, that's the authorities would have us all believe. After some dodges by the parties implicated, industry regulator the Malaysian Communications and Multimedia Commission (MCMC) has come out with a statement that essentially denies anything took place.

"Based on our initial assessment, the report was accessible to users of the Internet," said its senior director of strategic communication, Sheikh Raffie Abdul Rahman.

"We understand that there could have been some temporary difficulties in accessing it, but at the time of this statement this disruption has been resolved. Furthermore, we have not received any official complaint from the public regarding difficulty in accessing the report," he said in a media statement.

To download the MCMC's statement in full, click here. To be fair, by the time the MCMC got around to investigating the allegation, the block could have been removed.

But let's look at the facts. On Jan 14, the BBC Trending blog posted a story, titled Be careful what you say about spinach, saying that Najib was "being widely lampooned on social media for a comment he made about the price of kangkung." According to the BBC, the story was one of the most shared on the BBC News website on that day.

At about 10pm on Jan 16, Khairil Yusof, cofounder of Sinar Project, a non-profit organisation which tracks corruption and Internet freedom, alerted Digital News Asia (DNA) via Twitter that access to that page appeared to be blocked.

DNA team members attempted to get on, largely to no avail. We asked friends to attempt to access the page, and most could not. The handful who could, reported interminably long waits. The ones who had the most difficulty were those using Telekom Malaysia's TMnet service. People we knew who surfed from outside Malaysia reported having no problem accessing the page.

Meanwhile, Khairil had conducted some tests that suggested a filter had been placed, blocking access to that page. Security experts DNA contacted, including some from the hacker community, verified this.

By midnight on Jan 16, more people on Twitter began noticing difficulty getting on the page. The BBC was also alerted to this, saying in a report that readers in Malaysia "began to report problems accessing the story at about 16:00 GMT (midnight) on Wednesday (Jan 15).

Khairil and freelance IT solutions developer @sniiffit told DNA that the forensics pointed to the block being applied at the ISP level. After collating more data, DNA broke the story Net censorship: BBC story on kangkung fiasco blocked? at about 3:45am on Jan 16. By about 10am, other online media began following up on the issue.

At about noon on Jan 16, after a public outcry on social media and increasing coverage by the online press, the block appeared to have been lifted, although some still reported having difficulty.

When asked about this, Telekom Malaysia (TM), in a statement to The Malay Mail Online, made a non-denial denial and passed the buck to the MCMC.

"With regards to the allegation on the inaccessibility to a certain article on the BBC website, TM wishes to reiterate that issues of national content blocking should be directed to the Malaysian Communications and Multimedia Commission (MCMC).

"TM, as a service provider, complies with the national regulations on the Internet," the company said.

Since it is not an offence to embarrass politicians in Malaysia – a feat many of them manage quite ably by themselves – this was not an issue of national regulations. The original BBC Trending story was a blog post that merely recounted the facts. It was not porn, and did not cross any boundaries with regard to religious, racial or cultural sensitivities.


The MCMC also denied applying any such block, noting that it did not have the capability to do so. "The MCMC … has not blocked nor instructed any Internet service provider (ISP) in Malaysia to block the BBC's online report," said Sheikh Raffie in his statement.

"We would also like to refute earlier reports in the media that misquoted MCMC as saying that 'various Malaysian service providers could have acted on their own accord.' This misreporting is a serious matter," he added.

But neither he nor the MCMC have answered queries DNA sent on the morning of Jan 16, especially after other readers started reporting that even YouTube videos making fun of Prime Minister Najib could not be accessed.

These questions to the MCMC still need to be answered:

1) While you commented that the MCMC is not blocking any sites, have you verified whether these sites are being blocked or filtered in some way?

2) Will the MCMC be conducting an investigation to find out who is responsible?

3) Will the MCMC be conducting an inquiry to find out if Malaysians ISPs are indeed breaking the Government's pledge to not censor the Internet?

The MCMC may not have received any official complaints, but just as a policeman seeing evidence of a crime being committed need not wait for a police report to be lodged before he can act, the Commission can – and should – investigate what's going on.

It would be a great way to shed its image of being a toothless tiger, as one Member of Parliament described it (but for all the wrong reasons).

And just because it has not received an official report, and just because the block has now been lifted, it cannot deny what a large proportion of Malaysian netizens experienced: The denial of our rights to information.

It is not over. We, the people of Malaysia and the media, should not let this go. The implications are chilling: That just about anybody in the corridors of power, or with access to an ISP's servers, can stop the flow of information to Malaysians … on a whim and with a snap of the fingers.

Related Stories:

Net censorship: BBC story on kangkung fiasco blocked? (Updated)

GE13: Evidence of websites, political content being throttled (Updated)

Web Index: Malaysia ranked 37th overall, poor rating in openness (Updated)

MCMC a 'toothless tiger' and other Parliament shenanigans

Evidence Act, censorship, control issues and other #facepalms

For more technology news and the latest updates, follow us on Twitter, LinkedIn or Like us on Facebook.
Keyword(s) :
Author Name :