The ICT ecosystem and the Fourth Estate
By A. Asohan September 25, 2013
The media has to take its role as shapers of public opinion, and to be the voice of the people, seriously
This means we sometimes have to criticise; failure to recognise this responsibility would be an injustice to society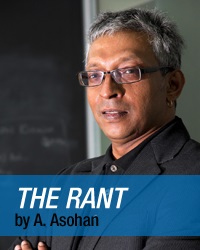 MY last column about a week ago, Pouring cold water on the startup Kool-Aid, garnered some interesting responses, ranging from disappointment because I was being too kind, to downright disagreement.

The discussions, whether on Digital News Asia (DNA) itself or on social media networks like Facebook and Twitter where the article was shared, were largely intelligent and thought-provoking. Even those who disagreed gave me interesting things to think about and consider.

Indeed, one DNA reader very much plugged into and doing great work for the startup ecosystem, shared the column on Facebook, where he – while acknowledging that he realised where I "was coming from" – offered his own take on the situation: That Malaysia needs to promote itself as a startup destination, and more worryingly, the undeserved lack of confidence that Malaysians have in our own companies and technologies.

It was a fair enough point, and the two of us had an interesting discussion, since he had the courtesy to tag me on his Facebook post.

But then this was all spoilt, for me at least, when one of his Facebook friends came in and scuttled the discussion with a pitiful, rather than pithy, saying about how it's harder to create rather than destroy, and how too many people enjoy tearing down others' efforts.

Apparently the media should not go about criticising. This is as idiotic argument as the one that reviewers face from time to time from fanboys and fangirls when their idols are brought down low: "Well, you don't have the talent to make a movie (record an album or write a book), so what gives you the right to criticise?"

My first thought was that 1) This person was an idiot; 2) This person hadn't bothered to read the column, and was basing his entire view on the Facebook post (which, of course, doesn't preclude him from No 1); or 3) This poor chap has completely no idea of what the roles and responsibilities of the media are.

I am going to assume – one of the cardinal sins of journalism, by the way – it's No 3, because there is really nothing to be done about the first two.

So, if this person has no idea what the media is all about, whose fault is it?


Well, it's partly the media's fault, honestly. Decades of the mainstream media being forced into, or willingly, becoming the mouthpiece of government, politicians and deep-pocketed advertisers has not just disenfranchised the people of Malaysia, it has made everyone think that the only role the media plays is to be supportive.

And supportive of everything, from government policies to entire industries and movements.

The rise of independent, alternative media, thanks to the Internet, did offset this for a while, but over the last few years, because so many lines were drawn in the sand, the 'Us versus Them' mentality has taken root. The level of political discourse in the country, except for a few bright exceptions, has become woefully low.

But when we launched DNA, we explicitly declared that it was our intention to act as the Fourth Estate. It's right there in our mission statement:

We want to see the ICT industry in South-East Asia grow and develop and believe we can help this by providing insightful and analytical coverage of the ICT ecosystem in these countries.
We will cover the tech ecosystem in an analytical and critical manner without fear and favour. We aim to be the Fourth Estate for the tech ecosystem in the countries we cover.

The media, or the press, was first described as the Fourth Estate by Irish statesman Edmund Burke in the 18th century in recognition of its power to influence society, with the other three 'estates' being the clergy, the nobility and the common folk (especially in a democracy).

For the media to remain faithful to its calling as the Fourth Estate, its role and responsibility has to be to provide a platform for alternative views and the four Ds: Discussion, debate, discourse and even dissent, if needs be.

It must be willing to take a stand, shape opinions, guide and inform its readers, and yes, criticise. It is why we have called out when the Malaysian Government gazettes ill-considered legislation; when politicians say stupid things; when the Government does actually come up with a good idea, but our political leaders do not have the political will to do it justice – whenever we feel we have to voice the concerns and aspirations of the people.

Taking this responsibility away from us, just because some people would rather have a pliable, supportive press, doesn't just hurt us. It is nothing less than censorship, and would be an injustice to society.

Related Stories:

Pouring cold water on the startup Kool-Aid

Online has most balanced GE13 coverage: Media watchdog

Adverse effects of online clampdown by SEA governments

Evidence Act, censorship, control issues and other #facepalms


For more technology news and the latest updates, follow @dnewsasia on Twitter or Like us on Facebook.
Keyword(s) :
Author Name :