Patrick Grove's South-East Asian gamble on VOD
By Karamjit Singh March 17, 2015
Partner Evolution Media Capital brings strong film industry clout
Content licensing structures, funding to determine success of iflix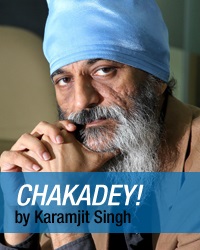 SELF-confessed news junkie Patrick Grove of Catcha Group is used to taking calculated risks. He has successfully parlayed his simple belief that any Internet business model that has traction in the United States can be ported to South-East Asia, into being regarded as among the leading Internet entrepreneurs in Asia.

And while the financial performance of the four listed Internet companies he has stakes in – RevAsia, iProperty, iCar and Ensogo (previously iBuy) are nothing to shout about yet – it is undeniable that they are well-positioned to capture growth in their respective verticals.

For instance, despite its recent troubles, Ensogo has greatly strengthened its hand in the past two weeks by welcoming two new investors, raising a total of US$12.5 million.

If nothing else, the deals attest to Grove's ability to get investors to take the long view with his South-East Asia-focused businesses.

He also recently strengthened iProperty's position in Thailand by acquiring one of the leading property portals there.

But now Grove is about to take his biggest gamble. Where he has previously been unshakeable in his belief that consumers will not pay for content online, he is now about to go against that core belief and charge consumers "a price you can't say 'No' to," for his video on demand venture, iflix.

It is aimed at the South-East Asian market, with a particularly mobile-focused business model.

"It is the next frontier but the question is, when will it arrive?" poses a Los Angeles-based movie distributor when asked about the chances of success for such a service in this region.

"I would be scared to do this now. In three to five years, maybe, but it is a gamble now," says the distributor.


Interestingly, Grove (pic) pulls out some data that shows what the market size in four years will likely be. From a 2013 Google-commissioned Our Mobile Planet report, he draws attention to data which projects the number of South-East Asian smartphone users and households with fixed-line broadband will grow to in excess of 240 million and 55 million respectively by 2018.

He has not revealed what portion of this will be the market he is targeting. With logic dictating that it will be those with disposable incomes, then 81 million households already fall under this "consuming class" as recent data from management consultants McKinsey & Co reveals.

Those familiar with Grove's entrepreneurial exploits know that being early in the game suits him as it allows him to build a brand and customer base in the market, and to grow with the market while capturing a bigger share by virtue of being among the earliest players.

And while he is fond of talking about the need to pivot constantly to get the right model, don't expect any of that here as this is a game where money talks – you need to pay for the content you want to license, and those agreements are not open to any pivots … not without a cost, at least.

In this regard, expect him to raise some significant money for this venture because playing in the content game is expensive, and of course, you can expect him to make some acquisitions along the way in South-East Asia.

He has missed out on the acquisition of Maaduu, a Malaysian-operated video on demand site specialising in Korean content. In August 2014, the site was acquired by a UK-listed company, SyQic Plc, for up to RM5.5 million (US$1.5 million) and 60,000 shares in SyQic.

In terms of partnerships, Grove is already in talks with the Media Prima Group, the largest owner of local content in Malaysia, to license some of its content.

In fact, the amount of money he can raise will be a significant factor in determining whether he succeeds, say two content players I spoke to.

"It will show you how much money they are willing to lose before a sustainable revenue stream kicks in," said the US-based distributor.

"The determinant will be their ability to pay for enough content to make the service attractive for long enough to reach critical mass. This is going to be a function of how much investment or support they get from their backers," says a Kuala Lumpur-based content provider.

Equally important to the amount raised will be the type of licensing deals Grove can cut with content owners, especially those based in the United States.

This is where Catcha's iflix partner comes in. New York-based Evolution Media Capital is a boutique investment bank and advisory firm that specialises in media, sports and entertainment deals.

It is a powerhouse player in the content space and according to a 2012 article in the Los Angeles Times, has had a hand in deals worth US$15 billion.

"A large part of the content distribution business is based on relationships. Depending on how well the content studios know you and trust you, you can cut deals with them that allow you to minimise upfront license payments and do revenue share.

"Though I have to say, the large Hollywood studios are not known to cut anyone good deals as they prefer to be paid upfront for their content," says the Los Angeles-based distributor.

Catcha is likely depending on Evolution Media and its relationship with US studios to cut it favourable deals. Clearly this is a coup for Grove, to be able to sell the value of iflix and the South-East Asian market to Evolution Media.
Besides relying on Evolution Media, Grove is not entirely without any content pedigree himself, with family ties to the Hong Kong based Shaw family, which incidentally was also his first investor when he launched Catcha.com back in 1998.

But it is the partnership with Evolution Media that totally changes how I now view iflix versus Singtel's Hooq service, the Singapore telco's Asia-focused over the top (OTT) video service that it will launch by the end of March, with Hollywood studios Warner Brothers and Sony Pictures as equity partners.

While Singtel's Hooq is focused on the Asian markets where it has a market presence, this still brings it into direct competition with iflix in at least three markets: Indonesia, the Philippines and Thailand.

How iflix differentiates itself from Hooq, and for that matter any other video service focusing on South-East Asia, will determine its takeup and success.

The top two factors are going to be the variety of content available, and the cost of the service. Factors like ease of use and quality of viewing experience are going to be secondary, though Grove cites these two factors, along with the price of his service, as being the key attractions that will draw viewers to iflix.

That, and the entrepreneurial zeal of the 85-strong team he has built across the region to market and sell iflix.

For while some in the content industry feel that the secret sauce is going to be in the nature of the content deals that iflix signs with the studios, Grove himself believes that it lies in his and his team's entrepreneurial zeal, as his Facebook status update on March 12 showed.

"Whilst we don't have the cash balance of Singtel (Singapore Government), I firmly believe our hustle, balls, perseverance, entrepreneurial spirit and ROCKSTAR team will let us lead the entertainment revolution across Asia!" he posted.

Online video just got a lot more interesting in South-East Asia. Even if you don't use any of the services, watch this space.

Related Stories:

Netflix-type wars: Grove's Catcha takes on Singtel's Hooq with iflix

Singtel, Sony Pictures and Warner Bros to roll out Netflix-type service

Good synergies in Astro-Maxis IPTV pact: Analyst

Maxman.tv: Benchmarking against the best


For more technology news and the latest updates, follow us on Twitter, LinkedIn or Like us on Facebook.
Keyword(s) :
Author Name :