New Microsoft CEO Satya has to step out to step up
By A. Asohan February 6, 2014
22-year Microsoft vet Nadella brings business nous and technical chops combo to CEO role
But unless he can step out from the shadow of Gates and Ballmer, it will be the same difference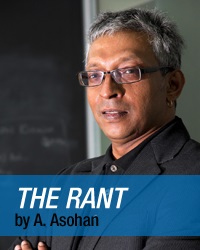 IT is one of those amazing coincidences: While waiting for my next 'offsite' meeting at a bar in Kuala Lumpur on Tuesday (Feb 4), I bumped into some of my former colleagues at Microsoft Malaysia.

Some, like me, had left the company, while others were still there, slugging it out in a world substantially changed from the time when the company's operating systems were on more than 90% of the world's desktop computers. You know, at a time when the desktop meant something.

We got to talking about Microsoft Corp's search for a new chief executive officer, after Steve Ballmer's surprise, yet eagerly-awaited announcement last August that he was stepping down.

A couple of hours after our meetup, the Redmond, Washington-based giant announced the appointment of company insider Satya Nadella, formerly the executive vice president of its Cloud and Enterprise group, as CEO and member of the board of directors effective immediately.

"Satya (Nadella) is a proven leader with hard-core engineering skills, business vision and the ability to bring people together," said Bill Gates, Microsoft's iconic founder.

"His vision for how technology will be used and experienced around the world is exactly what Microsoft needs as the company enters its next chapter of expanded product innovation and growth," he said in a statement issued by the company.

Gates, previously chairman, will assume a new role on the board as founder and technology advisor, and will devote more time to the company, supporting Nadella in shaping technology and product direction, the company said.

John Thompson, lead independent director for the board of directors, and the person who led the CEO search, will assume the role of chairman and remain an independent director.
Nadella (pic above) joined the company in 1992, and has spearheaded major strategy and technical shifts across the company's portfolio of products and services, most notably Microsoft's move to the cloud, the company said. During his time overseeing Microsoft's Server and Tools Business, the division outperformed the market and took share from competitors.

I have written before that I didn't think Ballmer was that bad a CEO; he just wasn't a great one. To a market used to heroes like the late Steve Jobs of Apple, Larry Page and Sergey Brin of Google, Mark Zuckerberg of Facebook, or even his predecessor Gates, Ballmer just never matched up. He was too much a 'tie' and not enough of a 't-shirt' … or even a black turtleneck.

A good numbers man, but hardly a visionary. And the world is so used to tech visionaries that being a manager just wasn't good enough.

In a world where computing technology is increasingly being driven from the consumer front, Microsoft just wasn't sexy. Even when the company came up with breakthroughs such as the 'controllerless' Kinect console, people would talk about the newest iPhone with, oh my, a bigger screen.

The market has been reacting harshly to Microsoft's perceived lack of innovation, ignoring everything not related to the consumer business. Its stocks have stumbled. It has to remove the stigma that it is a technology company happy to keep plodding on, seemingly unaware until the 11th hour that consumer technologies were invading its enterprise stronghold.

It is a challenge that the 46-year-old Nadella is painfully aware of. In an email to Microsoft employees, he uses the word 'innovation' about a half-dozen times. "Our industry does not respect tradition – it only respects innovation. This is a critical time for the industry and for Microsoft," he wrote.

"I believe over the next decade, computing will become even more ubiquitous and intelligence will become ambient. The coevolution of software and new hardware form factors will intermediate and digitise many of the things we do and experience in business, life and our world," he wrote in typical Microsoft-speak.

"This will be made possible by an ever-growing network of connected devices, incredible computing capacity from the cloud, insights from big data, and intelligence from machine learning. This is a software-powered world," he added.

Patch updates, no reboot?

I had actually called it in my previous article, betting my nearly non-existent wages (welcome to the journalist's world) on Nadella. He was also the hope of many of my former colleagues, especially the Microsoft old-timers. He has that combination of business nous and technical chops, I felt.

"Satya (Nadella) is a proven leader," Ballmer said in an email to employees as well.

"He's got strong technical skills and great business insights. He has a remarkable ability to see what's going on in the market, to sense opportunity, and to really understand how we come together at Microsoft to execute against those opportunities in a collaborative way," he added.

And he had beaten out celebrity executives for the job, including Ford Motor CEO Alan Mulally, Qualcomm executive Steve Mollenkopf, Facebook chief operating officer Sheryl Sandberg, former Microsoft executive Paul Maritz and VMware CEO Patrick Gelsinger.

Also in the running were Stephen Elop, who had left Microsoft to become CEO of beleaguered phone company Nokia, which Microsoft bought for over US$7 billion last September; as well as Tony Bates, executive vice president of Business Development and Evangelism at Microsoft.

So I should have been happy to have made my correct call. Except that I was perhaps wrong about this being the best for Microsoft. In my serendipitous bump into Microsoft Malaysia people, one of them gave me some contradictory food for thought.

"It will be more of the same, just perhaps a bit better," said my former colleague. "We really needed someone like that Ford guy (Mullaly) to come in and completely change us."

"I think we're pushing this story because it's a great story – Hyderabad-born executive takes over one of the world's (still) most powerful companies," he added, only half-jokingly, and as it turns out, completely foresighted.

The market seems to be agreeing with my friend. Microsoft's stock dipped 13 cents to close at US$36.35 after Nadella was announced as CEO.

In a report, Yahoo News noted his major handicap: He is a remnant of the same management team that led Microsoft astray during Ballmer's 14-year reign.

"As Microsoft continues down the right lane of the highway at 55 mph with its new CEO in hand, the fear among many investors is that other tech vendors from social, enterprise, mobile, and the tablet segments continue to easily speed by the company in the left lane of innovation and growth," Yahoo News quoted FBR analyst Daniel Ives as writing in a research note.

The feeling is that an outsider, with no ties to old colleagues and no loyalties to misplaced or at least misfiring traditions, would be able to enact changes that even Ballmer, cognisant of how much ground the company had lost in his last few years, could not affect.

And while Nadella brings great ability to the job, he will still be operating under Gates' spectre – something that Ballmer, whether he knows it or not, could never escape from. Worse, Nadella's first task would be to implement the major changes that Ballmer made before his exit – many of which the market and analysts were not keen on either.


Or he could, of course, truly recognise and deeply appreciate how much the technology world has changed, and lead Microsoft with his own vision. The fact that he invited Gates back in – "I've asked Bill to devote additional time to the company," he wrote in his email to employees – does not bode well for that hope either.
Apple Inc struggled, and almost went under even when Jobs first got back on board in 1996, returning to the company he cofounded and was fired from in 1985.
Apple has transformed completely, and now, while it still develops iMacs and MacBooks, it's not so much a computer company (yeah, it used to be 'Apple Computer Inc,' remember?) but a consumer electronics company whose computing knowhow gives it a cutting edge.
IBM still has mainframes, but is essentially a software, services and consulting giant with boxes it can package for you.
In 2010, Ballmer tried to 'transform' Microsoft into a 'cloud' company, but it still retained many of its old habits, and many felt that it was too little, too late in any case to fight off the Google onslaught .
What is Microsoft going to be under Nadella? It will be his job to decide, and then execute.
Related Stories:
The Ballmer hate: In the end, he was only human
Microsoft CEO Ballmer to quit within a year, successor yet to be named
Microsoft's big bet on Nokia hinges on execution: Analysts
Microsoft-Oracle tie-up: 'The enemy of my enemy is my friend'
Windows re-imagined, Microsoft not quite
For more technology news and the latest updates, follow us
on Twitter
,
LinkedIn
or Like us on
Facebook
.
Keyword(s) :
Author Name :