MOL Global now has to deliver gold to investors
By Karamjit Singh October 13, 2014
MOL's Nasdaq listing shines light on tech scene in SEA
Growth drivers in place, mobile-wallet on the horizon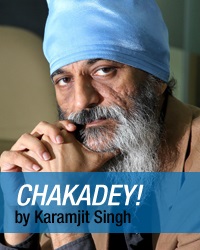 PERHAPS he knew what was coming and sought to soften the inevitable blow from a rocky and nervous stock market when he said, "This is just the beginning for us" in his off-the cuff speech at the staged area for photo opportunities at the Nasdaq building in Times Square, New York.

But still it would have hurt for Ganesh Kumar Bangah, MOL Global founder and chief executive officer, to see what should have been a perfect day – that is, the stock climbing above its IPO (initial public offering) price of US$12.50 (RM41) – to instead dive 33% below to close at US$8.14 on its first trading day on Oct 9.

It's not the way any founder who has been painstakingly building his business over 14 years would have liked to have crowned that journey.

It would have been little solace that global markets were in a flux too, with the S&P 500 index in the United States suffering its biggest weekly fall since May 2012, or that the Nasdaq dropped 2.3% for the week.

Be that as it may, Ganesh told Digital News Asia that "you can't control the vagaries of the stock market."

But MOL Global, the leading e-payments platform provider for emerging markets, controls its own destiny, and after the time commitments it took to getting his Nasdaq listing, Ganesh is looking forward to paying 100% of his time and energy back to managing and guiding his company.

He estimates that the entire listing process took up around 50% of his time over the past 10 months, including the last three weeks in the United States on the last leg of an exhaustive roadshow that saw him make up to four investor presentations a day.

As he and his senior management team refocus on building MOL Global into realising its full potential, they have a lot going for them, and while their mobile, e-commerce and gaming strategy has been well covered by the media, including DNA, I found some aspects of MOL's strategy moving forward quite interesting.

It is also interesting to note that founders believe that the biggest threat for their Internet companies comes from brick-and-mortar players, but that they also believe the slow-moving nature of these large and bureaucratic entities prevents them from realising their online potential.

For instance, just as Patrick Grove of Catcha Group told me recently that the biggest threat to its iProperty real estate classifieds portal comes from media companies, but that their slow-moving nature and fear of cannibalising their existing products prevent them from being the threat they could be.


Ganesh (pic) shared the same sentiment, only he sees banks as his potential biggest threat – not however for his MOL Points product, where he claimed that MOL is the global leader when it comes to providing emerging markets with a micro-payments platform for digital goods.

"Competition from banks could come against our MOL Pay, which is our payment platform for e-commerce. Today, we sit between the banks and online merchants, and if the banks work very quickly and acquire these online merchants on our behalf or on their own, then they are a threat," he said.

And then, just as with Grove, comes the caveat. "But you know banks are very slow. And, this is small business for them," Ganesh said.

MOL Pay is however big business for the company and is expected to grow more rapidly than MOL Points. Last year, MOL Pay made up about 7% of total revenue but for the first six months of 2014, it has grown to make up 15% of MOL Global revenue.

"Based on this, we expect it won't take long for it to surpass [the revenue] of MOL Points," he said.

Ganesh expects MOL Pay to be even bigger business when its mobile wallet is introduced. He said he got a lot of questions on this while on his US roadshow, possibly influenced by Apple Inc's introduction of Apple Pay.

He revealed that MOL Global already has its mobile wallet plans and will execute this as soon as it receives approval from the Malaysian central bank and industry regulator Bank Negara Malaysia.

Confident that MOL "has all the factors in place to create a successful mobile-wallet," Malaysia will be the pilot before a rollout in the 14 countries it has a presence in, he said.

It will be very interesting to see how Bank Negara Malaysia responds to MOL Global's application, which coincides with its own push to encourage greater use of e-money in Malaysian society.

Another possible revenue stream for MOL Global lies in its ability to help the Asian-based mobile messaging apps, specifically Kakao Talk, Line and WeChat, to monetise their "land-grab," as Ganesh described it.

"Once they have acquired the land [customers], they have to dig for gold [monetise], and this is where we come in with our shovels [MOL Global's payment products] to help them dig for that gold and revenue share," he said.

It's a cute analogy but make no bones about it, MOL Global will now be experiencing the rapid-fire cycle of a 90-day reporting period to the most aggressive, savvy and ruthless investors in the world.

And if that isn't pressure enough, Ganesh is also carrying the flag for South-East Asia as MOL Global is arguably the region's first Internet company to list on Nasdaq.

He has helped shine an even greater light on the tech scene in South-East Asia, but it is just the beginning. He now has to prove that all those drivers of growth that he has been selling to the market, deliver gold for investors.

Related Stories:

MOL on Nasdaq: 'This is just the beginning'

MOL Global's Ganesh Kumar Bangah on cusp of Nasdaq listing

MOL Global IPO proceeds to be partly used to repay MDV loan

Stellar first-half performance by Nasdaq-bound MOL Global


For more technology news and the latest updates, follow us on Twitter, LinkedIn or Like us on Facebook.
Keyword(s) :
Author Name :