Four key takeaways from What's Next 2016
By Karamjit Singh August 5, 2016
Brick and mortar companies are not going anywhere, thank you
Leaders will be motivated by new revenue streams in digital adaption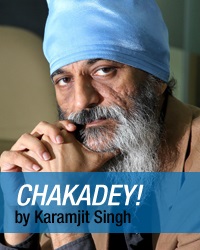 OUR anchor event called What's Next: The Business Impact of Disruptive Technology was held on July 28. Given that the event specifically targeted brick and mortar (B&M) companies, it was these leaders who made the greatest impact on me.
One successful tech entrepreneur, who has a major exit to his name, felt that Sharan Valiram's session was the most interesting. Sharan is one of three brothers who run the Valiram Group's luxury fashion empire.
In his session, "When High Touch Collides With High Tech", Sharan was confident and resolute in his belief that his space in the fashion world will be largely immune to any disruptive effects from digital. His session helped form one of my four key takeaways from What's Next 2016.
1) Despite the buzz and sexiness of Digital Disruption, some (lucky?) businesses will not be disrupted
For this we have to look no further than the Malaysian based, regional high fashion Valiram Group whose director Sharan Valiram confidently took the stage and easily handled all of provocateur Khoo Hsu Chuang's attempts to at least try to get him to acknowledge that perhaps they were not doing enough to engage digitally with today's millenials who will be tomorrow's high fashion customers.
Thwarted at every attempt to get Sharan to express some doubt in their solidly B&M approach, Khoo finally remarked, "Sharan, you seem to be virulently anti-digital!"

But Sharan pointed out that the Valiram Group did try to engage their customers in e-commerce but found that customers were not keen to purchase bulky items (suitcases) online. He also does not believe that customers will spend US$5,000 (RM20,250) on online purchases in high fashion.
The research and comparisons may well happen online, "but the final purchase will happen in a store," he said.
In fact, such is the importance of stores that Sharan says what keeps him awake at night is the fear that mall owners will not rent him a store that he needs but give it to his rivals.
In a conference talking about the business impact of disruptive technology, it seems that high fashion will likely remain an island of predictability where High Touch trumps High Tech. And there is something strangely reassuring about that, no matter how exasperated Khoo gets.
But the Valiram Group is not going to be blindsided by technology as Sharan said they will always explore the latest technology to hit the fashion world. It's just that they won't fall in love with the buzz and hype.
The interesting question to ask next is, which other verticals in business are going to be largely immune to digital disruption?
2) When the emperor called "Digital Strategy" is caught wearing no clothes
Well what do you know. It turns out that corporates that have been adopting a digital strategy as part of their proactive action plan to keep their business ready for any disruption caused by digital disruption had it all wrong.
The whole idea is to have their business strategy ready to adapt to a digital world. Or as Rohan Krishnalingam, chief operating officer of RHB Bank succinctly put it, "Frankly speaking, we are now living in the digital era – your strategy has to follow that, and has to fall into the context of a digital world; there is no choice."
Rohan warned that large companies, especially, that do not recognise the importance of 'innovation' and 'digital' will get disrupted, citing Kodak and Nokia as examples.
In a separate panel, McKinsey & Co senior partner, Nimal Manuel agreed with Rohan, going so far as to say, "I hate the concept of a digital strategy … it has to be a business strategy." According to Nimal, "44% of companies have a digital strategy but what is really needed is a business strategy."
I think the lesson here is for companies that already have a digital strategy to take another look at that strategy and see how it can add value to their existing business or create the opportunity for a new revenue stream. Those that think running an accelerator or building an app will keep them relevant in a digital world may want to seriously reconsider that assumption.
Somewhat puzzling to me is the fact that large companies face challenges in hiring the right talent to run their digital initiatives and fulfill their wider technology needs. Nimal cites McKinsey data that shows 80% of companies struggle to modernise their technology and many lack a roadmap to build critical digital capabilities.
As if to reinforce the point about the struggle for talent, UEM Group Bhd's group chief executive officer, Izzaddin Idris, admits that he has been struggling to find an internal candidate to fill the position of chief innovation officer. It is shocking when you consider the UEM Group has a combined revenue of over US$2.47 billion (RM10 billion) a year.
In a nutahell, large companies face a challenge in finding the right digital talent and they need to get their digital strategy back on-track as part of their broader business strategy. Offering a suggestion, Nimal argues that a company with a well-crafted digital vision would be able to attract more talent and provide more job satisfaction for such individuals.

3) Large companies will struggle with organisational culture
I was struck by how UEM's Izzaddin almost immediately, in his role as provocateur, spoke about the cultural challenge large companies face as they try to transition and adapt to the threat and opportunity from digital disruption.
"There is no choice – as an engineering-based infrastructure and services group, technology is affecting the way we do business as well. It is not only the cost of technology that is an issue, but organisational culture – trying to change "the culture of an organisation where people are used to the way they do things.
"Change is difficult … yet it shouldn't be 'if it ain't broke, why fix it?' but 'if it ain't broke, we still need to fix it,' " Izzaddin explained.
RHB's Rohan shared the same sentiment. "It is tough for us traditional companies to change our mindset. We have a large legacy of infrastructures, we have people who do not think that the world is changing," he said.
Working in silos will also have to go out the window if companies want to extract the best value from any digital approach they want to integrate and in line with this, Rohan points our that it is also important to have people inside the company who believe: "The more people who believe in change, the more innovation you will get out of the company".
Last year I shared one takeaway where I urged large companies to start being open to failing faster. This year, Nimal spoke about the cultural barrier where managers and employers are not comfortable with taking risks, thus preventing a "test and learn" culture.
Yet this is a challenge that large companies must confront head on and change if they are to have any chance of successfully integrating digital into their operations.

4) Show them the money
And finally, I realised that the biggest incentive for B&M companies to adopt digital is to just follow the money. Every leader is under pressure to cut costs while increasing revenue. Digital offers large companies a very attractive opportunity to tap into their B&M assets and apply a digital overlay to create new revenue streams.
For instance, one of the UEM Group of companies, UEM Edgenta is creating an Active Facilities Management and Internet of Things capability for the South-East Asian market. It aims to achieve better efficiencies for customers and utilise big data analytics to create a new services-based revenue stream.
Which business leader does not want a new revenue stream? That's an argument every CEO and board will buy and it is the best way for many large B&M companies to start on their digital adaption journey. There's nothing disruptive here, nor anything threatening. It's all about enhancing business. That's how they should view digital disruption.
And that's how Vincent Tan, founder of Berjaya Corp Group of Companies views digital. While he says his group of companies spends over RM100 million annually on technology, when it comes to digital, they will adopt what makes sense.
And that adaption may not even be digital! For instance, he talked about how their current 2,000 7-11 stores nationwide can become e-commerce pick up points for consumers who do not wish to give their home address for their online shopping. That's just one example Tan shared, but I am sure other B&M leaders can see similar opportunities in their physical assets and businesses.
The winners are going to be those that execute faster than competitors and are not afraid of failing. Hmm, sounds quite startup-ish, doesn't it?
Related stories:
Digital disruptors twice more profitable: CA Tech survey
Digital disruption: In 3yrs, nothing will be the same
What's Next: Disruptors will not kill off banking incumbents
For more technology news and the latest updates, follow us on Twitter, LinkedIn or Like us on Facebook.
Keyword(s) :
Author Name :