DNA launches Personal Tech channel
By Karamjit Singh March 2, 2015
To provide coverage and unbiased reviews of smartphones, tablets, wearables
Mobility has become part of life in South-East Asia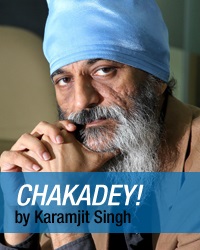 WHEN we launched Digital News Asia (DNA) in May 2012 in Malaysia initially (we are now in Singapore as well), we made a conscious decision to stay away from covering consumer technology as we felt we could add very little value to this space.

From a gadgets perspective, blogs such as SoyaCincau and Amanz were doing a good job as were some mobile focused portals such as mobile88.com, and of course the active community at lowyat.net. All these are based in Malaysia.

Add to this the US and UK tech sites, which would almost always get products such as PCs, smartphones and tablets first, before their Asian counterparts.

So, when it came to these three product categories, from a news and review point, it was a space well served online.

But that was in early 2012. In an article I wrote on the second day of DNA going live, I shared that Malaysia's top three mobile players, Celcom, Digi and Maxis, reported smartphone penetrations of 18%, 20% and 31% respectively during their first quarter 2012 results.

Since then, mobility has become much more central to users' lives in South-East Asia, with smartphone penetration in Singapore at over 90%, while in Malaysia, it has crossed 60%. Tablet sales were increasing as well.

In fact in January 2014, market research company Nielsen revealed that Singapore and Malaysia have a 47% and 42% tablet penetration rate respectively.


And on top of that, a 2013 study on Digital Natives by Georgia Tech Institute and the International Telecommunications Union revealed that Malaysia had the fourth highest ratio of Digital Natives in the world, at 13.4%, ahead of the United States at 13.2% (click infographic on the right to enlarge).

Along with the increased penetration has come higher usage of data, in the form of connecting to the Internet and in using apps in our daily lives.

How valuable is this trend of consumers in South-East Asia increasingly going digital? Try US$250 million (RM904 million). That is the eye-popping amount that a 2011 taxi app, called MyTeksi in Malaysia and GrabTaxi in the rest of South-East Asia, raised in November 2014.

And so, with more and more consumers in Malaysia and Singapore specifically, and South-East Asia generally, developing a much higher interest in the latest smartphones and tablets, we have changed our opinion about not covering the sector – especially with the beginnings of the wearables trend in the region as well. This in itself is going to be a whole new exciting and fast developing market.

Another push factor for us is the emergence of Asian brands playing an increasingly influential role in the smartphone space. Joining existing players like Japan's Sony, South Korea's Samsung and LG, and Taiwan's HTC, are China's Xiaomi, Huawei, Lenovo and OnePlus, and India's Micromax, Karbonn and Lava.

Incidentally, the three Indian brands all occupy a space in India's Top 5 smartphone vendors list.

We started though, with the question, "Can we add value for our readers?" We believe we can – by staying true to DNA's core value of telling it as it is – both in the articles that we write and, especially, in the product reviews.

Yes, we are going to do product reviews but selectively!

We do feel that our 'no holds barred' reviews will offer readers a fresh view of how certain products actually perform.

And we will be setting aside a budget to purchase such items to review. The downside to this is that we will have to wait for the smartphones, tablets and wearables to hit the market first before we are able to give our take on them, but we believe the wait will be worthwhile.

Finally, besides focusing on the products and consumer trends triggered by new and pervasive adoption of gadgets that encourage mobility and create the expectations that services should be available anyplace, anytime, we will also provide analysis of the Asian companies in this personal tech space.

For an example of what we will do, you can read the article we ran last week on why Sony will continue to struggle as a smartphone maker.

All in it is going to be an exciting new area for us to cover. I hope DNA readers will provide us with feedback and suggestions on how we can make this new channel even more relevant for you.

Related Stories:

Why Sony is not winning the smartphone war

Mobile World Congress 2015: Let the show begin

Asia Pacific mobile data traffic to increase 14-fold by 2019

Smartphone sales peaked again in Malaysia in 2014: GfK


For more technology news and the latest updates, follow us on Twitter, LinkedIn or Like us on Facebook.
Keyword(s) :
Author Name :