Analysis: Red Hat's stake in the hybrid cloud world
By Edwin Yapp June 24, 2019
Shifts into high gear committing to hybrid cloud, containers to drive next growth wave
Faces challenges from cloud giants, product lines, impending merger with IBM
NEWS ANALYSIS: CLOUD computing has come a long way in adoption and maturity the past five years. According to a recent global report entitled "State of the cloud report" (registration required) by Flexera (formerly known as RightScale), 94% of respondents use cloud, with public cloud adoption coming in at 91%; private cloud adoption at 72%; and 69% of respondents reporting using at least one public and one private cloud.
What's more, the report noted that 84% of respondents have a multi-cloud strategy and enterprises are prioritising a balance of public and private clouds, while those planning a hybrid cloud strategy grew to 58% from 51% in 2018.
Flexera's data was culled from 786 global respondents that range from technical executives to managers and practitioners, representing organisations of varying sizes across many industries.
Amazon Web Services (AWS) remains the undisputed leader in the public cloud game, followed by Microsoft Corp, Google Inc, Alibaba Cloud, according to market numbers from Synergy Research.
While the growth of public cloud providers is expected and is in line with industry expectations, what's significant is that Flexera's report noted a marked growth in hybrid cloud computing and multi-cloud adoption amongst enterprises.
Rise of hybrids
AWS was first to market and started out gaining market share by touting the concept of 'utility' computing. This concept appealed to startups and enterprises, which did not want to buy expensive servers for computing power, networking equipment and storage capacity – all of which are needed to provide software services over the Internet.
Instead, AWS positioned itself as a service provider that leases all these needed functionalities in a rent-as-you-need model. As time passed, it began winning over bigger end-users, pushing this same appeal onto larger enterprises, which then started buying its version of the cloud. But as more enterprises moved to the cloud, one trend was beginning to emerge – the rise of what is known as hybrid cloud.
A hybrid cloud touts the ability to marry the best of private and public cloud advantages. Hybrid cloud allows enterprises who were not willing to go all-in with public cloud providers – commonly known in industry parlance known as a 'lift and shift' – so as to avoid vendor lock-in.
But at the same time, the hybrid model also allowed these same customers to use the cloud where it made sense for them, shifting data and/or staging applications on public cloud to leverage on its advantages of scale and elasticity.
AWS knows this trend well as it began back in 2015 to acknowledge that not all enterprises would surrender their applications and data to the cloud player, with its CEO Andy Jassy noting that "over the fullness of time, relatively few companies will run their own data centres.
"We're trying to build capabilities that help the people who still want to run their own legacy data centres alongside AWS," Jassy had said in 2015.
The following year, the company struck a partnership with VMware Inc, which is designed in part to cater to the needs of such companies. It continued to refine its product suite and at re:Invent 2018, its annual conference, announced what is effectively its hybrid solution called AWS Outpost, reports Computer Weekly.
The tech news portal said using AWS Outpost will allow enterprises to run workloads that are not ready to move off-premise yet, while making it easier for enterprises to integrate them with ones that are already running in the AWS public cloud – all to create a hybrid cloud environment.
Meanwhile Microsoft, which has deep roots in traditional enterprise markets, has always championed hybrid clouds, although its Microsoft Azure product is the second largest public cloud provider in the world. To cater to hybrid environments, it has launched Microsoft Azure Stack.
Similarly, third placed public cloud player, Google Cloud, started catering to hybrid environments when it launched Google Cloud Services Platform (CSP) in 2018, so that services can also be deployed on its own platform and on private, on premise scenarios.
It followed up this year with the launch of a new product called Google Anthos, which is designed to give customers a means to deploy containerised applications on any environment they choose, whether in the cloud or on premises, according to newly-minted Google Cloud CEO Thomas Kurian.
Always been hybrid
The rise of hybrid clouds has been a boon for open source software giant Red Hat Inc. Founded in 1993, the Raleigh, North Carolina vendor has its roots in developing open source software based on the Linux operating system.
Although its software is free to download, only Red Hat paying subscribers get enterprise-grade tools, support and services from Red Hat. The company's flagship product was first called Red Hat Linux Advanced Server, later to be renamed Red Hat Enterprise Linux or RHEL (pronounced 'real') as it is known today.
Red Hat's growth in the last decade has been powered by RHEL as enterprises continue to move away from proprietary software in favour of open source software. It has also since developed other container-based software products such as OpenShift, its open source container software platform aimed at conveniently helping modern developers create, test, run and deploy their applications to the cloud.
Containers are a lightweight alternative to – and are touted as being more efficient than – full virtualisation. The aim of containers is to allow developers to write software more quickly and to be more agile in deployment over multi-cloud environments. They are also much more portable and lightweight compared to virtual machines.
At the recently concluded Red Hat Summit in Boston last month, company officials were touting the fact that the company has always been committed to the hybrid cloud proposition.
Speaking to the Asia Pacific media at the sidelines of the Summit, Paul Cormier (pic, right), Red Hat's executive vice president and president of products and technologies, noted that in the beginning [of cloud coming to market], some cloud providers' messages were focused on moving every application workload and customer data to the cloud in the future, echoing what AWS' Jassy had said.
"What's happened is that when people started using the cloud, practicality set in and [they've realised] that's it's going to be a hybrid world," Cormier argued. "Hybrid is the architecture forward… and beyond that, it's a multi-cloud world because that's what customers want."
Cormier said the fear of lock-in – being beholden to one vendor's products – is one reason for the rise of hybrid cloud but he also stressed that another major reason is that customers want to get the best innovation they can no matter where the data and applications live.
"I think everyone recognises that some cloud providers are going to be better in some services compared to others in [alternative] services," he said. "Customers are [still] going to have applications running on premise – some in virtual machines while others in containers – and they'll want to access all of that.
"They'll want to have one environment for developers and operational engineers to be on another, and going with one cloud provider is only going to build silos for them, and these are the key messages that we're hearing from our customers."
Red Hat's hybrid vision
Red Hat's commitment to hybrid cloud wasn't the only thing on display at the Summit, as it also sought to differentiate itself from other cloud players' idea of the hybrid cloud, particularly the philosophy espoused by those in the public cloud camp.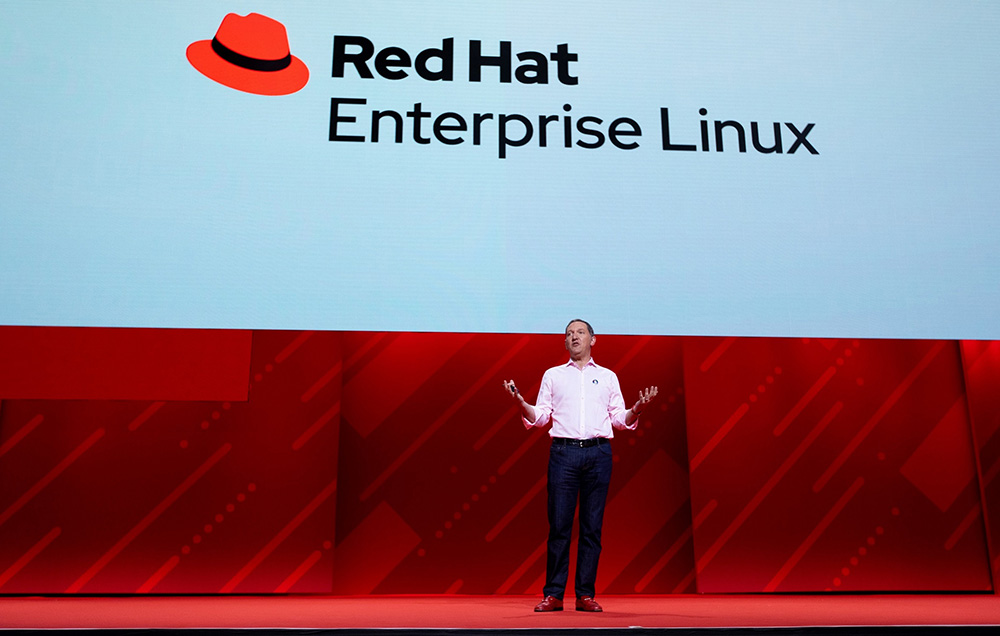 Speaking to the media before his keynote address on day one of the Summit, Red Hat CEO Jim Whitehurst (pic, above) argued that AWS' Outpost and Google Cloud's Anthos are attempts by public cloud providers to "build bridges" to connect enterprises' data centres to their respective cloud infrastructure rather than actual hybrid clouds, something he claimed would inevitably lead to customers being locked-in.
"When most people say hybrid, they say one of two things; one is that public clouds put an 'outpost' on premise, so [this becomes] hybrid being on premise," he said, adding that Google's "kind of doing that with Anthos."
"I think what you're seeing is that they [AWS and Google Cloud] are asking their customers: 'How do I build a bridge to my cloud?' One could say that's [a form] of hybrid cloud but that's not value adding because that's locking into one cloud," he argued.
Not surprisingly, Whitehurst went on to differentiate Red Hat's vision of the hybrid cloud from its competitors, emphasising that its strategy empowers customers to run literally the same infrastructure and "the same bits across every cloud, either in virtualised or bare metal configurations."
"So we're trying to create a homogenous and standardised single infrastructure that an enterprise can build on, one whose workloads will run everywhere.
"We see this as very different from the rest because we're the only vendor that can go from hardware through the applications because of our Linux heritage. This is incredibly valuable because it allows people to have a common platform," he claimed.
Much of Red Hat's bet on hybrid cloud play is centred on its latest iteration of RHEL 8.0 and OpenShift 4.0 – both products that have had a major refresh and were announced at the Summit.
RHEL 8.0, launched almost five years after RHEL 7.0, has the capability to support on premise as well as on public cloud, claimed Damien Wong, vice president and general manager for Red Hat in growth and emerging markets for Asia.
"It's important to understand this, as it's the basis of strategy," he told Asian media on the sidelines of the Summit. RHEL 8.0 also brings capabilities to customers who are trying to do more with less and drive innovation [concurrently]."
Wong also said it's important to note that with the availability of OpenShift 4.0, Red Hat's container platform, customers can be assured that they can move applications and workloads from their data centres into public cloud because it's certified, noting that this is what Red Hat believes to be "true open hybrid cloud."
What Red Hat faces
The company's bet on hybrid cloud necessarily means that it has to evolve beyond being just a Linux operating systems vendor providing services and maintenance for software that enterprises use.
Analysts believe that these two Red Hat flagship products are what will lead the way forward for the vendor in the coming years, where it will battle it out with public cloud providers as well as more traditional IT infrastructure players such as Oracle Corp and others.
From a product point of view, Gartner acknowledged that Red Hat continues to gain recognition as a vendor of software products and related services that span multiple tiers of data centre investment.
This growth beyond the open-source Linux roots, which has earned Red Hat its initial success, demonstrates its successful marketing and product strategy, the firm pointed out in a research note dated February 2019.
Gartner added that its core products – hybrid cloud infrastructure centered on RHEL; cloud-native application platforms centered on OpenShift; and management and automation centered on Ansible – are prominent in its ongoing success.
However, the research firm pointed out that Red Hat's revenue is, understandably, still heavily influenced by its operating systems business.
"The declining share of RHEL revenue as a total share of the company's business demonstrates that Red Hat is succeeding in its mission to become a broader software portfolio provider.
"The company also faces considerable competition from AWS Linux and Ubuntu, as the market for agile application development evolves. This includes challenges in digital business use cases, such as edge computing and machine learning, where alternative OSs and microkernels are emerging," it said.
Market research firm Wikibon noted that while Red Hat is one of the leading providers of multi-cloud management tools that are truly agnostic to the underlying platforms, there are some challenges facing them.
The first has to do with the chasing pack of aggressive public cloud providers – AWS, Microsoft and Google Cloud, all of whom are already addressing hybrid deployment scenarios in their solution and partnering strategies.
The analyst firm said they all have deep pockets, technical prowess, extensive partner ecosystems and global sales presence needed to blunt any attempt by a converged IBM-Red Hat in this arena.
Other challenges facing Red Hat centre on the impending IBM-Red Hat acquisition which may create an impression that the converged company primarily addresses IBM-centric multi-cloud deployments, thereby deterring customers of rival private and public cloud solutions from using its offerings in these scenarios.
"In addition, Red Hat already boasts considerable solution-level hybrid-cloud integration with IBM, a fact that may exacerbate the perception," it said, adding that IBM has committed to keeping Red Hat independent.
READ ALSO: Red Hat will remain independent: IBM CEO
Wikibon also pointed out that having rivals such as VMware Inc and Cisco Systems Inc may have more compelling hybrid and multi-cloud solution assets, which Red Hat would need to address should it want to be a complete hybrid player.
Additionally, Gartner noted that Red Hat is aware that it cannot sustain its business model built on how traditional IT is approached, and has pivoted toward addressing agile and devops-type of IT development culture.
"It has invested heavily on projecting this to the market, especially its messaging around new product development and hybrid cloud," the firm said.
"The company's focus on container-related technologies [anchored in OpenShift] highlights this positioning but it faces the challenge of maintaining relevance as the world of on-premises and hosted computing is challenged by public and hybrid cloud deployment models.
"Red Hat would need to project a market/ brand image that stretches beyond an 'enterprise provider with cloud options.' It would need to demonstrate that a Linux provider can be exciting and innovative, which Linux as an OS accomplished in the 1990s."
Edwin Yapp reports from Red Hat Summit 2019 in Boston, at the invitation of Red Hat Inc. All editorials are independent. He is contributing editor to Digital News Asia and executive consultant at Tech Research Asia, an advisory firm that translates technology into business outcomes for executives in Asia Pacific.
Related Stories :
Keyword(s) :
Author Name :