IDA recruits Dynatrace to help monitor CSP Registry
By Digital News Asia October 31, 2014
Tools to monitor cloud service providers' performance for IDA's CSP Registry
Businesses will get holistic view of their CSP's performance and availability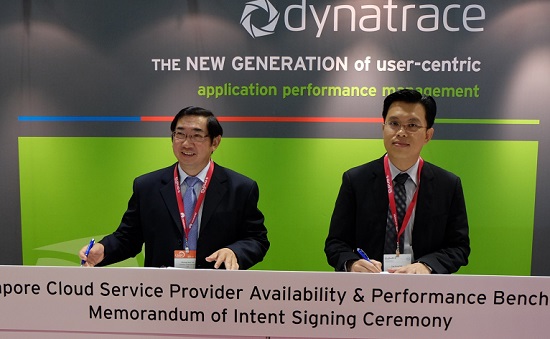 APPLICATION performance management (APM) specialist Dynatrace (formerly Compuware APM) said it has signed a three-year partnership with the Infocomm Development Authority of Singapore (IDA).

Under the agreement, signed at Cloud Expo Asia 2014, Dynatrace will provide free use of its monitoring tools to track the performance and availability of cloud service providers (CSPs), the company said in a statement.

As part of the IDA's goals to encourage startups and businesses to use new technologies that will enhance their competitive edge, the agency established a CSP Registry with the objective of facilitating users' cloud computing adoption by providing both static and dynamic information on CSPs.

As an independent third-party tool, Dynatrace will provide gap-free data capture that can be easily viewed through a real-time user visibility dashboard, the company said.

This gives startups and other businesses a holistic view of their CSP's performance and availability, which in turn enables these businesses to deliver the best user experience to their customers, it added.

"It is important for companies to have access to tools that will help them optimise their cloud computing architectures," said Dynatrace Asean regional director Koh Eng Kiong.

"Having a user-friendly tool that will give them crucial CSP performance and availability indicators also provides these companies with data that can be used to select and manage their cloud provider," he added.

Aside from boosting cloud-computing adoption, the use of such tools will also enhance data analytics capabilities for startups and businesses by facilitating data collection and analysis, Dynatrace said.

Additionally, this nurtures a pro-business and pro-customer culture, which leads to long-term business sustainability and overall economic growth, it added.

"Giving users the tools to better understand and manage their cloud use will enhance productivity and encourage greater transparency between users and cloud service providers," said IDA assistant chief executive Khoong Hock Yun.

"The cloud will inevitably continue to grow, and our work on the CSP Registry is one further step towards making Singapore a Smart Nation," he added.

Related Stories:

For Smart Nation vision, a call for all to help

Rising cost of cloud is bleeding businesses dry

Sponsored Post: Gearing up for the cloud

IDA unit sets up 2FA development and test platform at Nanyang Polytechnic

Digital Malaysia details out ... finally!


For more technology news and the latest updates, follow @dnewsasia on Twitter or Like us on Facebook.


Keyword(s) :
Author Name :