Tencent's Wukong AI solution crushes professional Honour of Kings players
By Dzof Azmi September 26, 2019
Follows in footsteps of OpenAI and Google DeepMind in AI development
Uses learning model & goes through equivalent of 400 years of play per day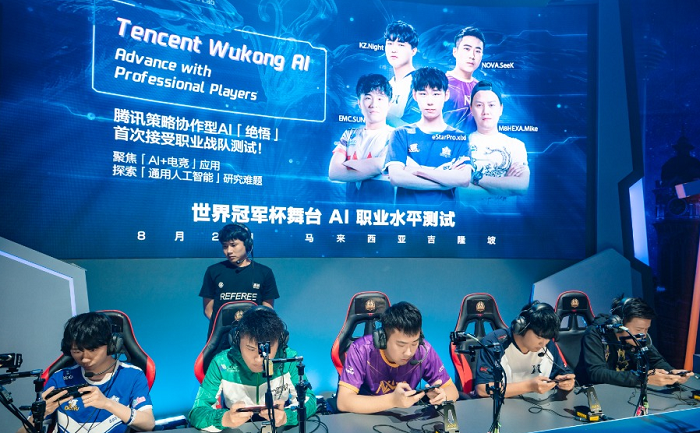 It may be ironic that at least in e-sports and games, the best sparring partner a player can have is one that has never played a human before. This is what Tencent AI Labs alluded to after Tencent's Wukong AI solution took 30 minutes to crush a group of professional human players in the MOBA game "Honour of Kings".
The human pro team consisted of three pro players from China, one from South Korea (eStar Pro's 兮兮, EMC's Sun, Nova's Seek, KingZone's Night), and one pro player from Malaysia (M8HEXA's Mike).
[Paragraph edited for accuracy. An earlier version stated that four players were from China.]
The demonstration took place in Kuala Lumpur last month, during the 2019 Honour of Kings World Champion Cup semi-finals. Honour of Kings is currently the world's the best-selling mobile game, claims Sensor Tower, a mobile marketing firm in a March 2019 blog post, reportedly grossing an estimated US$4.5 billion globally, with more than 200 million registered players, of which 80 million are daily active users. Be that as it may, Tencent is confident their system can teach the players a thing or two.
Its confidence is underpinned by the fact that its Fine Art program is the training platform for China's national Go team. "It is able to provide professional players with real-time analysis and advice on data organisation, collaborative strategies, and professional training at different levels," said a spokesman on behalf of Tencent.
Learns by playing itself
Already last year, OpenAI's solution defeated professionals playing DOTA 2, and in January this year Google's DeepMind demonstrated its ability playing Starcraft 2. Tencent's Wukong AI effort began in 2017, has now reached that public milestone where machine has won over man. The development of Wukong AI followed in the wake of its successful predecessor, Fine Arts a Go-playing AI system that defeated all its opponents to claim victory at the AI-exclusive Computer Go UEC Cup in 2017.
"Wukong AI is learning in a Tabula Rasa environment where no human data nor any content is built in," said a spokesman on behalf of Tencent, adding that it uses a learning model based on "observation-action-reward" and goes through the equivalent of more than 400 years of play per day.
"All the knowledge that Wukong AI learnt comes from its experiences of playing against itself. The victory of Tencent Wukong AI demonstrates that AI can learn, analyze, understand, reason, and make decisions in real-time," he continued.
Tencent intends to deploy Wukong AI in its core gaming sector. Through the power of algorithms and data, it fully expects that AI can provide data, real-time analysis and strategy recommendations for professional players.
Besides that, insights from this research are designed for broader applications in the areas of eSports, robotics and other verticals such as agriculture and healthcare.
Related stories:
Keyword(s) :
Author Name :