Mobi, the online payment company in a hurry
By Dzof Azmi September 3, 2020
Leveraging MDEC's GAIN programme to penetrate overseas markets
Sees Indonesia as test bed to gain experience before getting into next market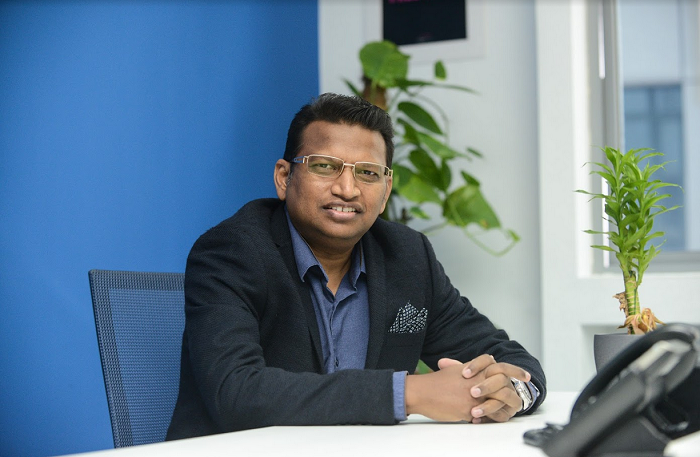 "The GDP of Indonesia is about more than a third of entire Southeast Asia. And it is 10 times of Malaysia."
Baskar Subramanian, Mobi CEO and cofounder, is talking about his company's first foray into a foreign market. Established in 2014, the digital payment company has grown to the point that Baskar is certain that they can now make headway overseas. "It's kind of a no brainer."
Not bad for a company whose business plummeted 80% a few months ago, no thanks to Covid-19. Any revenue was impressive for a payment company whose founders "had no background in finance" notes Baskar.
In fact, Mobi was Baskar's first attempt at entrepreneurship, having been a mechanical engineer at a multinational oil and gas company. Nevertheless, he teamed up with two of friends, with the idea of licensing and supplying credit card reader Square, for the Malaysian market.
Unfortunately, that quickly hit a dead end. "We finally ended up building one ourselves." That too didn't start too well. "We scrapped everything and within six months we rebuilt the whole platform."
Eventually, they had a product, and slowly built up a presence. Then, quite unintentionally, they stumbled upon an opportunity. Baskar began noticing that an increasing number of hotels were using their products. "We found that they liked us because the product was fantastic for them to collect money from online travel agents," he recalled. "This is something that we did not plan for at all!"
They realised that despite the slick front-end that consumers saw from travel agents, there was a lot of work being done at the back end that was semi-automated only. "If you have 10 rooms booked, you have to punch those 10 credit card numbers into a small, little terminal. And if you make a mistake, the card gets blocked."
Baskar knew what his team was capable of. "We said okay, we can do this better". They created an interface that allowed hoteliers to batch upload payment requests, allowing them to process multiple credit cards "with a single push of a button." Now, they have around a hundred hotels in Malaysia using their solution.
Looking overseas with GAIN
Since then, Mobi has gone from strength to strength where its growth potential brought it into MDEC's GAIN programme, the national initiative to launch Malaysian companies to a global market. "What they want to see is that you have a track record, and that you are ambitious enough to grow further and faster," he says.
Established in 2016, GAIN helps Malaysian IT companies export their solutions abroad by networking them with potential partners in several countries, including Indonesia, the Philippines, Cambodia, Thailand, Vietnam, Japan, Australia and the UAE. As of December 2018, companies under the programme have accrued exports revenue totalling US$338 million (RM1.4 billion).
"The programme aims to educate us on what to look for when you enter a country," explains Baskar, with information provided about regulations, requirements, and even culture. "They even go one step further and are helping us raise funds (to fund regional and global expansion), and finding the right investors."
Baskar was also connected to local players in Indonesia to understand the market nuances and help arrange the right kind of partners and clients for him to meet.
Grateful for the help from MDEC, he adds, "They helped us figure out what the landscape looks like. Although the partner they introduced us to is not who we (eventually) ended up with, it gave us very good insight on what to look for."
The partners Mobi found are Indopay and NICEPAY. With their help, Mobi is rolling out their products under the Mobi brand, while leveraging the required banking and financing licenses their partners have. They also have established a local presence there with local staff, and are confident they can grow. "Once we get good traction, we will apply for licenses in parallel. Indonesia is like a test bed for us to figure out how to get into a new country," he shares, with his eye on Vietnam, the Philippines and Thailand next. "Once Indonesia starts rolling, we want to start the process for the next country. I think we will give it just less than a year for us to figure that out," he says, ambitiously.
Coping with Covid
The question is whether this ambitious plan is still on track, given the potential havoc Covid has had on the hotel industry, a major source of income for Mobi in Malaysia.
In fact, transactions for Mobi in April of this year dropped to 20% of what they would normally get. "I figured, (normal operations are) not going to come back so fast, and we cannot wait," he recalls. "We were wondering what to do next."
What they did was build another product. He realised that because of Covid-19 lockdown, some merchants would find it difficult to collect payment conventionally. Mobi created EZYLINK, touted as a payment gateway that doesn't need a website. Merchants can fill in a form, and customers will receive a WhatsApp, email or SMS with an interface facilitating payment.
How popular was it? "We made a V shaped recovery from March to June," he exclaims. By June, they had returned to 87% of their average monthly transaction. "If EZYLINK was not launched, we would have (only) hit 50%."
Being digital gives Mobi an advantage over its competitors he feels. "We are totally digital, including the on boarding process. We don't touch a single piece of paper."
Additionally, Mobi has partnered with a lending company to offer businesses an option to get their funds by the next morning, instead of the usual five days.
It has been a popular enough move that 70% of merchants who signed up with EZYLINK chose this feature, albeit with a slight increase in commission. "For a small business, 0.5% is nothing if you can get the money the next morning," he explains.
Managing to navigate Covid-19 has given Baskar the confidence that his forays overseas will bring further success. "What I believe is that there is nothing that happens for no reason in life," he shares. "You will gain from everything that happens, whether it is positive or negative." And Baskar has taken steps to seize the initiative to ensure he reaps only the positive.
Related Stories :
Keyword(s) :
Author Name :