DHL eCommerce helps Thai rice farmers connect directly to consumers
By Digital News Asia December 22, 2016
E-commerce expertise and logistics services offered free of charge for a period of four months
Advise and support farmers by integrating sales processes with e-commerce portals on BentoWeb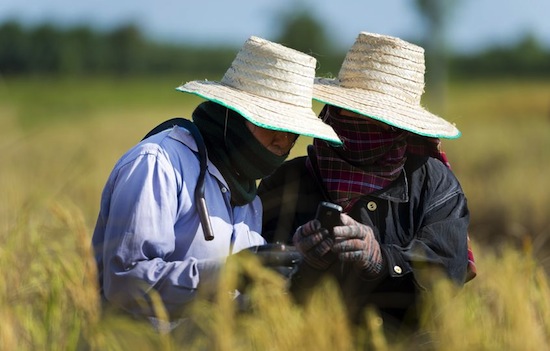 DHL eCommerce, a division of Deutsche Post DHL Group (DPDHL Group), has collaborated with the Ministry of Commerce in Thailand to offer e-commerce expertise and logistics services free of charge for a period of four months to help Thai farmers grow their business and reap the benefits from selling on e-commerce platforms.
This follows recent challenging market conditions which have seen an oversupply of rice and strong export competition.
Partnering with the Thailand Ministry of Commerce's Department of International Trade Promotion (DITP), DHL eCommerce works with farmer co-ops across Thailand to help set up and enable an easy and streamlined process to manage their online inventory and ship to consumers domestically.
Experts from DHL eCommerce advise and support farmers by integrating their sales processes with e-commerce portals on BentoWeb, a local e-commerce services provider which has been pre-integrated with the DHL eCommerce Customer Web Portal.
Once on BentoWeb, farmers will be able to easily arrange for deliveries and shipments quickly at a click of a button, allowing rice goods to be picked and dispatched to end consumers located in Thailand.
The collaboration combines the global logistics experience of DHL with the in-depth local market knowledge from DHL eCommerce Thailand, the Ministry of Commerce Thailand and BentoWeb, allowing farmers to benefit from solutions that are tailored to their specific needs.
The Ministry of Commerce will work on promoting and registering farmers on www.thaitrade.com/rice while BentoWeb will enable the online order process and inventory management for the farmers.
DHL eCommerce will pick up the products from the farms and deliver them free of charge to the consumers directly.
"We are extremely honoured to have this opportunity to use our e-commerce expertise and logistics services to make a positive impact on the farmers' businesses and their livelihoods. As an organization operating in Thailand, providing both domestic as well as international delivery services to the local businesses, we are committed to the Thailand market. Wherever and whenever we can contribute to the local communities, we will do our utmost best to support," said DHL eCommerce Thailand managing director Kiattichai Pitpreecha.
Thailand is one of the world's leading rice exporters with an expected output of 25 million tonnes of rice expected in the 2016/17 production year.
"The Ministry of Commerce has been rolling out a series of programs aimed at helping the local farmers and one such initiative is this collaboration with DHL eCommerce Thailand to help farmers sell their produce online. We have been working together in the past three weeks to onboard these farmers onto the e-commerce platform so that domestic consumers can place orders and have DHL eCommerce deliver to their doorsteps," said Apiradi Tantraporn, Minister of Commerce, the Royal Thai Government.
For farmer co-ops like Ban Um-sang Rice Community, they have managed to take the matter of the rice supply glut in their stride and tap onto the opportunities of e-commerce thanks to DHL eCommerce.
Ban Um-sang Rice Community explained, "The internet has opened up more possibilities for us farmers to do business. We can communicate and connect with customers directly, previously impossible with more traditional methods. We don't have to worry about organizing our deliveries too, as they are taken care of by experienced logistics specialists. By giving us more options, e-commerce makes us less affected by existing market forces and gives us the freedom to improve our sales in new ways."
In addition to DHL eCommerce's international delivery capabilities, it has since the beginning of this year been offering domestic delivery services in the Thai market. Identifying the country as one of the fast-growing e-commerce markets, DHL eCommerce established end-to-end domestic and international delivery solutions for Thai e-commerce merchants.
The company has a 3,000 sqm central distribution centre in Bangkok and a network of over 40 depots located throughout the country for nation-wide logistics connectivity.
By 2017, DHL eCommerce aims to more than double the number of depots and enhance its fleet with two-wheel vehicles that can surmount Thailand's complex last-mile delivery challenges.
Related Stories:

Elixir Capital lead investor in US$7mil agriculture big data play

Thai agriculture sector gets aggressive with IT spending: IDC

Ensuring Malaysia's food security with IoT-BDA


For more technology news and the latest updates, follow us on Twitter, LinkedIn or Like us on Facebook.
Keyword(s) :
Author Name :