To cope in an IR4.0 world, grads must take charge of own learning
By Kiran Kaur Sidhu August 16, 2019
Additional certifications to develop advanced skillsets to be more competitive in workforce
Unanimous agreement among students that academic training insufficient for real world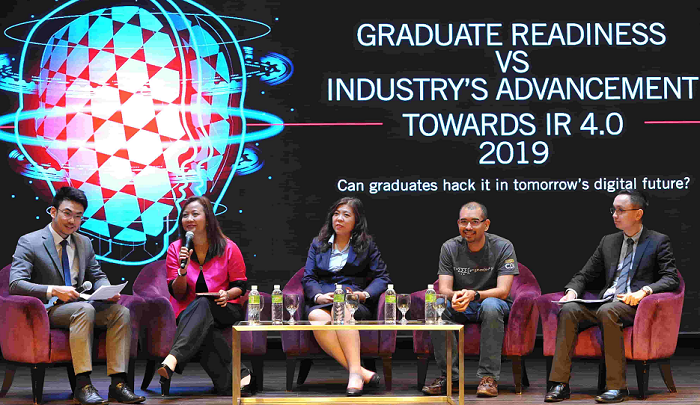 By 2021, IDC expects over 21% of Malaysia's GDP to be contributed by the Digital Economy against the current level of 18%. With digital becoming a key growth factor in economic development, IDC, in collaboration with INTI International University and College, ran a study entitled "Future of Work: Graduate Readiness vs Industry's Advancement Towards IR 4.0" to gauge the digital prowess of talent against industry demand.
Acting chief executive officer of INTI, Tan Lin Nah, shared that the purpose of the study was to gain perspective into "the understanding and appreciation of IR 4.0 from the eyes of students, graduates and parents."
"As citizens, we want to ensure from the nation's perspective, that we are addressing and building for our nation's future," she said.
Jensen Ooi, the research manager for IDC Asia Pacific, shared key findings of the study before moderating a panel session with industry representatives to weigh in on the findings and share recommendations.
The survey gathered responses of more than 560 respondents from INTI comprising of over 300 students, 100 graduates and 100 parents. At the same time, the study also took into account responses from over 90 employers from a separate IDC Future of Work survey.
Knowing what IR 4.0 entails
The findings suggest a clear gap in awareness of how organisational digital transformation will impact future jobs. Although the study points out that students today are predominantly "digital natives" with exposure to Internet of Things (47%), cloud computing (38%) and artificial intelligence (34%), 30% of students believe they are "completely unprepared" for an IR 4.0 enabled workforce while only a mere 5.2% think they are fully prepared.
Delving into student's perception of whether tertiary education prepares them to join the workforce, Ooi said: "Unanimously, everyone agreed that academic training is insufficient for the real world."
Despite this sentiment, on top of their existing academic programmes, only 11.6% of students had taken up additional certifications to hone their technological skills, citing time constraints and lack of value.
The study also revealed that a staggering 63% of students and graduates, respectively, were unable to articulate what IR 4.0 entails, while 54% of parents lacked clear definition and ability to discuss IR 4.0 and its relevance to organisational transformation.
"47% of organisations in Asia Pacific already recognise the need to bring changes in the workspace, work culture and the use of technologies at work due to the [Centennial] generation entering the workforce," presented Jensen. As for Malaysia and Singapore, the figure stands at 46% and 42% respectively.
Being able to articulate about IR4.0 mattered little Salika Suksuwan, executive director of human capital at PWC Malaysia, who felt there was a more important issue at play. "I am not too concerned when statistics show less than 50% of graduates can explain IR 4.0. To me as an employer, it doesn't really matter whether or not they can articulate what it is," she said.
"I am not too worried about the graduates. My worry is upskilling people of my generation [Gen X]. We have lower digital skills than the graduates coming in. How can my generation keep up with the young ones?" she said, sharing scenarios of reverse mentoring with seniors at the firm learning about tech from younger hires.
Meanwhile, some recommendations of the study include that IT subjects such as design thinking and cybersecurity be taught across all course disciplines. Beyond that, to complement their undergrad education, Ooi encouraged students to take up additional certifications to develop "advanced skillsets to be more competitive in the workforce."
Deep skills and human edge to ride IR 4.0
The launch of the study also brought together industry representatives to discuss the findings and share their insights. Panellists included PWC's Salika; Amran Hassan, head of innovation at Maybank; Wong Chan Wai, head of research unit, Research & Development Department at Human Resources Development Fund (HRDF) Malaysia.
"As large companies, it is impossible to expect universities to give us graduates who are already equipped with all the skills," acknowledged Amran. However, he shared that it is not enough for students to be "generalists" and know a little bit about all technologies.
Rather than a jack of all technological trades, he advises students "to go deep" into a certain technical or industry skill. "Because, unless you have really deep skills in something, you cannot disrupt it," he candidly said.
As for identifying gaps between talent and industry fit, HRDF Malaysia has engaged employer associations across industries to determine training needs. Agreeing with Amran, Wong said: "Industry does play a role in upskilling and reskilling their employees in order to match skills to organisational needs."
One clear reality, he says, is that talent lack the ability to apply their skillsets in problem-solving. "Industry is not expecting [fresh graduates] to have all the answers but to at least have some ideas on how to utilise their knowledge and apply it to industry."
INTI's Tan shared how the university already offers design thinking as a compulsory subject for degree students. "We are teaching them how to solve problems."
The study sample comprising of students from INTI may be representative of graduate readiness in urban Malaysia. However, Salika pointed out there are many campuses in the country which still have gaps in their connectivity, especially the more remote ones, and emphasised the need for digital inclusion.
[Ed: Para edited for accuracy.]
On how students can take charge of their own learning while demand for skills constantly fluctuate, she maintains that students must "harness their human difference" referring to creativity, leadership skills and agility.
As for Wong, his advice to students is to simply be aware of industry needs before entering the workforce. "Before you graduate, read up on employment trends. Go to job search websites, identify employers and positions you aspire to and read the job descriptions. This will help you identify the skills needed."
Related stories:
Everpeaks' Kickstarter programme comes to the aid of e-commerce players
Keyword(s) :
Author Name :