Budget 2022: Decent, But Not Transformative For Malaysia
By Karamjit Singh November 1, 2021
No big bang announcements to get ecosystem players excited and abuzz
Cradle to be central agency for startups, hub to facilitate cooperation
[Article updated with comments from CapBay.]
Post budget typically brings with it an avalanche of press releases that praise, hail or criticize the announcements as being spot on or not addressing key market concerns. DNA has extracted some of the more relevant remarks to share with readers here representing a cross section of entrepreneurs, global and homegrown tech companies, government agencies and industry associations and will start with the latter.
Pikom: The National ICT Association of Malaysia or Pikom, saved its key reaction to Budget 2022 in the last paragraph: "While there have been some noteworthy inclusions in Budget 2022, Pikom is of the opinion that it is merely an extension of the previous budgets and this does not provide a transformative effect on the country."
Not the only party is the ecosystem to think so, but the only ones to express it openly, albeit in a guarded manner, the budget did not have any big bang tech announcements to get the ecosystem excited.
However Pikom did say some nice things as well, with chairman Danny Lee (pic) expressing the association's support for the extension of the special US$602 (RM2,500) tax relief for purchase of handphones, computers and tablets. Noting that these items are today regarded as a necessity for every household, such a tax relief is welcome indeed.
Taking note of the strong demand for skilled talent coming from the tech industry, which demands an urgent reskill and upskill of Malaysians, Danny notes that the tax deductions for up to US$1,685 (RM7,000) for upskilling courses would boost this effort and complement the JaminKerja initiatives in creating 600,000 job opportunities.
"Currently, Pikom is collaborating with HRDCorp and MDEC on place and train programmes," he said where courses such as Data Analytics, Cybersecurity and Artificial Intelligence have been in demand both in training and job openings.
Moving on to what some government agencies thought of the budget, we have Futurise (where current MDEC CEO, Mahadhir Aziz cut his teeth as a technocrat) and Cradle with their observation. Note that we ran a commentary piece from Dzuleira Abu Bakar, CEO of Technology Park Malaysia on late Fri evening itself.
Read Also: Budget 2022: International Innovation Hub at TPM to spark all manner of technology and talent
Futurise: Getting a single paragraph mention in the Budget speech was enough to galvanise the agency, which was established in late 2017 and is today, the lead agency that manages the National Regulatory Sandbox initiative.
Effective immediately, Tengku Azrul (pic, right), Head of Innovation Ecosystem at Futurise, declared that it will intensify efforts by conducting industry studies and recommend measures to facilitate innovation in the community and which can improve their ease-of-doing-business. This augurs well with Futurise's plans moving forward to ensure Malaysia is positioned as an innovation-driven country in a sustainable growth environment.
"Futurise is steadfast in ensuring that its efforts are in line with the 12th Malaysia Plan to invigorate and cultivate innovation and with the renewed mandate, look forward to work aggressively with the ecosystem," Azrul said.
Cradle Fund: Receiving RM20 million for the newly announced MYStartup Strategy, Rafiza Ghazali (pic, right), its group CEO describes the allocation as, "an effort to strengthen initiatives for startups to remain competitive locally and at the global stage."
[RM1 = US$0.240]
She believed the budget allocation will create a more conducive and inclusive startup ecosystem led by Cradle. "To catalyze startup growth and towards creating more globally competitive startups for Malaysia, a single platform for the startup ecosystem will be launched towards the end of 2021." This will ultimately benefit more than 2500 startups and create 5,000 job opportunities she adds.
Homegrown tech voices
ServisHero: As an investee company of Cradle Seed Ventures (CSV), Cradle's early-stage venture capital fund. Karl Loo, founder/CEO of ServisHero, focused his reaction to the RM20 funding Cradle received. ServicHero operates one of Southeast Asia's largest marketplaces for blue-collar workers and home services, with a presence in Malaysia, Singapore and Thailand.
"Having experienced first-hand the positive impact Cradle's support has had on our growth as a business, I was pleased to see RM20 Million allocated to support the MyStartup initiative, which Cradle will operate as the appointed coordinating agency of Malaysia's startup ecosystem."
In his view, it was important to solidify Cradle's role as the central agency for startups, with appropriate funding. "In the past, it has been difficult to navigate the various government agencies for startup support. MyStartup Strategy will ensure a simpler and centralised support structure for the startup ecosystem," he says.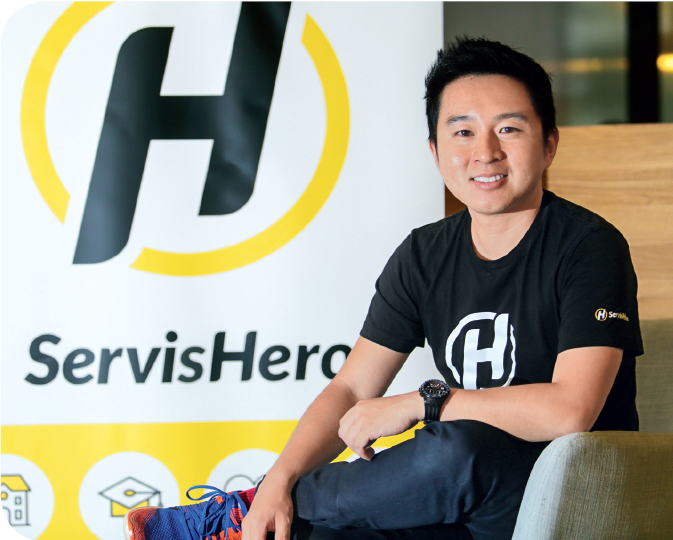 Karl (pic, right) notes that a critical part of the MyStartup strategy is the creation of a Hub that will facilitate cooperation amongst startups, as well as between startups and larger corporations and government agencies.
"No doubt, with this hub we are going to see greater chances of success and potential to run pilots and scale, for our locally-grown startups. As a startup founder, I understand that these partnerships in the early stages of startup development are critical to a company's long-term success."
Speaking in her dual capacity as CEO of ATA Plus Sdn Bhd and president, Registered Digital Markets Association, Elain Lockman, zoomed in on the announced MyCIF matching fund of RM80 million. The association had asked for RM100 million in its pre-budget engagement with the government.
Nonetheless, she said, "We welcome the continued support by the Government into these alternative asset classes, although we await details on how the fund will be apportioned between ECF and P2P."
Elain (pic) noted that based on an announcement made by the government on 17th March 2021 and at the SC Annual Report 2020 on 19th March 2021, issuers can raise up to a maximum of RM20 million on ECF platforms. "We hope that that this will encourage the participation of larger SMEs and give them a feasible alternative funding channel."
Looking at the trends and current SME financing needs, she predicts that it is highly likely that the crowdfunding market would continue to flourish in 2022.
"As a leading ECF player, Ata Plus will continue to look into more inclusive options for micro, small and medium enterprises that makes up a sizeable market in Malaysia and ASEAN. We will support them through innovation and delivery of new and relevant products," she said.
Another key player in Malaysia's ECF/P2P ecosystem, Ang Xing Xian (pic, left), cofounder and CEO of peer-to-peer Supply Chain Financing platform Bay Group Holdings Sdn Bhd which operates under the brand CapBay noted that the RM80 million allocated is an increase from the initial RM50 million from 2019. Another associated incentive that he lauded is the introduction of 100% stamp duty exemption for P2P financing over the next 5 years.
The current stamp duty rate can be up to 0.50% of the financing amount which would cost an issuer RM5,000 for RM1 million raised. "MSMEs raising funds are expected to save RM5 million annually based on last year's financing volume of around RM1 billion," he says, adding, "We expect adoption in this space to grow exponentially due to additional support and initiatives from the government."
Boost: The second largest e-wallet in Malaysia, Boost CEO, Sheyantha Abeykoon (pic) welcomed the commitment to revive the micro-enterprises and SME (MSME) business community. "The RM40 billion
allocated for the Semarak Niaga Keluarga Malaysia programme with a focus in increasing financing access to MSMEs will go a long way to shore up resources for long-term and sustainable recovery," he said.
"With our digital payment, merchant solutions and digital alternative financing businesses, we are focused on ensuring local small businesses have access to powerful, yet simple to use, digital tools as well as low-cost business capital."
Sheyantha also highlights the enhancement of the SME Digitalisation Grant and extension of the Go-eCommerce Onboarding and Shop Malayisa Online campaigns into next year.
"Boost is an official partner in the currently on-going Go-eCommerce Onboarding campaign where we have successfully helped 12,000 MSMEs digitalise their businesses at zero cost with no onboarding or sign up fees. In addition, we have waived our merchant discount rate (MDR) to help MSMEs earn 100% of their revenue."
Sharing some data points, he says that since the pandemic started, Boost has seen an 85% increase in user base to 9.4 million users and close to a 180% increase in its merchant base to 375,000 merchants.
At the same time, prior to the pandemic, offline QR code-based transactions accounted for almost 70% its payment volumes with 30% online. By mid 2021, Boost saw a huge shift, where 65% of payment volumes were generated online. "This exponential growth is representative of Malaysia's structural shifts in customer behaviour in perferring cashless payment options and digitized services that will outlast the pandemic," he predicts.
[Ed: Watch NADI Digital Economy Malaysia where Dzof Azmi and Karamjit share their thoughts on Budget 2022. From 7min 15sec mark.]
Global tech voice
Microsoft: Welcoming the government's continued emphasis on the nation's education system, with RM 52.6 billion going into the Ministry of Education and RM 14.5 billion for the Ministry of Higher Education, K Raman (pic) of Microsoft Malaysia expressed optimism about the future of the nation's education system.
"We hope to see the investment being made here go towards digitalizing the education sector, to enhance the quality of education and to ensure continuous learning at all education levels. Initiatives such as DELIMa ('Digital Educational Learning Initiative Malaysia') highlight the critical need to have the right digital solutions in place to prevent disruption in the education sector, especially in instances where remote learning is the only option."
Supporting the government's decision to allocate RM 5 million to empower women to participate in the economic sector through the Women's Leadership Foundation, Raman extends support through Microsoft's existing initiatives such as Code; Without Barriers, to provide women with more opportunities to succeed in the digital future.
Hailing the RM13 million funding to strengthen the D11 Division - Sexual, Women and Children Investigation Division of the Royal Malaysian Police, to further protect the safety and wellbeing of women, Raman hoped the government would also consider apportioning this investment to protect the safety of women online, as cyber safety continues to be a concern in Malaysia and across the globe.
The emphasis on skilling talent in high value-added industries, with RM80 million to train and prepare 20,000 workers to support select industrial clusters also got the thumbs up from him, as did an additional RM50 million allocation to improve the TVET skills of workers in key sectors such as oil and gas welding, industrial automation, and mechatronics.
Keyword(s) :
Author Name :