Budget 2020: Accelerating transition to a Digital Economy
By Karamjit Singh October 16, 2019
Government recognizes digital adoption is about economic development
Bank Negara states digital could provide US$100b to US$136b boost to GDP by 2025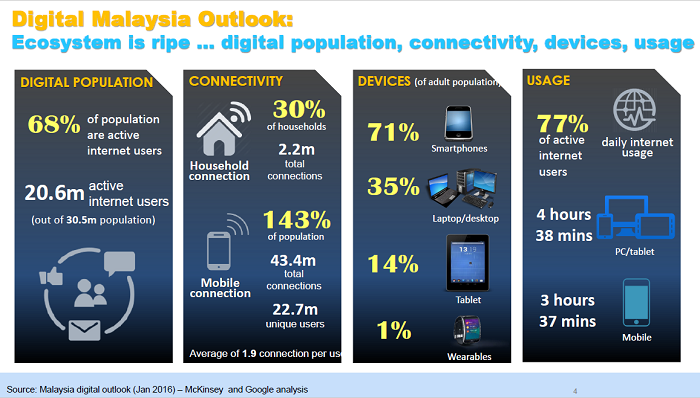 Malaysia is already doing quite well as an economy that is transitioning to a digital economy. One measurement of this progress is the portion of GDP that comes from digital services and products. This hit 18.3% of GDP in 2017, according to the Department of Statistics Malaysia (DOSM). The target is to contribute 20% of GDP in 2020 and that seems to be a target that will be surpassed.
The government and its key institutions also recognize that digital adoption is, at its heart, about economic development. Bank Negara's Annual Report 2017 states that digital transformation could provide a boost of between US$100 billion to US$136 billion (RM412 billion to RM561 billion) to the country's GDP by 2025.
And more recently, on a Saturday morning briefing, the day after Budget 2020 was unveiled on 11 Oct, the key takeaway from Surina Shukri, chief executive officer of Malaysian Digital Economy Corporation (MDEC) on the budget was its focus on accelerating digital adoption by business and society. That and the fact that the budget was making the point that, "Digital is the economy!" she exclaims. "We're super excited about this drive to accelerate adoption through the various initiatives announced, including the focus on talent with emphasis on TVET education as well."
Jagdev Singh (pic, below), PwC Malaysia Tax Leader also echoed Surina's views, describing this, "as the first Budget to provide clarity on Malaysia's approach in navigating the digital and high-technology economy."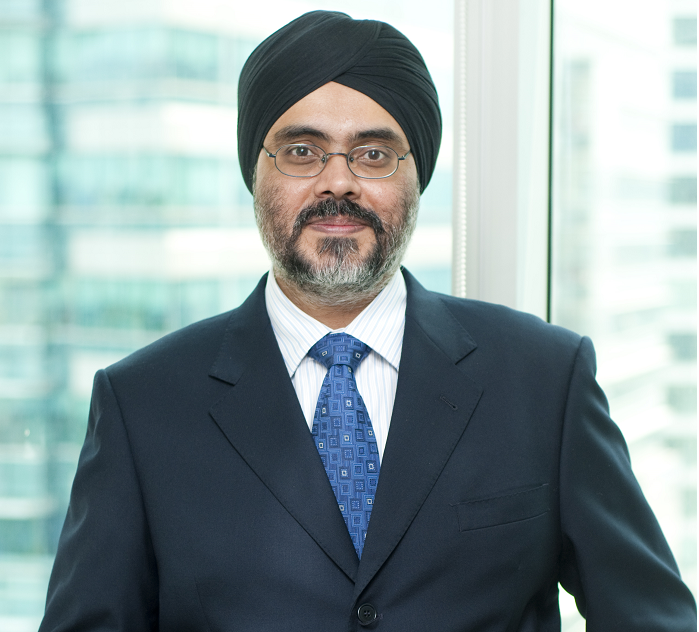 He highlights the various incentives and grants announced to encourage businesses in both the manufacturing and services sectors to pursue digitalisation and automation. "This encourages the adoption of new technology, as well as the reinvestment and upskilling of the workforce that will increase productivity and efficiency."
Equally pleased with the automation incentives was Madani Sahari, chief executive officer of Malaysia Automotive Robotic and IoT Institute (MARii). In his post-budget comments, Madani said: "The government has taken a step in the right direction in spurring smart manufacturing, particularly in incentivising the adoption of automation technology to boost productivity and quality."
He noted that the increased allocation for technical and vocational education and training forms an essential building block for a sustainable technological ecosystem that will need less of a reliance on low skilled migrant labour as well.
Meanwhile Jagdev highlights three particular initiatives that caught his attention.
Customised incentive to attract Fortune 500 companies and global unicorns to invest RM5 billion and create 150,000 high quality jobs in Malaysia;
Customised incentive for Malaysian businesses that export products and services globally that would commit to the creation of 100,000 high-quality jobs in Malaysia; and
10-year income tax exemption for IP-generated income from patents and copyright software based on the Modified Nexus Approach, which requires substantial research and development activities to be undertaken in Malaysia.
Jagdev feels that, these measures, coupled with a more customer-centric approach in attracting and facilitating these investments through InvestKL and MIDA, as well as the expeditious process of approval will hopefully differentiate Malaysia from its neighbours.
Goal is to be globally competitive as a Digital Economy
But the goal has got to be for Malaysia to be globally competitive as a digital economy and not just look to outpace regional nations as the digital economy is premised on the borderless flow of knowledge, services and data.
On this point of measuring how the country is doing, there are various global rankings that can serve as yardsticks. For instance, the Sept released IMD World Digital Competitiveness 2019 rankings shows Malaysia at the 26th spot among the countries the Swiss-based research organization ranked. The IMD measures the capacity and readiness of 63 economies to adopt and explore digital technologies as a key driver for economic transformation in business, government and wider society.
That 26th ranking is pretty decent, but Malaysia was actually ranked 21st in the inaugural 2015 rankings and so has a lot of work to do to be a Top 20 digital economy because every nation is continually pushing to strengthen its Digital Economy foundation.
Incidentally, one standout fact from the IMD ranking of Malaysia was that the country was ranked 6th in the world in terms of its investments in telecommunications.
For Malaysia, the incentives in the 2020 Budget may just be the boost needed for the various Digital Economy initiatives as they form a combination of infrastructure, applications, education and corporate upskilling needs.
For instance under infrastructure there is the US$5.15 billion (RM21.6 billion) fibre and connectivity plan, the additional US$60 million (RM250 million) allocation to further close connectivity gaps in Sabah & Sarawak two large states with predominantly rural and remote living populations.
And there's yet another initiative to reduce any infrastructure gap with a US$50 million (RM210 million) allocation to accelerate the deployment of new digital infrastructure for public buildings, particularly schools and industrial parks.
Commenting on the telecommunications related announcements, Gokhan Ogut (pic, right), chief executive officer, Maxis Bhd tells DNA, "As a converged solutions company, Maxis is encouraged by the Government's ambition to accelerate growth of the country's Digital Economy."
Applauding the efforts of the Government in driving adoption of fibre broadband in the country through the National Fiberisation & Connectivity Plan (NFCP) Gokhan suggests that for an expedited and cost effective rollout, "there needs to be a balance of competition as well as extensive sharing of passive infrastructure."
The Maxis CEO also highlighted how the advent of 5G and IoT technologies would provide tremendous opportunities for Malaysian companies to realise greater revenue and cost efficiencies across all industry verticals, including the catalytic impact of creating new high value jobs.
"Maxis intends play a key role in accelerating 5G in the country and supporting its rollout when the necessary spectrum is made available," he said.
Gokhan also acknowledged the Government's recognition that SMEs continue embracing digital transformation with the various incentives put forth which will fast track the adoption of Industry 4.0 initiatives.
The allocation of RM25 Million in matching grants to spur pilot projects on digital applications also got Gokhan's attention who described it as "good news". The key, he says, "is to ensure that the right technologies suited to Malaysia's current level of digital maturity are pursued."
And with the nation's digital maturity rapidly growing, it is already home to the world's third ranked drone services company in Aerodyne, and with further boosts from future Budget announcements, expect to see some of its tech companies and brick & mortar champions expand to become digital leaders in the region and world.
Key Digital Economy related Budget 2020 announcements:
Enforcement of the Mandatory Standards for Access Pricing (MSAP) to reduce broadband prices by 49%
Implementing the National Fiberisation & Connectivity Plan (NFCP) over the next five years. US$5.15 billion (RM21.6 billion) in total investment has been committed with the Government (through MCMC) financing at least half the amount via a matching grant mechanism
US$60 million (RM250 million) to leverage various technologies, including satellite broadband, to improve connectivity in remote areas of Malaysia, including Sabah and Sarawak
US$50 million (RM210 million) to accelerate the deployment of new digital infrastructure for public buildings, particularly schools and industrial parks
Introduction of 5G Ecosystem Development Grant of US$12 million (RM50 million)
US$6 million (RM25 million) matching grant to spur pilot projects around applications such as drones, autonomous driving, blockchain and based on fibre and 5G.
Introduction of Digital Social Responsibility (DSR) to improve digital skills of the future workforce through initiatives such as technology scholarships, training and upskilling for digital skills
One-time RM30 digital stimulus for qualified Malaysians aged 18 and above and with annual income less than RM100,000, for the usage of e-wallets. The RM30 credit must be used within a two-month period.
Tax incentives up to 10 years for E&E companies transitioning into the 5G digital economy and Industry 4.0
US$131 million (RM550 million) for Smart Automation matching grants to 1,000 manufacturing and 1,000 services companies, to automate business processes
Extention of assessment for the Accelerated Capital Allowance and automation equipment capital allowance in the manufacturing sector on the first US$478,000 (RM2 million) and US$955,000 (RM4 million) incurred on qualifying capital expenditure to 2023
Customised incentive of US$239 million (RM1 billion) to attract Fortune 500 companies and global unicorns to invest US$1.19 billion (RM5 billion) and create 150,000 high quality jobs in Malaysia
Customised incentive for Malaysian businesses that export products and services globally that would commit to the creation of 100,000 high-quality jobs in Malaysia; and
10-year income tax exemption for IP-generated income from patents and copyright software based on the Modified Nexus Approach, which requires substantial research and development activities to be undertaken in Malaysia
Keyword(s) :
Author Name :